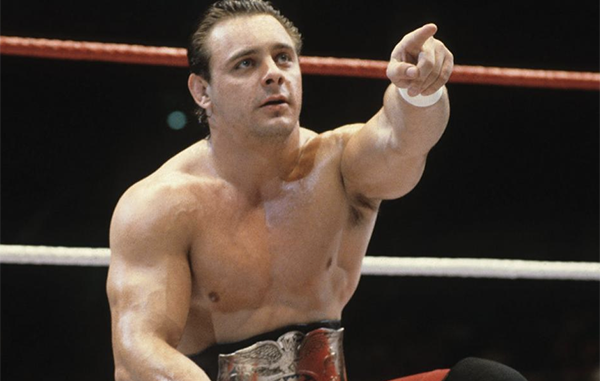 ---
SPOTLIGHTED PODCAST ALERT (YOUR ARTICLE BEGINS A FEW INCHES DOWN)...
---
"Dynamite Kid" Tommy Billington died today, on his 60th birthday. Billington was partners with the late Davey Boy Smith in the British Bulldogs tag team, who wrestled on the WWF's Saturday Night's Main Event specials in the mid 1980s on NBC. Billington was a pioneer in the junior heavyweight movement in Japan in the 1980s, with legendary matches against Dynamite Kid. He wrestled Bret Hart in Stampede Wrestling in Canada early in his career after leaving his home country, the U.K. He ended up in wheel chair in the 1990s from the effects of his injuries, which were a result of his hard-hitting high-flying style inside the wrestling ring. Their matches in the WWF against the Dream Team (Greg Valentine & Brutus Beefake) and especially The Hart Foundation (Bret Hart & Jim Neidhart) exposed the United States wrestling fans to a style previously only seen by avid tape traders.
The pro wrestling industry is reacting on Twitter.
https://twitter.com/NatbyNature/status/1070352217759199233
WWE is saddened to learn that The Dynamite Kid has passed away. https://t.co/r41WiVPrOb

— WWE (@WWE) December 5, 2018
RIP Dynamite Kid (Tom Billington). One of my first favorites. One of the first to make me realize that amongst the larger than life "wrestling characters" in the 80's, there were straight up incredibly athletic wrestlers. A true game changer in every sense of the word. God speed.

— Frankie Kazarian (@FrankieKazarian) December 5, 2018
Every wrestler under 200lbs likely owes a debt of gratitude to The Dynamite Kid. He inspired so many and help change the sport. In the ring he was incredible. The only wrestling T Shirt I ever purchased was a British Bulldogs shirt, which I wore to WrestleMania IV #RIP

— Lance Storm (@LanceStorm) December 5, 2018
Dynamite Kid was instrumental in the evolution towards today's style. Most current wrestlers owe him a debt of gratitude for his role in the shift towards talent and effort over look and size. He's also one of the saddest cautionary tales in risking too much in that effort.

— Todd Martin (@ToddMartinMMA) December 5, 2018
I grew up watching him tear the house down weekly on the Stampede Wrestling tv show.He was one of my favourite in ring performers,especially his matches with Satoru Sayama aka the original Tiger Mask in Japan. RIP Tommy ''Dynamite Kid'' Billington. #ProWrestling #DynamiteKid pic.twitter.com/JtdgyI9sOW

— Mauro Ranallo (@mauroranallo) December 5, 2018
https://twitter.com/DBSmithjr/status/1070270186224181248
It's with great sadness I have to inform you all that THE "DYNAMITE KID" TOMMY BILLINGTON ON HIS BIRTHDAY HAS PASSED AWAY.. A TRUE BRITISH AMBASSADOR FOR WRESTLING WORLDWIDE RIP "KID' CONDOLENCES TO MARK & HIS FAMILY MARTY JONES pic.twitter.com/TRYbBTpTgf

— Marty Jones (@martyleglockno1) December 5, 2018
https://twitter.com/DBSmithjr/status/962818316187217920
Gutted to hear about the passing of one of my hero's and biggest inspirations. RIP Dynamite Kid, Tommy Billington. pic.twitter.com/knQuwNOZKQ

— Tyler Bate (@Tyler_Bate) December 5, 2018
Saddened to hear about the passing of Dynamite Kid. There was a time I watched every Dynamite match I could get my hands on including this tribute video countless times. Despite many attempts of re-creating his magic I would never come close. https://t.co/OzLSl4JCW7 via @YouTube

— Kyle O'Reilly (@KORcombat) December 5, 2018
Andre, Bruce Hart & Dynamite Kid pic.twitter.com/lpChAZmmIR

— History of Pro Wrestling (@HistoryofWrest) December 5, 2018
Dynamite Kid & Bret Hart Over The Top Rope pic.twitter.com/7n9rGcDgI7

— History of Pro Wrestling (@HistoryofWrest) February 9, 2018
#101 – Dynamite Kid vs. Tiger Mask – New Japan – 4/21/83

My take: This had little psychology and awful transitions and is vastly overrated, but it is hugely influential. ***3/4 pic.twitter.com/IeYhJD0AIT

— Allan (@allan_cheapshot) February 4, 2018
https://twitter.com/WrestlingCardz/status/882681331586662400
The last match in the career of Dynamite Kid;teaming with Dos Caras and Kuniaki Kobayashi vs The Original Tiger Mask,Great Sasuke and Mil Mascaras at Michinoku Pro's "These Days" show.October 10,1996 pic.twitter.com/6GDdb0YhJb

— Rasslin' History 101 (@WrestlingIsKing) November 17, 2017
We'll be talking a lot about Dynamite Kid on PWTorch VIP podcasts this week.