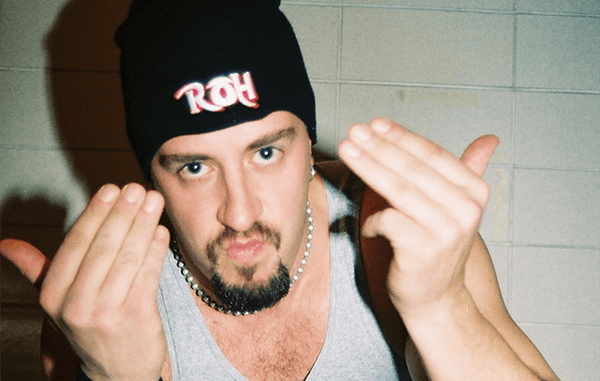 ---
SPOTLIGHTED PODCAST ALERT (YOUR ARTICLE BEGINS A FEW INCHES DOWN)...
---
-Jeff Jarrett was the honorary Twelfth Titan on the field tonight during the Tennessee Titans vs. Jacksonville Jaguars NFL game. He stood mid-field with a ceremonial sword and then held up a WWE Smackdown t-shirt at which point the Fox announcer, Joe Buck, mentioned that WWE Smackdown is coming to Fox on Oct. 4, 2019. He held up a Smackdown t-shirt and referred to as a "WWE Hall of Famers, Double J." He also joked that Troy Aikman would be providing commentary on Smackdown. They laughed and he admitted it wasn't true. Earlier this week when the Jaguars played on Sunday, Cody Rhodes and his wife Brandi were in the Jaguars' owner's suite on Sunday, fueling the buzz about a big-money-backed All Elite Wrestling venture involving Jaguars ownership. [Thanks to PWTorch reader Brad from Michigan]
-Former ECW World Champion P.J. Polaco, who wrestled as Justin Credible, has been arrested a second time this year according to a report at Pro Wrestling Sheet. He was charged with misdemeanor assault, violating a protection order, and breach of peace. Justin has been battling drug and/or alcohol issues for years, which he has spoken about on podcasts and his own YouTube series.
---
LISTEN TO THE LATEST WADE KELLER PODCAST "THURSDAY FLAGSHIP" WITH GUEST COHOST TODD MARTIN DISCUSSING DYNAMITE KID'S CAREER AND INFLUENCE ON THE INDUSTRY…
-On Tune In Radio HERE
-On Apple Podcasts HERE
-Or search "Wade Keller" on your podcast app of choice
---
-Wendi Richter discussed with Sean Mooney on his latest "Prime Time" podcast the "original screw job" in 1985 when she lost the WWE Women's Title without being in on the finish. Richter said she didn't know Spider Lady was going to be Moolah until that day, and she thought something was up. She said she called Cindy Lauper to ask about it, but Cindy didn't know about the match "and I thought that was strange." She said it was arranged where the referee gave her a fast count "and that was that." She said that hurt her. She said that was the last time she ever saw her. She said Moolah didn't say anything after that to her. He said she stomped out of the ring and looked for Vince Mcmahon, but he was nowhere to be found. "I left in my wrestling suit and went to the airport and that's the last communication I had wit the WWF," she said. When they contacted her about doing a battle royal recently, she asked if Moolah would be in it. "She was already dead and gone to hell, so I never got to wrestle her again." Richter said Fabulous Moolah used her "like Elvis Presley's manager." She said Moolah took 25 percent of her pay at times and sometimes she didn't even know what she was making. She said Moolah would lie to promoters that she was booked when she wasn't when promoters would call about her availability. She said Moolah was a hateful person and talked about people in ways she had never been around with a level of cussing she had never heard before. "She was an evil person and I didn't ever want to be around her." LISTEN TO YOU TUBE CLIP HERE or FULL EPISODE ON APPLE PODCASTS
-As Impact is reportedly shopping around for a new network in 2019, viewership for Impact is all over the place since moving to the 10 p.m. ET start time on Thursday nights. Last week's show drew 190,000 viewers, up from 129,000 the week before. The prior six weeks were: 183,000, 98,000, 189,000, 105,000, 122,000, and 124,00.
---
Please send newstips and results to pwtorch@pwtorch.com.
---
RELATED: WEDNESDAY NEWS UPDATE (12/5): XFL cities announced, XFL merchandise released, MLW replaces PCO, Evolution DVD surprise, ex-WWE wrestler's first MMA fight scheduled, top indy names five years ago