---
SPOTLIGHTED PODCAST ALERT (YOUR ARTICLE BEGINS A FEW INCHES DOWN)...
---
Mattel released hundreds of WWE wrestling figures in 2018, so along with some other wrestling figures from Funko and Figures Toy Company, collectors had a lot to choose from.
But what makes a great wrestling figure? Oftentimes it's the likeness of the figure to that particular wrestler. Other times a cool accessory, such as a title belt, can make the wrestler. Sentimental attachment – such as a figure from a WrestleMania that a collector attended – also plays a role.
The hosts of two popular wrestling podcasts – the Fully Poseable Wrestling Figure Podcast and the Chick Foley Show – agreed to share their thoughts this year in naming their top 10 favorite wrestling figures of 2018. Presented in this week's PWTorch collectibles column are three very distinct top 10 lists for the top figures of 2018.
Michael Moore, PWTorch Collectibles Specialist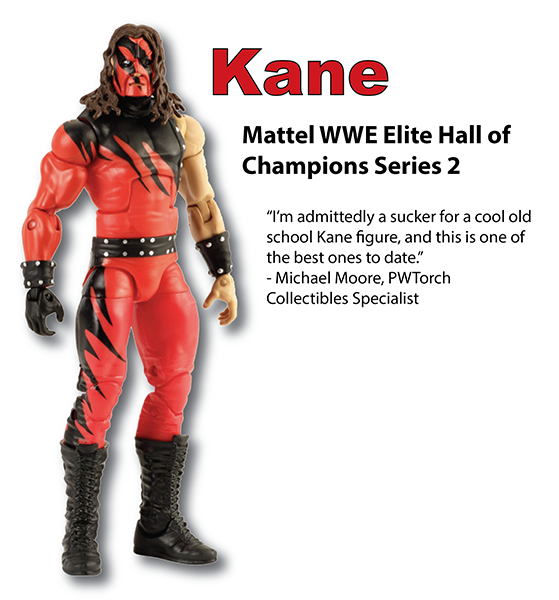 Kane Hall of Champions Series 2. I'm admittedly a sucker for a cool old school Kane figure, and this is one of the best ones to date. It's a fairly simple figure that captures Kane's appearance from King of the Ring 1998, when he upset Steve Austin for the WWF Championship. The figure comes with a detailed winged eagle WWF Championship belt.
Ricky Steamboat Flashback Elite Series 3. The highlight of Steamboat's WWF career was unquestionably at WrestleMania III, when he defeated Randy Savage for the Intercontinental Championship in what was really the first great match of the WWF's national expansion. This figure perfectly captures Steamboat's big night, complete with detailed I-C title belt, white tights and a removable white gi.
Bret Hart 1993 King of the Ring Ringside Collectibles Exclusive. The exclusive figures from Ringside Collectibles are almost always top notch, and this one is no exception. It's a great likeness of Bret from his big night in June 1993, complete with pink and black ring gear, a colorful molded plastic robe, crown and scepter.
Daniel Bryan Walmart Exclusive Fan Central Elite. A lot of Bryan's figures look alike: long hair, shaggy beard, red trunks. But this particular figure is designed based on Bryan's NXT debut back in 2010. This figure perfectly captures the pre-WWE Bryan Danielson, complete with a red robe with "American Dragon" printed on the sleeves.
The Giant Machine Elite Series 60. This is a cool figure with some interchangeable gear. Switch heads and take off the removable singlet and the Giant Machine transforms back into 1986-era Andre the Giant, with yellow trunks and black boots.
Goldberg Entrance Greats. With Goldberg, simple is almost always best. Mattel nailed this figure of Goldberg from his WCW heyday, with black trunks and boots and the big gold belt.
Becky Lynch Elite Walgreens Exclusive. As good as Mattel's Elite line has been, the company has had major challenges producing accurate head sculpts for female wrestlers. While this Becky figure still had its flaws, it was vastly better than earlier figures, and was the best figure of arguably the hottest WWE performer of the year.
Cody Funko Pop Vinyl. Cody and the rest of the "Being the Elite" have changed all the rules over the last couple years, selling tons of merchandise without the WWE machine behind them. In 2018, Cody, Kenny Omega and the Young Bucks became the first non-WWE wrestlers in Funko's wildly popular Pop Vinyl line. Cody's figure was the coolest of the bunch, thanks to subtle touches like the "Dream" tattoo over his heart.
Kiss Demon Figures Toy Company Legends of Wrestling. Figures Toy Company combined two of its most popular licensed toy lines to create a surprisingly great figure. There probably weren't a lot of fans pining for a Kiss Demon action figure, but FTC did such a great job with this figure that it appealed to both wrestling fans and Kiss collectors.
Ronda Rousey Basic Series 90. Ronda's debut wrestling figure wasn't anything all that spectacular; it was basically just Rousey in a "Hot Ronda" T-shirt and black pants. But it was the first traditional action figure of Rousey, despite years of stardom in UFC. It was also one of the most popular figures of the year.
Michael Moore has contributed to the Pro Wrestling Torch since 2011, writing about topics such as action figures, trading cards, vintage memorabilia and more. Follow him on Twitter @MMooreWriter.  
Chick Foley and the Hot Take Kid, the Chick Foley Show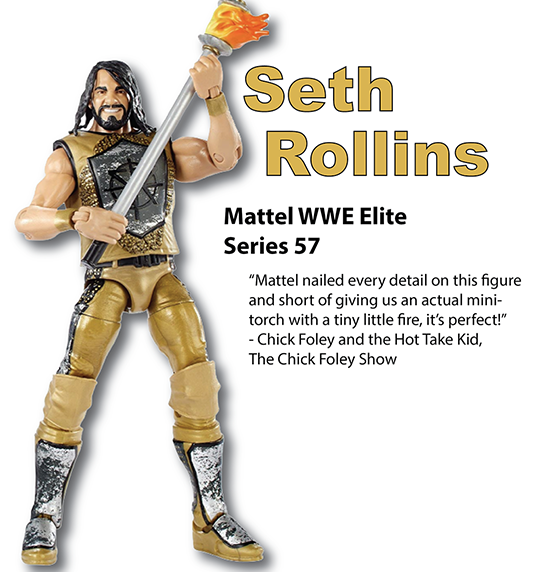 Seth Rollins Elite Series 57. This is an awesome figure on its own merits, but it's extra special because Chick Foley herself was in the building for WrestleMania 33. Mattel nailed every detail on this figure and short of giving us an actual mini-torch with a tiny little fire, it's perfect!
"Mean" Gene Okerlund Flashback Elite Series 1. Mattel's WWE line would not be complete without good ol' Mean Gene. This figure was well received by collectors and our fingers are crossed that its success opens the door for other backstage personalities of the time like Sean Mooney or Lord Alfred Hayes.
Triple H Elite Series 60. This is the other half of Seth Rollins from Elite 57. The reason this one scores so high is because it is without a doubt the most accurate representation of Triple H that Mattel has produced to date. They absolutely nailed every little detail of "The Game's" likeness, making this figure an instant classic.
Authors of Pain Elite Series 62. Mattel always seems to nail NXT figures, and Akam and Rezar are no different. These figures are the definition of hulking. They really capture the overbearing physical presence of the former Raw Tag Team Champions, and now we just need a Paul Ellering or Drake Maverick to go along with them.
Kurt Angle Elite Series 59. The Entrance Greats Kurt Angle was passable, but Kurt's Elite 59 release is truly the definitive version of the Olympic Hero. You can almost hear the horns from his entrance music blaring as you pull this beauty out of the box. This figure definitely does not suck.
Razor Ramon Flashback Elite Series 2. We were skeptical of this figure when we saw the prototype images. Razor Ramon always had such awesome, colorful ring gear and so far the only Elite release of him was his Defining Moments figure. However, once we got this figure in hand and got to see it in person it was a wrap. This release nails the look of Razor from his debut vignettes during the start of the New Generation years.
Ultimate Warrior Hall of Champions Series 3. We will never not mark out for a Warrior release. Colorful ring gear inside the iconic Hall of Champions packaging? This one was a no-brainer for the list.
Honky Tonk Man Retrofest GameStop Exclusive. It's debatable if this figure tops his earlier release in the Elite line, but when you take into consideration the amazing Retrofest box that he comes in, it makes us fall instantly into hunka hunka Honky love with this figure.
Goldberg Entrance Greats. Mattel went for the money grab by releasing a modern day Goldberg with the Raw Main Event Ring and then making us wait a year for Goldberg's more beloved WCW look. Although those types of moves are frustrating, it's just business, and this figure was definitely worth the wait.
Ted Dibiase Flashback Basic. We are suckers for anytime Mattel recreates a Hasbro figure and the Million Dollar Man's release in the Walmart-exclusive Flashback line was definitely inspired by some early 90s nostalgia.
The Chick Foley Show is a weekly podcast hosted by Chick Foley (@chickfoley) and The Hot Take Kid (@ihatejjredick). They are lifelong marks for the wrestling business and they cover all things wrestling and wrestling figure related from the fan's perspective.
Jef and Scott Toon, The Fully Poseable Wrestling Figure Podcast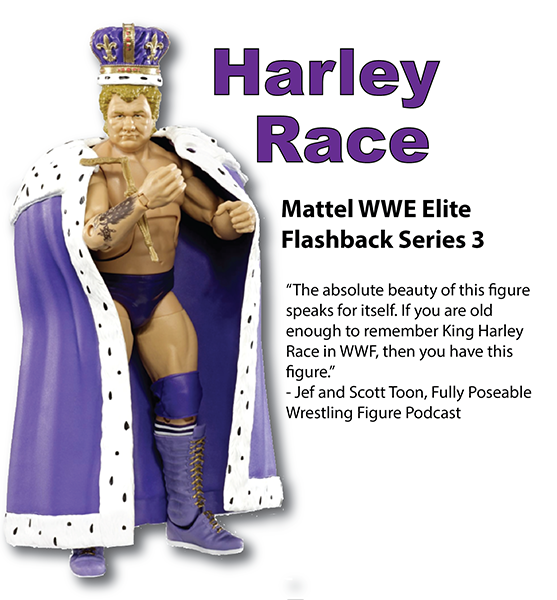 King Harley Race Flashback Elite Series 3 Walmart Exclusive. Words do not do this figure justice. The absolute beauty of this figure speaks for itself. If you are old enough to remember King Harley Race in WWF, then you have this figure. King Harley comes with his crown and beautiful eye popping purple robe. This was also shown at WWE Axxes this past WrestleMania, and drummed up a lot of positive responses. This figure has done so well that you cannot find it on Walmart shelves as of this typing; 2018 delivered on making two legends their greatest figures in Harley and Honky Tonk Man. This year will be difficult to top.
Honky Tonk Man Retrofest GameStop Exclusive. Mattel introduced a new line exclusive to GameStop, where were placed inside an arcade game-style box. Right then we all knew that would become the greatest figure packaging of all time. And it lived up to those claims. Honky Tonk Man was announced to be the third figure in the line. When the Retrofest Honky was shown at WWE Axxess this past Wrestlemania in New Orleans, it was viewed right there as the greatest Honky figure ever made. What makes this figure, you ask? It is the outfit. The outfit has an Elvis lookalike on the front of a cloth jumpsuit. The Honky figure looks exactly like him. And when placed inside this Retrofest arcade packaging, it really put this figure over the top.
Kiss Demon Figures Toy Company Legends of Wrestling. FTC had another solid year for their figures; unfortunately, a lot of FTC figures just fell outside of our top 10. Not to take anything away from them at all, but that is the way 2018 shaped up. However, FTC did have one that took a few naysayers to even admit this figure was excellent. Kiss Demon was played by Dale Torborg in WCW in the late 90s. The gimmick was short lived but still left a lasting impression on so many, both positive and negative. However with FTC having access to produce Kiss figures, it only made sense that they took their shot on the Kiss Demon figure. And they did not disappoint. What really made a lot of the collectors pop was the cape, with flames imprinted and spikes sticking out the shoulders. The cape showed that FTC put a lot of hard work into this figure. FTC's strong suit is their clothing for the figures, and they showed that off in their Kiss Demon figure.
Triple H Elite Series 60. It's a safe bet that this figure is in a lot of collectors' top 10 lists of this year. And it deserves a spot. We have had so many HHH figures before; what makes this one stand out? The likeness to HHH blew us all away. It may sound weird, but the beard was perfect, the scale of the figure was perfect and the vest (even though it is molded) was perfect for this figure. Even the way he is holding the sledge hammer in the package screamed HHH. If this figure didn't come out in 2018, it would have cracked our top three.
Neville Elite Series 55. This figure in Elite 55 only came with a cruiserweight title and a stand that you can pose Neville in the ring, to make it look like Neville was jumping off the ropes. So why did this figure have to make it onto our list? An amazing likeness to Neville, and the body in our eyes was perfectly scaled. This figure was difficult to find on the shelves out here in northern California for sure. When you saw this figure, it was literally jaw dropping to how lifelike it was to Neville.
Luke Gallows Elite Series 56. We understand this is a random figure to throw on this list, but we ask that you go and look at this Luke Gallows figure. The face is near perfect; the figure screams Luke Gallows. From Luke's black and blue vest with his name along the side to his outfit with the gas mask logo right on the stomach, this figure turned out amazing. And with the beautiful Rob Schamberger print behind Luke, this figure was well worth the number six spot on this list.
Ember Moon NXT Elite Target Exclusive. Yes, this figure is still found on Target shelves everywhere. But don't let that distract you from seeing how good this figure truly is. The rendering for this figure (shown in 2017) immediately drew a lot of praise. When the figure came out, it did not disappoint. The figure alone would crack anyone's top 10, but it was the outfit that Mattel placed on her that moved it up the charts. The dark molded jacket was a perfect choice, and the mouth covering that Ember wears was perfect for her very first figure.
Bobby Roode Entrance Greats. This was the only Entrance Great to make our list of 2018, not because the Entrance Greats line was bad, but there were so many great figures in 2018. Bobby Roode was meant for this line when it was announced back in 2017 that the Entrance Greats line was going to be making its return. This figure was posed perfectly in the package, as his back was facing the front window with an amazing white cloth robe with black trim. This figure was everything collectors were hoping for when Bobby signed with WWE.
Maryse Elite Walgreens Exclusive. Mattel announced that they were going to have exclusive women's division figures at Walgreens; the line started out slowly with Sasha and Becky not being the best of figures. But then the line picked up with the Maryse figure. Mattel made the decision to put Maryse in her all white Summer Slam '16 outfit. And it was the right decision, as this figure would have been the best female figure, if it wasn't for our number seven figure of 2018.
Young Bucks Funko Pop Vinyl Hot Topic Exclusive. Funko has made many quality WWE pops. But when the word spread that Funko was going to make Bullet Club Pops, the excitement was equivalent to a 90s kid getting a Super Nintendo. Cody, Kenny Omega and the Young Bucks were announced, and Funko delivered, especially on the Hot Topic exclusive Young Bucks. With their colorful purple tights, yellow tassels, black vests and traditional Young Bucks pose, these Pops were a homerun this year.
Jef and Scott Toon host the Fully Poseable Wrestling Figure Podcast, a popular podcast devoted to wrestling toys. Look for them on Netflix's "The Toys that Made Us" in 2019 and follow them on Twitter @fullyposeablepodcast. 
---
PWTorch Collectibles Specialist Michael Moore can be reached at michaelmoorewriter@gmail.com. Follow him on Twitter @MMooreWriter.