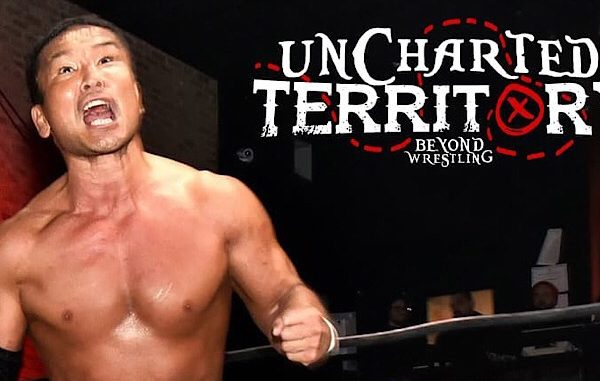 ---
SPOTLIGHTED PODCAST ALERT (YOUR ARTICLE BEGINS A FEW INCHES DOWN)...
---
RADICAN'S BEYOND WRESTLING "UNCHARTED TERRITORY' REPORT
EPISODE 1
APRIL 3, 2010
WORCESTER, MASS.
ELECTRIC HAZE
AIRED LIVE ON INDEPENDENTWRESTLING.TV AND FITE TV
Announcers: Paul Crockett and Josh Briggs
(1) S.C.U. (Christopher Daniels & Scorpio Sky & Frankie Kazarian) vs. TEAM PAZUZU (Chris Dickinson & Santana & Ortiz)
Santana and Kazarian kicked things off with some chain wrestling. They went back and forth trading pinfalls before coming to a stalemate. Sky eventually made a blind tag and wiped out Santana with a jumping knee. Ortiz tagged himself in and took Sky down with an arm drag. Dickinson and Daniels went at it and traded some pinning combinations before coming to a stalemate. They began talking trash and then all six men got in the ring and began exchanging blows. Dickinson got isolated and took a combination of moves from S.C.U. LAX tried to run in and help Dickinson, but the ref held them back. S.C.U. took the opportunity to hit a flurry of maneuvers in their own corner on Dickinson with the ref distracted. Dickinson mounted a comeback and caught Daniels with a powerslam and both men were down. Daniels tagged in Kazarian and Ortiz got the tag from Dickison. Ortiz ran wild and the fans fired up after he hit a big dropkick from the second rope on Kazarian.
A short time later, LAX hit a flurry of maneuvers on Kazarian. They made a stacked cover, but S.C.U. made the same. The action broke down as both teams went back and forth at a rapid fire pace. Santana KILLED Kazarian with a superkick. He and Daniels then hit a double clothesline and both men were down as the fans fired up. Daniels avoided a Pazuzu Bomb from Dickinson and nailed him with Angel's Wings. The messed up a spot, but LAX kept going and nailed Daniels with a flurry of moves. David Starr ran down and knocked Dickison off the top. Dickinson ran after Starr and S.C.U. put away Santana with a double team for the win.
WINNERS: Frankie Kazarian & Christopher Daniels & Scorpio Sky in 18:00 (***¼)
(Radican's Analysis: This was a really good way to open the show. The lighting is dark from certain angles, but overall this is a nice presentation.)
Both teams shook hands after the match.
They went to an ad for IWTV recapping the WrestleMania week events.
The fans sang "You are my sunshine" at MJF before hit match against Kimber Lee. He sang the song as a five year old on The Rosie O'Donnell show. Footage of his appearance on the show surfaced on Twitter this week. The fans booed MJF when he grabbed the mic. The fans began singing at MJF against as Kimber Lee urged them on. He told Kimber Lee had been gone awhile and she was no longer needed because they had Kris Statlander now. He said he's a man and she's a woman, which makes him better than her. Kimber Lee slapped her in the face and the bell rang.
(2) MJF vs. KIMBER LEE
Lee caught MJF with a satellite headscissors takedown to kick off the match. She turned her back on MJF who got back into the ring and nailed her with a big forearm. MJF got the upper hand and stepped on her ankle and the fans booed. MJF used the ropes for leverage when the ref was checking on Lee while holding an abdominal stretch. He told the ref he wasn't going to break the hold and asked him what he was going to do about it and the ref kicked his arm off the rope. Lee then connected on MJF with a big kick. MJF fired back with a GErman, but Lee got right up and hit a pair of Germans. She went for a third and MJF tried to stop it, but she connected and held a bridge for a two count. Lee went for a swanton, but MJF got out of the way. MJF pulled the ref in front of him and then poked Lee in the eyes. He then hit a slingshot piledriver for the win.
WINNER: MJF in 6:00
(Radican's Analysis: MJF did a good job of getting heat and taking shortcuts to win. The crowd was all over him during this match.)
(3) THE BEAVER BOYS (John Silver & Alex Reynolds) vs. AUSSIE OPEN (Mark Davis & Kyle Fletcher)
Fletcher and Reynolds kicked things off. The announcers mentioned The Butcher & The Blade would debut on episode 4. Fletcher took control of Reynolds and hit a big chop, but he fired back. They went back and forth for a suplex. Fletcher eventually deadlifted Reynolds into a vertical suplex and the fans fired up and chanted Aussie Arrow at Fletcher. The Meat Man, John Silver tagged in. Davis tagged in as well and had a distinct size advantage. Davis laughed at Silver, who only came up to his chest when they went face-to-face. Reynolds jumped Davis from behind, but he shook him off. He stacked up The Beaver Boys in the corner. He kept going for chops on Reynolds, but Reynolds would duck and he hit Silver. Silver begged off and held up Reynolds and he took a chop from Davis. Fletcher and Davis hit a back breaker/senton combo on Silver for a two count. Fletcher went for a dive, but Reynolds cut him off as he came through the ropes with a kick. Silver made a blind tag and powerbombed Fletcher into Reynolds's knees after Reynolds kicked out of a rollup attempt.
Silver worked over Fletcher. At one point the ref missed Reynolds draggin Fletcher down to the mat by his hair from the apron. Fletcher finally mounted a comeback and tagged in Davis, who ran wild on The Beaver Boys with some chops. He lifted Reynolds and Silver and slammed them both at the same time. He made the cover on Reynolds for a two count. They showed Reynolds's chest and it was bleeding. Davis then nailed him with another HUGE chop. Silver ran into make the save for Reynolds as they were going for a double team off the top. They tossed Davis to the floor and went after Fletcher. Davis ran into the ring and wiped out Reynolds with a kick. They hit a combination leg drop move off the top on Reynolds for a two count. Silver broke up another double team attempt and hit a big dropkick on Davis in the corner. Fletcher wiped out The Beaver Boys with a dive off the top. Fletcher and Reynolds went at it up top, but Silver recovered and got him up for a powerbomb/leg lariat combination. Reynolds made the cover, but Davis dove into the ring to make the save. Fletcher tried to go at it one on two, but the Beaver Boys wiped him out with a flurry of moves capped by a Code Breaker/German combination for a great near fall. The fans chanted for Aussie Open. The Beaver Boys lifted up Fletcher, but Davis made the save. Davis blocked a chop and hit a one-arm powerbomb on Silver and blocked a chop from Reynolds. Reynolds slipped out of his grip and Fletcher eventually caught him with a sick kick. Silver ended up alone in the ring and took an iconoclasm into a face buster double team from Aussie Open, but Reynolds made the save!
Both teams traded blows in the middle of the ring. SIlver blocked a kick from Fletcher and sent it into Davis. The Beaver Boys hit a Destroyer DDT on Fletcher and then lifted him up and hit a double team slam on him for the win. Awesome match!
WINNER The Beaver Boys in 17:00 (***¾)
(Radican's Analysis: Great back and forth action throughout here. The finishing stretch was great.)
Cam Zagami was backstage with Gabriel Sky, who came to Beyond Wrestling through a tryout camp and appeared at a show after winning a spot in the tryout. He said he knows he has a challenge against Mick Moretti tonight.
(4) GABRIEL SKY vs. MICK MORETTI – Discovery Gauntlet match 
This is a gauntlet match that sees the winner advance each week to face a new undiscovered talent. Moretti hung upside down in the corner and tried to bait Sky. They went back and forth and Sky countered him and hit a bulldog takedown. He followed with a big kick, but Moretti kicked out at two. Moretti used his momentum to run Sky head-first into the top rope after he ran through the middle rope while Sky had him around the waist. They traded counters and Moretti eventually hit a big erman. He then hit a fisherman buster variation for a two count. Moretti posed on his head in the middle of the ring and baited him into a headscissors takedown. Moretti definitely carries himself in a unique way in the wing. Sky hit a springboard DDT, but Moretti fired right back with a nice headbutt, but Sky kicked out at two. Moretti got a pump-handle and dumped Sky right on his face for the win.
WINNER: Mick Moretti in 7:00
(Radican's Analysis: Good showing for both men. Moretti left an impression, but Sky was good as well.)
(5) A.R. FOX (w/Mrs. Ayla Fox) vs. KRIS STATLANDER
Fox wanted to shake hands, but Kris wanted to touch fingers. Fox went for a punch, but Statlander ducked and eventually got the upper hands. She goes by the moniker The World's Greatest Alien. Fox went for a low blow, but it had no effect. Fox did a flip, so Statlander did some cartwheels and then hit a a mesmerized Fox with a headscissors takedown. Fox dragged Statlander down over the middle rope, but she fired back and drove him into the top turnbuckle from the apron. She dragged Fox up top, but he got out of it thanks to an assist from Ayla. He then hit a springboard neckbreaker. Fox hit a couple of big chops on Statlander. Kris went down, but she fired up and hit a double chop. Fox blocked a kick and hit a neck breaker. It was good for a two count. Stalander matrixed to counter a move from Fox and hit a big high kick and both of them were down as the fans fired up. Statlander got the upper hand and the fans fired up behind her. Fox avoided a kick and got on top of Stadtlander's shoulders. Fox got out of it and nailed her with a kick. He then rolled her through into a cutter for a near fall.
They battled up top. Statlander avoided a superplex and pushed Fox off after a headbutt. Fox went back up top, but Kris slid under him and got him up on her shoulders. She then dropped him face-first into the mat. She then hit an axe kick, but Fox kicked out at two! Ayla got up on the apron and tried to slap Statlander. Kris went after Ayla on the floor. Fox then used the distraction to hit a coast-to-coast through the ropes! WOW! He followed up with a swanton bomb for a near fall. Statlander ducked a kick and got a sudden rollup for the surprise win. WOW!
WINNER: Kris Statlander in 11:00 (***½)
Fox was going to go after Statlander after the match, but her tag partner Kimber Lee got in his way. Lee then turned on Statlander and put the boots to her and the fans booed. It looks like they won't be tagging anymore. The announcers asked what this meant for their match in WWR tomorrow.
(Radican's Analysis: This was fantastic. Statlander is a star in the making and she had a great showing here against Fox.)
Orange Cassidy vs. Jordynne Grace in a mystery tag team partner match was up next. Grace got on the mic and said her tag partner won't be Jonathan Gresham, but she found someone just as good. She said her partner was stronger than her. She said she found The Machine and Brian Cage came out.
Cassidy got on the mic and said the last time he was here he beat David Starr. He said it lead to some other things happening. He took a brand new Independent Wrestling Championship. It has his name on it as well as all of the promotions associated with independentwrestling.tv. He said Grace might have Brian Cage, but he has "her." Session Moth Martina then came out to be Cassidy's partner. Martina danced her way down ot the ring and the fans fired up. A big Session Moth chant broke out. She got on her knee and acted like she was proposing to Cassidy.
(6) ORANGE CASSIDY & SESSION MOTH MARTINA vs. JORDYNNE GRACE & BRIAN CAGE 
Martina and Cassidy ducked a clothesline and danced. Cage then pushed Martina into Cassidy and the match was on. Martina sent Grace to the outside and then ran the ropes until she collapsed. Cassidy revived her and she hit the Rainmaker pose, but Grace decked her. Cassidy tagged into the match and had his hands in his pockets. Cassidy teased a test of strength and then put his hands back in his pockets. Grace took his sunglasses and the fans chanted you f—ked up." She put them back on him and chopped him hard. Grace put Cassidy's hands in his pockets and he ran the ropes and floated over her into a dropkick. He then did a no-hands nip up. Grace got an airplane spin on Cassidy, who still had his hands in his pockets. Cage tagged and hit a delayed vertical suplex on Cassidy, who still had his hands in his pockets.
Cage finally delivered the suplex at the count of 50. Cage did some curls with Cassidy, who still had his hands in his pockets. Martina tried to come off the top, but she just bounced right off Cage. Grace and Cage hit a double powerbomb on Cassidy, who got his hands out of his pockets to kick out at the last second. Martina broke up a suplex attempt on the apron on Cassidy. She took out Grace and Cassidy wiped out Cage with a big DDT. Cassidy got Martina on his shoulders and hit a big senton on Cage for a two count. Cassidy went for a suplex, but Cage blocked it. Martina hit a big forearm on Cage. She ducked a forearm from Grace and she hit Cage. Grade then ducked a forearm from Martina and she hit Cassidy. Grace and Martina ended up down on the mat. Cage then hit a big spinning DDT off the turnbuckles and everyone was down. Cassidy hit a big right hand on Cage and then countered him into a stunner. Martina hit a big dive to the floor on Grace. Cassidy then hit a suplex on Cage for a two count.
Cassidy got his orange juice, but he backed up right into Grace. Grace ducked and he spit juice into Martina's face. Grace then lifted Cassidy up and dumped him down onto the mat with a falcon arrow variation for the win.
Winners: Jordynne Grace & Brian Cage in 11:00 (***)
(Radican's Analysis: This was a big win for Grace, as she pins the champion. Martina was another great surprise on this show.)
Cam Zagami interviewed Mick Moretti at ringside. Zagami said he had just secured his spot on episode 2. Moretti said he had anticipated going home to Australia next week where the fans appreciate him, but he'll cancel his flight. He said as long as the winner remains in the Discovery Gauntlet he will keep showing up.
They went to a special announcement from Beyond Wrestling. Footage was shown from Americanrana 18 last year. The show is returning on July 28, 2019 at Foxwoods in Connecticut. WOW!
It was then announced to the live crowd that Americanrana 19 would be held at Foxwoods Resort and Casino.
It's main event time with David Starr vs. Masada Tanaka. David Starr was out first. Masato Tanaka then came out to a big pop. Ring announcer Rich Palladino did Starr's long introduction as the fans tried to drown him out with boos.
(7) MASATO TANAKA vs. DAVID STARR 
The fans were amped for the main event after the bell rang. Tanaka backed Starr into the corner and offered a clean break. Starr got a figure four on the mat a short time later. Starr acted like he couldn't break the hold and made the ref break their legs apart. They went back and forth off the ropes and Tanaka caught Starr with a big high cross body and the fans fired up. Starr fired back and hit an inside out DDT through the ropes to the apron on Tanaka. Starr then hit a super hard chop on Tanaka, who is in great shape. They continued to go at it on the outside. Starr dropped Tanaka right over the stereo equipment at ringside. The announcers talked about Dickinson distracting Starr, which cost him a win against Kris Statlander in the finals of the Treasure Hunt tournament last month.
They went back and forth inside the and Tanaka hit a big suplex. Tanaka hit his signature spinning DDT out of the corner for a two count. He went for the rolling elbow, but Starr ducked it. Starr hit a bIg Capo kick and a Ushigoroshi for a near fall. Tanaka told Starr to bring it and Starr hit a forearm. He told him to bring it and they hit slaps and forearms. They continued to trade forearms and Starr hit a clothesline, but Tanaka got up and hit one of his own and both men were down. WOW! Both men got up and went at it in the corner. Starr hit a big chop and they went up top. Tanaka fired back and hit Diamond Dust. Starr dragged the ref in the way a short time later and Tanaka ran into him. Starr poked his eyes and hit a powerbomb onto his knee. Starr went to the outside and got a chair under the ring. Tanaka saw the chair and told Starr to bring it. Starr was about to hit him, but he dropped the chair and kicked Starr in the junk. Starr tried to revive the ref.
Penelope Ford came down to ringside. Joey Janela then came in from the other side of the ring and the fans went nuts. Starr turned around right into a low blow from Janela. Janela gave the chair to Tanaka, who nailed Starr with a chairshot. Tanaka then hit a big sliding lariat for the win. That was insane.
WINNER: Masato Tanaka in 16:00 (****)
(Radican's Analysis: Great match between these two. I wasn't a fan of the chairshot at the end, but man they had the crowd going. Starr's dirty tactics didn't work and Joey Janela returning to make the save with his first in-ring appearance back from injury was another great surprise on the show.)
Chris Dickinson came down to the ring and joined the fans in applauding for Tanaka. Dickinson and Tanaka had a stiff handshake. Tanaka was left alone in the ring as the fans applauded. The ring announcer welcomed Janela back to the ring as well from his knee injury. The show closed with Tanaka posing on the turnbuckles.
Overall thoughts (8.5): What a night for Beyond Wrestling! It's insane to see how far this promotion has come from the days when they ran in front of less than 50 people when I first started following them. This was a huge risk for the company to run weekly shows on independentwrestling.tv and they hit a home run tonight in my estimation.
All of the matches were very good to great for the most part. They had some big surprises on the show, which was awesome, as Aussie Open, Brian Cage, Martina, Penelope Ford, and Joey Janela all appeared unannounced.
The main event between Starr and Tanaka was a great hard-hitting affair and the way they ended the show with Janela foiling Starr's plans to cheat his way to a win over Tanaka was great. Did i mention they also announced Beyond Wrestling is running their biggest show of the year, Americanrana 19, at Foxwoods?
The production needs some work and I don't know if they can fix the lighting issue. It's not a big deal, but from certain angles, the ring looked really dark. The show did have a professional feel to it at time by indie standards with interviews backstage and at ringside, which was a great touch. They also kicked to a couple of video packages, so overall given that this is an independent promotion, I have to say I was impressed with what they did.
If you didn't watch this show live, watch the replay. Uncharted Territory has set itself up as a program worth watching every week with this first effort, but it's going to take a sustained effort to keep the momentum going from this show through July.
Contact Sean at radicansean@pwtorch.com. Follow him on Twitter at twitter.com/sr_torch.