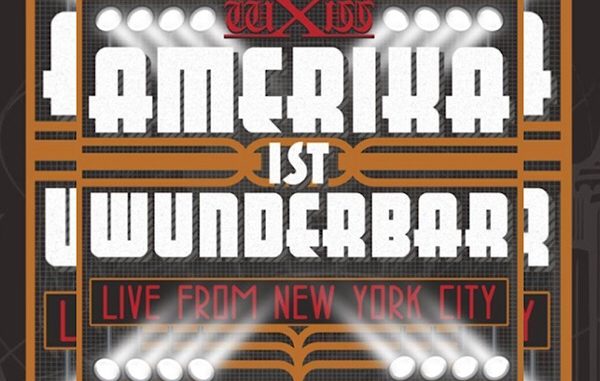 ---
SPOTLIGHTED PODCAST ALERT (YOUR ARTICLE BEGINS A FEW INCHES DOWN)...
---
LEAHY'S WXW AMERIKA IST WUNDERBAR REPORT
APRIL 4, 2019
NEW YORK, NEW YORK
AIRED LIVE ON FITE TV
German promotion Westside Xtreme Wrestling kicked off the WrestleMania festivites for many fans this weekend, as they went to bell on Fite and WWN at 4p.m. eastern with a promising, albeit it not immediately thrilling line up.
(1) LAX (Satantana & Ortiz) vs. THE CROWN (Jurn Simmons & Alexander James)
The match started off with the heels heeling and LAX….LAXing (and also heeling a little). The action quickly settled down into The Crown wearing on Santana, and then Ortiz before things broke down and we were treated to rapid fire tag exchanges, mainly from LAX. A huge double choke slam on Santana brought a believeable nearfall (after which one of the commentary team hillariously said that Simmons had a "pedo-look" on his face, rather than "PO-ed"), but stalling from The Crown gave LAX the chance to pick off James with some rapid high-impact offence for the win.
WINNERS: Santana & Ortiz
(2) DARBY ALLIN vs. AVALANCHE
A classic reckless small man vs super heavyweight pairing was up next, as Darby Allin took on Avalanche (think of a long-lost Natural Disaster, for those of you not familiar). If the interactions were predictable, the chemistry was anything but; Allin worked smart here- sticking and moving before repeatedly being cut down to size. Allin's commitment to his offence made the trades believable, but ultimately Avalanche followed up a huge fall-away slam with a Vaderbomb splash in the corner for a satisfying win.
WINNER: Avalanche
(3) JORDYNNE GRACE vs. YUU
In a late change, Jordynne Grace stepped for former PAWG partner Lufisto to take on Yuu on the cards sole women's bout. The early going was promising, but once action settled into the mid-game, some of the interactions were notably awkward-mainly from Yuu. Grace amped things up again with some full-commitment strikes and slams, and while Yuu managed to avoid 2 attempts at the "Here it is" driver, she ate the third. Grand.
WINNER: Jordynne Grace
(4) WXW SHOTGUN CHAMPION  EMIL SITOCI vs. MARIUS AL-ANI v
wXw's secondary title was on the line in the 4th contest, containing 2 wrestlers I neither know nor care about. The commentators tried to sell me on the importance of the title, while Emil Sitoci and Marius Al-Ani traded decent, if unspectacular, offence. To their credit, the commentators did more work explaining the characters and story of this match than the talent in the ring. Maybe if the live crowd could have heard some of the commentary track they could have got behind it, but they couldn't, so they didn't. We move on with our lives.
WINNER: Emil Sitoci to retain WXW Shotgun Champion
(5) DAVID STARR vs. LUCKY KID
As one would expect, crowd engagement was not an issue as David Starr took on Lucky Kid. This was very good, bordering on the sublime. Starr, taking umbridge with Kid's victory over Starr's long term target Walter at 16 Carat, got borderline-abusive in his offence. In the latter stages they trade uncomfortable headbutts, before Starr attempts to murder Kid with a brainbuster and a powerbomb, both over his right knee. Kid rallied late with a re-write standing sliced-bread #2, 450 knees and after several iteration of same, got Starr to tap with a crossface in the center of the ring. Match of the night by a mile. Starr proceeded to deliver a MONEY promo at WWE and WALTER in the ring. Promo of the night by a mile.
WINNER: Lucky Kid via submission
(6) CHRIS BROOKS vs. ABSOLUTE ANDY
Tag wrestling wizard Chris Brooks of CCK fame (and now Schadenfreude), took on former wXw champ Absolute Andy in a solid affair. AA spent the earlier stages using his veteran wits to maintain some control over the pacing. His power-based offence was working well for him, but an ill-advised moonsault, saw the tide swing to the Calamari Catch King. The exchanged the advantage a few times before Brookes scored a surprise roll up victory.
WINNER: Chris Brooks
(7) WXW TAG TEAM CHAMPIONS AUSSIE OPEN (Kyle Fletcher & Mark Davis) vs. THE WORKHORSEMEN (J.D. Drake & Antony Henry)
Aussie Open defended their Tag Team titles in the penultimate match of the night against former Evolve champions, Drake and Henry. This was good, very good in places, as one would expect. Fletcher took ALL the early heat from The Work Horsemen, before Davis and Drake had their inevitable chop-measuring contest, and all hell broke loose. a moonsault from Drake wasn't enough to put Davis away, but a Davis pull-up piledriver and the Fidget Spinner was enough to put Henry down for 3.
WINNERS: Kyle Fletcher & Mark Davis to retain the WXW Tag Team Championship
(8) WXW UNIFIED WORLD WRESTLING CHAMPION BOBBY GUNNS vs. SHIGEHIRO IRIE
Thus rolled around the main event of (Gunns) Bobby Gunns and Shigehiro Irie (of DDT fame) in a wXw title bout. The story was simple enough; Gunns tried to keep Irie contained, and targeted the arms of Irie, while Irie sought to hit his exposive offence at every available turn. A slight slow-burn and then they positively MURDERED one another in the latter stages. Gunns managed to survive a lariat (see afforementioned arm work), before targeting the arm for the submission win. A satisfactory main event. In the aftermath, Joey Janela came out and he and Gunn had a smoke-off to set the scene for a title match back in Deutschland.
WINNER: Bobby Gunns to retain the WXW Unified World Wrestling Championship
Overall thoughts: (7.0) – A fine and quick moving card with enough action and narration to not put you off wrestling for the rest of the weekend. Thumbs up.
Notable Bouts:
Allin vs. Avalanche ***
Starr vs. Lucky Kid ****1/4
Aussie Open vs. Work Horsemen ***3/4
Gunns vs. Irie ***1/2
Contact Torch contributor Brian Leahy at cobyhectic at gmail.com. Follow him on Twitter at twitter.com/cobyhectic