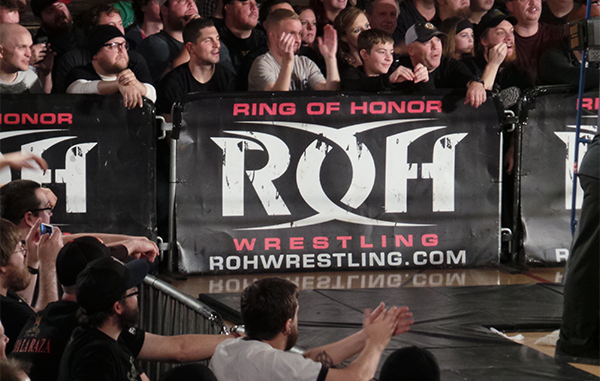 ---
SPOTLIGHTED PODCAST ALERT (YOUR ARTICLE BEGINS A FEW INCHES DOWN)...
---
The following is the latest in a new series of weekly in-depth articles exclusive to PWTorch which will help put in perspective major wrestling promotions with a weekly overview, looking at news and roster developments, results, future line-ups, social media activity, key interviews, plus a timely commentary at the end. We will be featuring similar features on other promotions each week and each will be updated weekly.
---
•Top Stories of the Week
This week was not a great week in terms of Public Relations for Ring of Honor. Two alleged incidents will be discussed below. Please note that if any legal process is to take place, it has not yet. As a result, these will be an update of person(s) perspective that is alleging these events.
The first accusation comes from a female ROH fan that posted

on Twitter

about her experience with an unnamed "Heel," performer making alleged unwanted sexual advances to her. If you are interested in her perspective the link is to her twitter thread on the matter.
Another alleged incident, which has been dubbed "The Bully Rau Incident," happened at the State of the Art event this past weekend. Again the person who is leveling the claim, did so

on Twitter

. ROH is currently investigating the claim and issued the following statement:
"ROH has always taken a fan-first approach with fan experience being at the forefront of all of our live events. We consider this to be very serious and we will be conducting an internal review over the next 48 hours to determine the appropriate actions."
---
•Live Event Results
State of the Art – Kent, Wa
Kent, WA (6/1/19)
Showare Center at 7pm
This was a TV Taping. If you would like spoilers for this, the wrestling observer has results HERE.
State of the Art – Portland, OR
Portland, OR (6/2/19)
Viking Pavilion at 7pm
(Dark Match) The Allure with/Velvet Sky Defeated Notorious Nattie & Mazzerati
Tracey Williams defeated Bully Ray in a No DQ match
Mazzerati defeated Danika Della Rouge
Mark Briscoe defeated Josh Woods
Jeff Cobb defeated PJ Black
The Bouncers defeated The Kingdom, Rush & Dalton Castle, Coast 2 Coast, Silas Young & Shane Taylor, and the Voros Twins in a tag team gauntlet match.
Jay Lethal defeated Jay Briscoe
Matt Taven defeated Flip Gordon, Mark Haskins, and PCO in a Defy or Deny match.
---
•Upcoming Major Show(s)
ROH Best In The World (PPV Event)
UMBC Event Center 8pm
Baltimore, MD
This is the up-to-date card:
Matt Taven (c) vs. Jeff Cobb for the ROH World Championship
Shane Taylor (c) vs. Bandido for the ROH WOrld Television Championship
Dalton Castle vs. Dragon Lee
Flip Gordon vs. Rush
---
•Upcoming Events
ROH Best In The World (PPV Event) 6/28/19 in Baltimore, MD at UMBC Event Center
ROH Best In The World (TV Taping) 6/29/19 in Philadelphia, PA at 2300 Arena
ROH Manhattan Mayhem (Live Event) 7/20/19 in New York, NY at Hammerstein Ballroom
ROH Mass Hysteria (Live Event) 7/21/19 in Lowell, MA at Lowell Memorial Auditorium
ROH Summer Supercard 8/9/19 in Toronto, ON at Mattamy Athletic Centre
ROH Saturday Night at Center Stage (TV Taping) 8/24/19 in Atlanta, GA at Center Stage
ROH Honor for All (Live Event) 8/25/19 in Nashville, TN at the Nashville Fairgrounds Arena
All current live events are located on rohwrestling.com.
---
•Latest TV Highlights: 6/2/19 ROH Wrestling
ROH TV Results
June 2nd, 2019
Chicago, IL at the Odeum
Airing on Sinclair Networks and rohwrestling.com
The Allure came out and had a heel promo. Jenny Rose and Kelly Klein came out and drove the team to the backstage area.
The Bouncers defeated The Kingdom, Coast 2 Coast, and Clark Connors & Alex Coughlin at 9:00
A series of video packages summarizing Cabana winning the NWA National Championship, The 1st match of Kenny King & Jay Lethals best-of-three matches, and Jeff Cobb with his family are shown.
Josh Woods defeated Maverick Boom at 0:51
Evil & Sanada defeated Yuji Nagata & Satoshi Kojima at 12:46
Dalton Castle had a heel promo and left The Boys laying in the ring to end the show
Click HERE to read our full report.
---
•LATEST "TALKING HONOR" PWTORCH DAILYCAST COVERING ROH
"The Gift Horse." This week, Emily Fear and Charlie Patrick discuss ROH going to Portland, Oregon for the first time for State of the Art, ROH's relationship with NJPW and whether AEW could encroach on that, a bounty of four-corner survival matches, a strong feeling of déjà vu watching ROH as of late, and the Best in the World PPV lineup.
-On Tune In Radio 
HERE
-On Apple Podcasts 
HERE
-Or
 search "PWTorch" or "Pro Wrestling Torch"
on your podcast app of choice
---
•Social Media Scene
Below is this week's round-up of social media posts from ROH personalities.
Welp, Taven's run is over.
https://twitter.com/ringofhonor/status/1136241310837424129
Kelly is 100% right, and she just has the best Twitter presence.
Dear @Speedway,
How do you turn down or mute the volume on your TVs?
When I stopped for fuel tonight, it would have been really nice if I would have been able to hear the strange man approaching me in the parking lot. Thanks.#traveltips #safetravels #SelfDefense

— Kelly Klein (@RealKellyKlein) June 5, 2019
If that stream decides to work, amirite?
ROH TV EPISODE #402 AVAILABLE NOW ON #HONORCLUB! https://t.co/vS7fcMBTTh or download the #ROHApp! pic.twitter.com/9vu2SM4j4U

— ROH Wrestling (@ringofhonor) June 5, 2019
---
•Closing Commentary
To say this has been a bad week for ROH is an understatement. Two high profile stories about fans being allegedly harassed sexually and verbally. Whether either are true is almost irrelevant at this point. Over the last few days, it is easy to see that public opinion is strongly against ROH on both of these issues, and beyond.
This week marks the first time this calendar year that I have seen ROH on the front page of r/SquaredCircle. It was about the two stories that I mentioned in the news portion, and in the previous paragraph.
Beyond the troubling allegations, the IWC fans of Reddit took the opportunity to eviscerate the current direction and booking in ROH. I know this is a small portion of the WWE/AEW audience, but the IWC fans are critical to the future success of ROH. I have felt bad at times being so critical of the product in recent weeks, but compared to the comments you read on Reddit, I could be seen as ROH's biggest supporter.
But what to do? Well, like all things in life, it is complicated, and I only have an opinion; not a solution. But, Taven has go away heat with the remaining fans. So he cannot beat Cobb clean at Best in the World. I am open to a story where Taven and The Kingdom get a heel victory and Cobb wins it later.
HonorClub has been a disaster as of late. The handful of loyal fans who want to watch live events cannot even get a good feed. That's a rough way to gain fans, let alone keep them.
TV should be live in 2019. Or at least let me watch TV tapings on HonorClub. How hard is that? I'm just going to read results and skip the show if I am a normal fan.
These three things would help, along with doing the due diligence in terms of the two allegations we have talked about today. If ROH determines that anything close to the allegations happened, they need to do the right thing.
Tyler has been a wrestling fan for 20 years. He's from Columbus, Ohio. Check him out on Twitter @ringoftyler and check out his podcast @tandbwrestling.
---
NOW CHECK OUT OTHER WEEKLY OVERVIEWS HERE.
OR JUMP TO LAST WEEK'S WWE OVERVIEW: WEEKLY OVERVIEW – ROH (thru 5/29): Top stories of week, major show lineups, live event results, schedule of live events, noteworthy social media posts, more