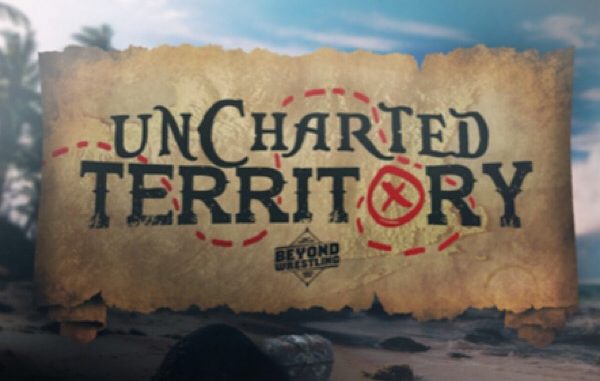 ---
SPOTLIGHTED PODCAST ALERT (YOUR ARTICLE BEGINS A FEW INCHES DOWN)...
---
FANN'S BEYOND WRESTLING "UNCHARTED TERRITORY' REPORT
EPISODE 13
JUNE 26, 2019
WORCESTER, MASS.
THE WHITE EAGLE
AIRED LIVE ON INDEPENDENTWRESTLING.TV AND FITE TV
Announcers: Paul Crockett and Sidney Bakabella
(1) Solo Darling vs. Shotzi Blackheart
Both started with nice exchanges and ended with gentlewomanly handshakes. Blackheart took the advantage after a cannonball in the corner but Darling was quick to cut her off. However, Shotzi was ready and converted Solo's assault into a headscissors into the corner.
Shotzi then attempted to go for a 619, but Solo caught her into an ankle lock in the ropes. At this point, both women began to transition to submissions that involved the ropes, until Solo fell to the floor. Shotzi used this to baseball slide dropkick Darling, but again was caught. Darling then hit a Sharpstinger in the corner post, and severely damaged Shotzi. On the apron, Shotzi attempted a sliced bread #2, but Solo held her and hit a neck-breaker on the side of the apron, and demolished Shotzi's neck.
Solo tried to kick Blackheart's head off, but Shotzi matrix'd her way out of the kick. Both women then stood up and went shot for shot. Solo went for an exploder and Shotzi kicked out at two, to the chagrin of Solo Darling. Solo got up and ate a backdrop on her head, fought through it, then slapped the Sharpstinger on for the tapout win.
Dickinson got the win with a Memphis-style piledriver.
WINNER: Solo Darling in 13:03 by submission (***)
(Fann's Analysis: Solo's been great every week she's been at Uncharted Territory. Shotzi was outstanding as well – and I loved this open for the show. Both women were hard-hitting, the respect was there and the finish was pretty strong.)
Anthony Greene and the Platinum Hunnies were out in patriotic regalia to issue a challenge to The Patriot next week on Uncharted Territory – and that he "would be red white and bruised".
Green then led the crowd in his version of the Pledge of Allegiance and departed.
(2)  John Silver vs. Chuck O'Neil – Wheeler Yuta on commentary
Both men after the bell go for holds and counter-holds on the mat, and showed both of their prowess. O'Neil got the advantage after a shotgun-sounding kick to Silver's arm. With Silver injured, O'Neil stalked his opponent, and kicked over and over the arm – finally threw Silver's shoulder and arm into the corner. At this point, the announcers cited O'Neil's focus on moving from MMA to wrestling and keeping up with the rules.
After a vertical suplex by O'Neil, a combo of a uranage like hold and a knee to the head nets a two count. A potential flash knockout on O'Neil with a punch from Silver isn't followed up on, due to O'Neil going under the ropes. Both men exchanged german suplexes, with Silver getting the advantage after a back cracker for a long two count. After a kick to back of the head, Silver went for the Spin Doctor, but O'Neil struggled out and hit a vicious kick to the head. After Silver charged, O'Neil transitioned a hold into his arm bar for the tap out.
WINNERS: Chuck O'Neil in 9:52 by submission (**)
Post match, Reynolds hits the ring to attack, and Wheeler Yuta left commentary to assist. Yuta then got out of O'Neil's armbar and forced the bigger former MMA fighter to bail to O'Neil's shock.
(Fann's Analysis: Nice hoss fight while it lasted. I thought that Yuta on commentary for the match was a nice sneaky setup for the save, and the finish (with the ref missing some of the tap) was a great lead in to the save. I'm looking forward to Yuta/O'Neil down the road.)
Pre match, the next competitor for the Discovery Gauntlet, Leyla Hirsch was interviewed. Hirsch was asked how she felt to be the first woman in the gauntlet, which she answered "I'm here to kick some ass" and stormed to the ring. Cam (now announced as Cameron) Zagami arrived in a white suit to lead his charge to the ring.
(3) "The Talent" Christian Casanova (w/Cam Zagami) vs Legit Leyla Hirsch – Discovery Gauntlet Match
Casanova battled a quick roll up, and nailed several flip attacks, which culminated with a kip up wheel kick. Instead of a pin, Casanova preened. Hirsch then fought back after a missed springboard, and went to the top rope for a moonsault which only got a quick two count. Casanova took a powder and tried to recover.
Hirsch then hit a dive outside on both Zagami and Casanova, then got Casanova and tried to finish the match with an armbar. Casanova powered the armbar into a powerbomb for a long two count. A yazuka kick attempt by Casanova was dodged, and Hirsch hit a release german suplex for a near fall. Zagami distracted Hirsch, which allowed Casanova to hit a stun gun and an axe kick for the win.
WINNER: Christian Casanova in 4:27 by pinfall (**)
Post match, Zagami took the microphone from the interviewer to interview Casanova. Most of the interview was unintelligible, as the crowd booed that loudly as Casanova declared he's the f—– best.
(Fann's Analysis: Match was a good way to move away from the catch as catch can style of Santell, and while Hirsch was a decent opponent it was clear the win was a matter of when, not if. The cockiness post match.)
(4) "Dirty Daddy" Chris Dickinson vs. Matthew Justice – Anything Goes Match
Both men started the match appealing to the fans and Dickinson was driven to the corner by Justice. After a throw to the ropes, Dickinson dropped Justice with a shoulder tackle of his own. After another exchange, Justice got Dickinson out of the ring and then dove himself outside – but there was a miscommunication and Justice bounced off of Dickinson and slammed onto the floor. Justice jumped up right after and went looking for Dickinson. The two began to fight on the floor and through the crowd, and returned back to the ring for Justice to toss chairs back into the ring.
Back in the ring, Justice hit a chair shot to Dickinson's head. Dickinson refused to stay down, so Justice continued the assault with a chair and boots to the body. Dickinson was set up for a coast to coast, and threw the chair across the ring into Justice's face. Dickinson then hit a con-chair-to to Justice's head and got a two count to the shock of the crowd. Justice was then put in the Tree of Woe, with Dickinson stepping onto the groin of Justice.
With Justice locked in tree still, Dickinson set a chair onto his face and hit a sliding dropkick with another chair. Dickinson then grabbed the limp Justice and tried a Memphis piledriver on the apron, but Justice hit a backdrop variant onto the apron. Dickinson landed on his head and arm, which led to announcer discussion on the merits of the ref stopping the match. Justice assaulted the arm with a chair, and followed up with a splash from the top rope with the chair for a near fall.
Justice grabbed a door from under the ring and set it up near the merchandise stand in the back of the venue. Dickinson recovered before Justice could put him through the table and the two battled to the stage behind the merch stands.
Dickinson then hit a Pazuzu bomb from the stage through a door to the wood floor. With Justice near dead, Dickinson carried Justice to the ring for the pin and only got a 2 count. Dickinson then began to hit kicks to the chest and head of Justice, finishing his flourish with a Van Daminator. Dickinson then hit a DVD through a chair for a two count, with Justice fired up and on his knees.
Dickinson then left the ring to get another door and set it up in the corner. Justice got out of the Pazuzu bomb and hit a DVD through the door, but only got a 2.9 from the referee. At this point, Justice is bewildered. After a trip to the top rope lead to Justice eating another head shot with a chair, Pazuzu hit a top rope falcon arrow for the pin.
WINNER: Chris Dickinson in 15:46 by pinfall (***1/2)
(Fann's Analysis: This match was insane. Seriously, the build to Sekimoto has been great for Dickinson, but there were several times I thought one or both men got wrecked. Outstanding hardcore match that didn't have blood.)
Post match, Dickinson gave Justice love for the match, saying "he used to be in the WWE, but now he's a crazy f— just like us". The crowd chanted "please come back" as Dickinson announced his special surprise for next week. Joey Janela's 30th birthday will be live next week!
Footage then played of last week's Chikara match and the madness at the end with the run ins.
(5) Cornelius Crummels & Sonny Defarge & Cajun Crawdad vs. Razerhawk 2000 & The Colony (Green Ant & Thief Ant) – Fight under CHIKARA Trios rules
Under trios rules, no tags are needed and these men kick it off with a triple assault on Crummels, Defarge and Crawdad, who bailed the ring. Razerhawk and the Ants then hit triple planchas and celebrated with the crowd. The teams then returned to their respective corners.
Before Thief Ant could press his solo advantage on Sonny Defarge, a snot rocket blinded him. Green Ant then tagged himself in, and hit a few dazzling moves on the Cajun Crawdad. Right when Green Ant thought he was going to be in control, Defarge & Crummels hit dropkicks on the senior Ant, dumping him outside. Razerhawk then hit the ring and thought he had things in control, but Cajun Crawdad then entered and nailed a double knee in the corner. Moving to the apron, Crawdad tried the Memphis Piledriver twice, but was back body dropped over the corner and onto Defarge and Crummels, who had bailed outside.
Hermit Crab then hit the ring to assault Green Ant and end the match by disqualification.
WINNER: Razerhawk 2000 & The Colony in 6:46 by DQ (**)
(Fann's Analysis: Really good trios style match. These Chikara interludes mid-show are a great change up and the storyline being furthered by Hermit Crab's appearance.)
They then cut to a Skype cut in of Mike Quackenbush, who announced he would show up in Worchester next week to handle the out of control situation with sea creatures and ants abounding.
(6) Nick Gage vs. Richard Holliday – No match occurred
Ken Doane lurked in the crowd prior to the match starting.
Before Holliday could get to the ring, Gage chased him down and beat him in the crowd. During the course of this, Gage bumped into Doane, who then jumped Gage and helped Holliday assault Mr. MDK.
Thomas Santell hit the ring in his shirt and tie to save Gage. After the heels fled, Gage refused to shake Santell's hand and was mad at Santell for helping.
(Fann's Analysis: I liked how they moved out of the Holliday MDK and into a potential story with Santell and Gage. Not only is this a great way to bring back Santell, but the potential storyline between Gage and the Ovaltine Dream can build to a great feud and/or potentially Gage being Santell's Americanrana 19 partner vs. The Chop & Roll Express of Alvarez and Lawlor.)
It was announced next week that Thomas Santell would take on Cam Zagami.
(7) Josh Briggs vs. Kris Statlander
Statlander is said to be giving up a foot and over 100 pounds in this match as the bell rings by the announce team. After an attempt to match power, Briggs tapped Statlander low to frustrate her. Another tie up resulted in Statlander winding up on the second rope, and from that vantage point she stared Briggs down.
From here, Statlander attempted a double wet Willy, only for Briggs to power out and instead give the wet Willy to Kris Statlander. With the crowd booing throughout, Briggs was annoyed at the response. A series of sentons from Statlander onto Briggs only got a short two count. It was at this point that Briggs realized this was going to be a real challenge and frustrated by Statlander countering moves into the corner. Statlander tried a top rope frakensteiner, but Briggs countered and placed her on the top rope, and said "I don't want to hurt you".
Statlander then used the opening to railroad into Briggs in the corner, and attempted a throw of Briggs, who powered out. Briggs then began to hold Statlander back like a little kid, and after being bit hit Statlander with a straight right to his own shock. After he realized what he did, Briggs went for a pin, but only got a two with the delay. Briggs countered a sunset bomb attempt with a biel across the ring, and again garnered boos from the crowd. Statlander used the opening to get a sleeper and finally get the wet Willy, but Statlander ate a boot from Briggs as a reward. Briggs did a lateral press for a two count, not grabbing the leg and again the announcers cited Briggs being too easy on Statlander.
Briggs went for a chokebomb, but Statlander countered with a meteora and both collapsed to the mat. The two made it to their feet at the eight count, and Briggs ate several Statlander elbows. A lariat by Briggs was again countered with a matrix reversal and Statlander pressed the pace with a faceplant suplex.
Statlander went for an electric chair and couldn't hit it, so instead nailed a german suplex and DDT follow up for a two count.
Briggs began to get back into the match until Statlander hit I am your leader elevator drop and axe kick for a 2.9 count. Briggs at this point is on spaghetti legs, with Statlander in his face and yelled "get back into this". Briggs then hit two vicious boots to the head, but Statlander would not be denied. Briggs ate a Canadian Destroyer, but then hit a Tombstone of his own for a two count.
Both competitors were down again, and it was another eight count. Statlander was brought to her feet for the choke bomb, but Statlander hit a Code red for a visual three count with Briggs in the ropes preventing it from counting. A chokebomb later ended the match.
WINNER: Josh Briggs in 16:55 by pinfall (****)
Post match, Briggs gave props to Statlander for being the "best wrestler on the f—- planet" and breathlessly declared how good she was. Briggs then said folks didn't want him to take the match and he wanted to for the fans. Now that he's 100%, Briggs wanted the crowd to know that Beyond's bringing a lot of talent to Americanrana and Briggs wanted John Morrison (Johnny Foxwoods) as the show cut off.
(Fann's Analysis: This match might not have been as wild as the Janela match, but I loved the fact that Statlander went up against the 6'6" Briggs and made it a war. Statlander is not only just a machine, her work to make the height/weight differentials a non-issue is amazing. Briggs did a great job playing the reluctant opponent and ramped it up late.)
Overall thoughts (8.0): This was another great show – and the non-match with Gage could've gone bad with the crowd, but the way it was handled was great and led to a future storyline. The main event between Statlander and Briggs was excellent – and the more Statlander shows up, the more her legend grows on the show. Even the trios match being one of two non-finishes was good. Dickinson and Justice was a nasty brawl that just made you cringe in the best way possible as those two wrecked each other. Overall another solid show!
Contact Rich at PWTDive@gmail.com. Follow him on Twitter at twitter.com/rich_fann.