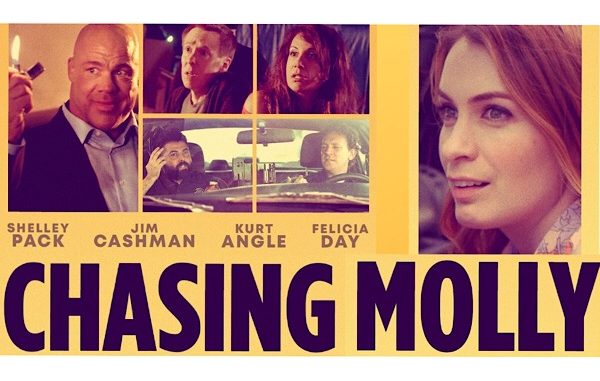 ---
SPOTLIGHTED PODCAST ALERT (YOUR ARTICLE BEGINS A FEW INCHES DOWN)...
---
CHASING MOLLY
It's rare when I find a movie with a wrestler come across my desk that I get excited unless it's The Rock, so when I was offered the chance to review Chasing Molly, which features Kurt Angle in a co-starring role, I was skeptical. I've seen Angle do comedy in WWE and he was funny, but there's never any guarantee that what happens on a wrestling show will translate to a movie.
Chasing Molly is about a pair of con-artists named Molly (Shelley Pack) and Atticus (Jim Cashman), who run a company called Demon Cleaners where they claim to be paranormal experts, but they're really just stealing from their clients, as Pack pretends to exercise the demons while Atticus tries to find valuables their clients won't notice have gone missing immediately.
Angle plays a mob boss named Mr. Black, who kills a man at the beginning of the movie. His henchmen feel like there is some paranormal activity in their hangout after the killing, so they call Molly and Atticus. Atticus ends up taking a teapot full of expensive drugs from a drawer in an office. After they take the drugs to someone to try the drug to ind out what the effects are, they discover its effects are similar to powerful ecstasy.
The end result is a hilarious scene where Molly and Atticus film the man that tested the drug, who tells them he feels like he can suck his own d—k. They film the video and upload it online to show prospective buyers the effects of the drug.
Eventually Mr. Black catches up to Atticus and threatens to kill him unless Molly returns all of the drugs, which sets the rest of the movie in motion with Molly trying to find a way to get all of the drugs together to save Atticus. Angle is really fun in his role as the foul mouthed mob boss and his profanity driven dialog
Pack, who wrote and starred in the movie, steals the show. The movie is a series of dialog driven scenes and her dry and sarcastic delivery are hilarious. She encounters one bad scenario after the other while trying to save Atticus and listening to her talk down a street thug asking for oral sex and man expecting a "grapefruting" from her are among the highlights of the movie.
Another excellent scene involves Molly going to see a man named Skullf—-er, who graphically details what he's going to do to people while holding a baby and taking care of several other children in the room is hilarious, as his verbiage doesn't back up his appearance.
Felicia Day only appears in a few scenes, but she is hilarious as Atticus's psycho girlfriend. The scene where she spies on Molly from her car to find out where Atticus has been is tremendous. There's also a gut busting back and forth between Molly and Kaitlin later in the movie where Kaitlin discusses the ridiculous names her and Atticus have for the things they do together sexually.
Overall thoughts: (9.0) – I really enjoyed this movie from start to finish. There was only one scene that fell short in my eyes featuring a monk that was helping Molly choose a weapon to defend herself as she tried to save Atticus.
Other than that scene, this movie played out like a sequence of great skits one after the other. Kurt Angle did a great job as Mr. Black as well. His delivery during the movie was spot on and his acting in the final scene ended the movie on a high note. I give this film a high recommendation.
Note: You can purchase this movie on Blu-ray or DVD on Amazon. You can also rent it digitally for $3.99 on most major digital retailers including YouTube, Vudu, and Amazon.
THE UPSIDE
I went into The Upside expecting to see a really good movie. I'm a big fan of Kevin Hart and although I knew he was looking to show a more serious side in this movie, I thought it would deliver some good laughs given that he was paired with Bryan Cranston, who is one of my favorite actors to watch, especially after his epic performance as Walter White in the Breaking Bad TV series.
Hart plays Dell, who is recently out on parole and is out looking for a job when he runs into Phillip Lacasse, a quadrapaligic billionaire played by Cranston. Right off the bat the movie begins to fail because the script is poor. Dell somehow ends up getting an interview to be Lacasse's caretaker, despite having no experience.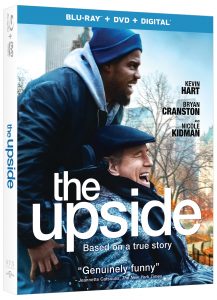 How Hart, a convict on parole, managed to land a gig with a billionaire or even get into the room is beyond me. Nevertheless, Hart and Cranston have a great back and forth exchange when Dell bullies his way into the room for an interview much to the dismay of Lacasse's assistant played by Nicole Kidman. Unfortunately what I saw in that scene between Hart and Cranston did not carry out into the rest of the movie.
As a mix of drama and comedy, The Upside strikes a dark tone for most of the movie and doesn't even address the issues of class and race that are screaming at you for the entire movie to be addressed. Hart does a good job of toning down the comedy and showing he can pull off a serious role and Cranston delivers an incredible performance from the standpoint of portraying someone that is only able to move ¼ of his body.
There's a lot lacking to make the movie work. The audience is never given a glimpse into who Lacasse and Dell really are. Dell is clearly trying to do better after he gets the job with Lacasse, but there's really no reason to root for him to become a better person. There are some hints at what Lacasse's past life was like, but not enough to truly bond with his character either.
What you're left with is a shell of a movie. It's not bad, but it's not good either. Dell is shown to be a bad father, but that never comes back to bite him as he's seemingly able to win back the love and affection of his son and the approval of his ex with material possessions.
Hart does have some funny scenes, but he never goes over the top. The script is just kind of there most of the time and it meandres its way to the stereotypical ending you might expect. Even if there is a funny scene here or there, the dark tone of the movie and the lack of compelling story weighs everything down.
Overall thoughts: (5.0) – If you're not big fans of Hart and/or Cranston, this movie is worth skipping. It's not bad, but it's not very funny and the script is weak from several aspects.
The bonus features on the Blu-ray are the worst I've ever seen, as little to know effort was put into cobbling together a series of short clips. Thumbs in the middle.
Note: The upside is available to purchase or rent at most major retails and online outlets like amazon.com.
Contact Sean at radicansean@pwtorch.com. Follow him on twitter at twitter.com/sr_torch