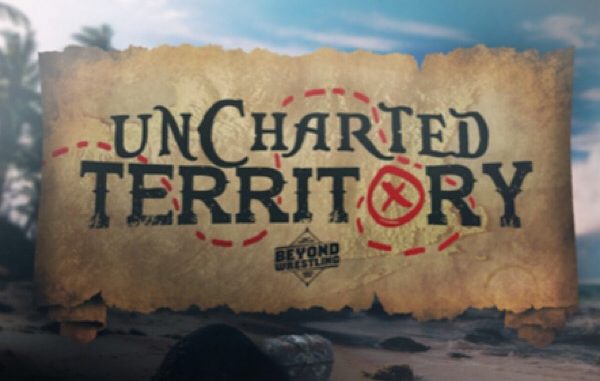 ---
SPOTLIGHTED PODCAST ALERT (YOUR ARTICLE BEGINS A FEW INCHES DOWN)...
---
FANN'S BEYOND WRESTLING "UNCHARTED TERRITORY' REPORT
EPISODE 18 (Season 1 Finale)
July 31st, 2019
WORCESTER, MASS.
White Eagle
AIRED LIVE ON INDEPENDENTWRESTLING.TV AND FITE TV
Announcers: Paul Crockett and Josh Briggs/Sidney Bakabella
For the season finale, it's a throwback to Josh Briggs as commentator.
(1) Club Cam (Ken Doane, Cam Zagami & Christian Casanova) & Richard Holliday vs. "Retro AG" Anthony Greene & The Platinum Hunnies (Ava Everett & Angel Sinclair) & Josh Briggs
Before the match could start, Richard Holliday jumped the Platinum Hunnies, which prompted Briggs to leave his announce position and defend his friends. After some jawing occurred, the match went from a six person to an eight person match.
Sidney Bakabella returned to the booth as Briggs wrestled Doane in ring, and noted that Briggs' sneakers could be a risk, as they weren't general issue wrestling gear and the big man could turn an ankle. While Doane was distracted, Angel Sinclair tagged in and began to slap around the big man. Everett then tagged in and gave Doane a double leg drop with Sinclair.
After a hair pull, Doane got the advantage and tagged in Zagami, who hit a few slams and tagged back out to Holliday, who then had to contend with an angry Briggs. With the referee out of position, Casanova snuck in the ring and hit a Code Breaker onto Briggs – which allowed Holliday to take advantage. Doane eventually got the win with a handful of tights on Angel Sinclair.
WINNER: Ken Doane in 7:18 by pinfall (**)
(Fann's Analysis: Fun way to end the season where they started – with Briggs on commentary, then tagged out to Sidney B. Match itself was good – with Doane being a full jerk pulling the tights when he absolutely did not need to do so.)
Post match, Cam Zagami introduced Richard Holliday as the newest member of Club Cam.
Brad Hollister was then brought to ringside by Rich Palladino. "Big Bacon" updated on his health progress, his new podcast and said that the doctors said he tore his ACL and will be out maybe a year. Chuck O'Neil came to the ring as Hollister spoke – and began to stalk the hobbled Bacon man. O'Neil told Hollister to leave the ring because "you're not medically cleared to wrestle". O'Neil then transitioned that conversation to Wheeler YUTA not being cleared after being knocked out on Sunday. YUTA hit the ring and the match was on!
(2) Wheeler YUTA vs. "Cold Steel" Chuck O'Neil – No Disqualification Match, Win by Submission or Knock Out
YUTA started on the offensive and focused on the arm of O'Neil, then a pair of shotgun dropkicks to O'Neil's head, which got O'Neil to seven before he rolled out of the ring. YUTA followed with a tope suicida to the floor and maintained the pressure on O'Neil.
YUTA tried to get to the top rope, but O'Neil sprang to the second rope with an overhead belly to belly. O'Neil then hit a series of kicks to the arm and suplexes onto YUTA's head to incapacitate the plucky Wheeler YUTA. As YUTA began his comeback, O'Neil raked the eyes and hit the knee that won him the match on Sunday. YUTA, however got up at 9.5 to the chagrin of Chuck O'Neil – who then began to lay overhand slaps to YUTA.
YUTA fired up and exchanged chops with O'Neil, and progressed to forearms, but when O'Neil went for that knee again, YUTA nailed the bigger fighter with a lariat. YUTA climbed to the top rope and again O'Neil tried the overhead belly to belly, but YUTA shrugged O'Neil off and hit a huge dropkick. YUTA then slapped on the YUTAgatame, but with one arm it was difficult to maintain. O'Neil hit his Michinoku Driver / Armbar finish combo, but YUTA, as he has for weeks reversed out of it. O'Neil then got in the face of Brad Hollister – still ringside – and kicked one of Big Bacon's crutches out of his hand. O'Neil then grabbed a chair and tried to enter the ring, but YUTA kicked it and used one of Hollister's crutches to give a modified YUTAgatame for the submission win.
WINNER: Wheeler YUTA in 12:47 by submission (***)
(Fann's Analysis:. After YUTA's knockout on Sunday, this was a good comeback, as well as the story of getting out of O'Neil's armbar. Big Bacon's role in the finish – loaning the crutch O'Neil kicked – was a nice touch.)
Backstage, Bullet Joe (latest Discovery Gauntlet contestant) said that size wouldn't matter in his upcoming match with "Red Death" Daniel Garcia.
(3) "Red Death" Daniel Garcia vs. Bullet Joe – Discovery Gauntlet Match
Bullet Joe opened with shotgun dropkicks and headbutts at the bell onto Garcia. Bakabella and Crockett noted Joe had only two years as a professional. Garcia moved out of the way of a double stomp and hit a fisherman buster for a two count. "Red Death" chants began in the crowd as the Discovery Gauntlet holder chopped Bullet Joe several times to the mat.
Bullet Joe slapped Garcia, who no sold the hit and began to exchange slaps. Garcia took the advantage and laid some forearms to the side of the head onto Joe, and a clothesline only got a two count. Garcia attempted a tilt a whirl backbreaker, but Joe switched it into spinning ddt, then nailed a top rope stomp for a two count. Joe then tried to chop Garcia down, but each chop only fired Garcia up more. Garcia elevated Joe for a punch to the head and a Deathshooter got Red Death the win
WINNER: Daniel Garcia in 5:54 by submission (**)
(Fann's Analysis: Garcia is a problem in the ring. Red Death was super intense and the smaller Bullet Joe made a contest of it – but looked like a little brother that was going to get wrecked once mom and dad left.)
Post match, Garcia challenged all comers in season two and said there wasn't a man alive that could handle "Red Death".
(4) "Blue Thunder" Jay Freddie vs. "Patron Saint of Professional Wrestling" Brandon Thurston
Buffalo's finest back in the ring together. Thurston started the match off hot and called for Freddie to match haymakers in the middle of the ring. Bakabella noted what started as a friendly rivalry had turned into the Bloods vs. the Crips.
The pair went from punches to chops and the exchanged reddened their chests, until Freddie hit an especially wild chop and dropped Thurston. A double underhook suplex by Freddie only got two, which Freddie took exception to. Freddie and Thurston again returned to fisticuffs, only this time from their knees threw lariats. Thurston attempted la mystica, but instead transitioned into a guillotine. Freddie turned that into a falcon arrow for a 2.8 count. Freddie hit a shining wizard for a near fall – and a tombstone wouldn't do the job on Thurston either.
Thurston hit a spike brainbuster for two, and Thurston was beside himself. A shining wizard from Thurston served insult with injury, and that cheekiness was repaid with a Freddie superplex.
Freddie telegraphed a lariat, which Thurston jumped on and applied on an arm bar. Freddie escaped, but Thurston got la mystica and a fujiwara armbar slapped on – with head punches to boot – for the submission.
WINNER: Brandon Thurston in 10:27 by submission (***)
(Fann's Analysis: This match was a war between two men who knew each other well. They're now 1-1 and a rubber match needs to happen in season two. Thurston and Freddie did a great job of giving no quarter and the ferocity of the finish was fun.)
(5) Top Dogs (Skylar, Davienne) & Sierra vs. "Legit" Leyla Hirsch & the Sea Stars (Ashley Vox & Delmi Exo)
The Top Dogs and their assistant Sierra jumped the faces before announcing could finish. Skyler and Hirsch started out in the ring, with Ashley Vox in after Hirsch was felled by a kick to the head. Davienne tagged in as well and Vox took advantage with a charge in the corner.
As the match progressed, the story became whether or not Top Dogs would trust Sierra to get in the ring. After a trifecta of dives onto the Top Dogs, it was again clear the faces ignored Sierra and treated her as a non-threat. Sierra changed that mindset after she climbed to the top rope and dove into the fivesome on the floor.
In the ring, Delmi Exo was dropkicked and stunned by Sierra. After Sierra celebrated, after turning around Leyla Hirsch back suplexed her. The Top Dogs returned to take control back of the match. After a tower of doom corner spot, Sierra finally began to stir and return to the land of the living. After a confusion spot between Vox and Hirsch, Skylar gave Sierra brass knuckles to use on Hirsch and company. While the ref admonished Sierra, Davienne and Skylar hit an assisted slam for the win.
WINNER: Davienne in 8:23 by pinfall (**)
(Fann's Analysis: Going into season two, the story of Sierra being used as a toady will bear watching. The match itself was okay – the story itself was more the appeal.)
Beyond's next big show, All Hands on Deck in September was advertised.
(6) The Butcher & The Blade (Andy Williams & Pepper Parks) vs. Milk Chocolate (Brandon Watts & Randy Summers)
Parks and Summers kicked the match off, as the story of the match via the announcers focused on Butcher & Blade's defeat to Rock 'n' Roll Express. In ring, quick tags between Parks and Williams kept Summers in the ring.
After an eye poke to Parks, Brandon Watts was tagged in. Watts grabbed Parks' mask and put it on, danced with it on and turned around to see Andy Williams staring a hole into Watts' soul. Watts jumped off the rope but was caught by Williams. Summers tried to sneak under Williams, and both members of Milk Chocolate posted Williams groin first. With the big man incapacitated and not the legal man, Milk Chocolate had a clear path to isolating Parks.
Williams was tagged in, but the ref didn't see it so the big man had to wait to get in and exact revenge. Once in, Williams dropped Summers with a powerbomb and put on a Texas cloverleaf. Watts superkicked Williams in the face, who no sold, but then a double stomp put the big man down. A pinfall was broken up by Parks, and all four men were on the mat.
Summers was caught as he tried to help Watts get a pin on the ropes, and while the ref was distracted Milk Chocolate hit a double kick to the groin, but only a two count. A powerbomb / shoulder block combo, followed by an assisted lungblower got the win for the team from Buffalo.
WINNER: Butcher & The Blade in 14:31 by pinfall (***)
(Fann's Analysis:.A solid mojo building tag match. Milk Chocolate played their roles well. Parks & Williams were focused, and the end stretch was especially strong.)
(7) FEAST Wrestling Champion Solo Darling (w/Officer Magnum) vs. "The Handsome Devil" Alex Reynolds (w/"Smart" Mark Sterling) – Non Title Match
Mark Sterling took the mic from Rich Palladino and riled the crowd up.
After the bell, Reynolds got control of the match after Solo Darling was dumped outside and Mark Sterling was able to distract Darling who then started to wrench forearms, etc across the face of Reynolds. A Solo attempt at a roundhouse was countered into a roll up.
As Reynolds tried to stymie Darling's offense, Solo was about to counter her way out of it – and nailed a kick to Reynold's jaw. Solo then tried a spinning ddt off the turnbuckle, and Reynolds countered. Reynolds then tried an avalanche in the corner, but Darling caught him and slammed him.
Reynolds brought Darling to the apron, but Darling hit a snap DVD onto the apron. Back in the ring, Reynolds put his foot on the bottom rope. When Darling had Reynolds in the Sharpstinger, Sterling grabbed Officer Magnum and held him hostage and threatened to throw the good pup over the balcony. With Darling distracted, Reynolds rolled her up with tights for the pinfall win.
WINNER: Alex Reynolds in 8:06 by pinfall (**)
(Fann's Analysis: Officer Magnum didn't deserve to be a hostage – and Reynolds and his new charge were so desperate for the win the pup got in the way. I cannot believe something this wild was the penultimate match.)
(8) Bear Country (Bear Beefcake & Bear Bronson) vs. Nerder Death Kill ("Ovaltine Dream" Thomas Santell & Nick Gage)
Nick Gage refused to allow Santell to shake hands with Bear Country prior to match start. Santell and Bear Bronson started the match high energy – and a uranage was the thank you Santell received for trying to dive into the corner. After an exchange between Santell and Bronson on the mat, Santell came out the other side the better. Santell tagged in Gage, and Bear Beefcake was tagged and we had some primo violence going down.
The action then spilled to the outside, where all four men brawled. Bear Bronson got a crazy dive in onto the crowd – but Bear Beefcake missed Santell and hit the post. Nerder Death Kill isolated Bear Bronson on the outside, but Bear Beefcake came out of nowhere with a somersault plancha. Bear Beefcake grabbed Gage and brought him back into the ring for a bear hug, but Gage gouged Bear Beefcake's eyes. With the big man staggered, Gage hit a spinebuster on Beefcake to the knees of Santell. Bronson came back into the ring and squared up with Santell, who locked the Sugar Free Hold on Bear Bronson. The ref was pulled out however before the match could end as Club Cam & Chuck O'Neil hit the ring to beat down all four competitors.
Ken Doane then punched Chuck O'Neil, and the locker room cleared to close the show – and the season. Cam Zagami tried to hightail, but the Platinum Hunnies stalked him and sent the former ringside interviewer into the path of Thomas Santell. Santell whipped Zagami with his own belt. Each member of Club Cam suffered a similar fate. Leyla Hirsch hit a moonsault to the floor and saluted the fans afterward. What an ending!
WINNER: No Contest at 7:54 (***)
(Fann's Analysis: Main event shaped up to be a crazy schmozz, but before that the two teams were killing each other. Bear Country and NDK need to follow this up in season two – as well as the killer instinct that Nick Gage is cultivating within Santell.)
Overall thoughts (7.5): Solid season finale and a great close on this first chapter of Beyond's series. Whether it was the post-Americanrana stories continued or the arcs played out over the season, this was a great bookend. Main event was great, then went crazy after the locker room cleared. Well done season one and congrats to all involved.
Contact Rich at PWTDive@gmail.com. Follow him on Twitter at twitter.com/rich_fann.