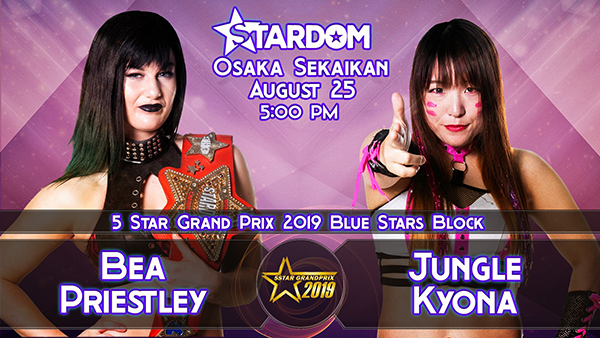 ---
SPOTLIGHTED PODCAST ALERT (YOUR ARTICLE BEGINS A FEW INCHES DOWN)...
---
STARDOM 5STAR GRAND PRIX
AUGUST 25, 2019
OSAKA, JAPAN AT OSAKA WORLD PAVILION
AIRED ON STARDOM WORLD
REPORT BY HARLEY R. PAGEOT, PWTORCH CONTRIBUTOR
Rina and Avary made the TCS salute. Onozaki said this was her first time teaming with Watanabe.
(1) QUEEN'S QUEST (Momo Watanabe & Leo Onozaki) vs. RINA & AVARY
Watanabe beat the heck out of Rina to start. Avary and Onozaki faced off next and the Aussie licked Onozaki's cheek. Rina tagged back in and the rookies faced off with Onozaki coming out on top. Rina got the octopus on Watanabe briefly and avoided a dropkick, leading Watanabe to kick Onozaki off the apron by mistake. Watanabe would pin Rina with the running knees, though.
WINNERS: Queen's Quest in 7:43.
(Pageot's Perspective: It's interesting to me that they're not using these opening tags to put over Avary and give her some victories to make her a more serious threat in the tournament. She's merely getting face time and in-ring seasoning.)
Kid said Hoshiki was teaming with them because she doesn't have a Grand Prix match on this show. Kagetsu: "Here's our match. Enjoy it!"
(2) STARS (Wonder Of Stardom Champion Arisa Hoshiki, Starlight Kid, & Saya Iida) vs. OEDO TAI (Hazuki & Artist Of Stardom Champions Kagetsu & Andras Miyagi)
Hazuki and Kid renewed their rivalry out of the gate but Kagetsu pulled Kid to the floor. Oedo Tai beat up the faces at ringside. Kagetsu spit water in Kid's face back in the ring. Lion-tamer from Kagetsu to Kid. Miyagi tagged in and took a standing moonsault. Tag to Hoshiki. Hazuki pinned Iida off a brainbuster.
WINNERS: Oedo Tai in 6:31.
-AZM said she has never faced Nakano before, not in a singles match or even a tag or trios. She'd beat up the old hag to get her sixth point. Nakano pretended she was a butterfly. She said AZM might get a gold medal for her insect collecting but she didn't think so.
(3) TAM NAKANO vs. AZM – RED STARS BLOCK
They traded kicks with Nakano winning. Her bridging tiger suplex but AZM away.
WINNER: Tam Nakano in 5:10.
(Pageot's Perspective: Too short to amount to anything but I'll never complain about Nakano winning a match.)
-Kimura continued to sing her "Twinkle Twinkle Little Stars" parodies. She was really busy and didn't have time to waste on the bean sprout. She promised to kill her in seconds. Kashima remembered Kimura bringing a big beat down the last time they faced each other in singles competition.
Kimura attacked Kashima as she entered the ring, still wearing her sash. The referee called for the bell anyway.
(4) SAKI KASHIMA vs. HANA KIMURA – RED STARS BLOCK
Vertical suplex to Kashima. Kimura looked for the octopus but Kashima turned it into Revival.
WINNER: Saki Kashima in 0:08.
-Iida handed Kashima a stopwatch and they both laughed at the 8-second loss. Kimura attacked Kashima again. Iida, Rina, and the referee separated them. Kashima was still laughing.
(Pageot's Perspective: A fun surprise and, again, I won't complain about anything that makes Kimura look like a fool.)
-Hayter laughed at everyone who didn't think she'd beat Hoshiki or Miyagi and gave us all the finger. Tora said Hayter's one of her favorite people so she'll be sad whichever one of them loses. But don't be stupid, she's definitely going to win!
(5) JAMIE HAYTER vs. NATSUKO TORA – BLUE STARS BLOCK
Hayter spit in her palm and offered a handshake. While Tora considered it Hayter rolled her up for two. Tora offered a handshake instead and rolled Hayter up for two. They traded shoulder blocks, all while still smiling. They traded camel clutches and Tora gave Hayter a wet willy. Tora looked to hit her with a steel chair at ringside but Hayter ducked. They fought over the chair with Tora hitting a clothesline. Tora with two spears and three top rope frog-splashes but Hayter of course kicked out. Swing-out side slam but Hayter kicked out again. Superplex to Tora. Falcon arrow. Swing-out side slam to Tora. Falcon arrow backbreaker for the win.
WINNER: Jamie Hayter in 8:00.
(Pageot's Perspective: They did a nice job telling the story of tag partners who are evenly matched and know each other's tricks. Hayter's the first person to reach 6 points in the Grand Prix. Only Priestley and Hayashishita could leave this show tied with her for first place.)
-Sumire said it was a day of destiny. One year ago, in this same venue, she faced Iwatani in a Grand Prix match. Yes, she lost. But last year's Sumire and this year's Sumire? Mayu, you're in trouble. Iwatani said that Sumire locked her outside of the building last year. She'd be on the lookout for her shady tactics.
(6) ARTIST OF STARDOM CHAMPION NATSU SUMIRE vs. MAYU IWATANI – RED STARS BLOCK
Sumire offered a handshake. Iwatani hesitated so Sumire grabbed her hand and shook it. No shenanigans. Test of strength. Still no shenanigans. Iwatani was confused. Sumire got the offense with some knees. Iwatani avoided a crotch assault. Top rope frog-splash but Sumire kicked out. (These last two matches tell me that the frog-splash sucks as a move.) Sumire with a small package for two. Iwatani kicked out. Into a Revival and it was good!
WINNER: Natsu Sumire in 4:10.
-Sumire cried that she got revenge on Mayu! She had been researching her since losing last year. She knew her weaknesses and today she was weak. Sumire was still in disbelief that she won. Wasn't it a great Revival?! Kashima jumped onto the apron and yelled at her for stealing her move. Sumire told her to use a microphone. She's so low-class… Kashima asked if she was proud of herself for winning with someone else's move. Sumire asked when they started having to ask permission to use wrestling moves. Did Kashima get permission for using elbow strikes? Sumire acknowledged this topic came up on Twitter recently. She didn't know you had to ask permission. Since she won with the Revival Sumire declared it's her new finishing maneuver. Kashima said it was a fluke. Sumire suggested a Revival vs. Revival match when they face off in their own red stars match.
(Pageot's Perspective: Sumire's quest to wrestle clean matches got her a win! And she did so by exploiting a known weakness of Iwatani's and sticking it to her old archenemy Kashima. Perfect storytelling all around. The post-match bit about using other people's moves without permission is a reference to Manami Toyota stating that she did not give permission for Bea Priestley to use her Japanese ocean cyclone suplex and she does not approve. It's a topic that also came up recently in America with Dominik Dijakovic asking Taz to use the Tazmission via Twitter.)
-Konami said Hayashishita hasn't lost yet in the tournament but she wasn't worried because she wouldn't fail. Hayashishita said her 5 Star winning percentage is 100%. (The shade…)
(7) SWA WORLD CHAMPION & FUTURE OF STARDOM CHAMPION UTAMI HAYASHISHITA vs. GODDESS OF STARDOM CHAMPION KONAMI – BLUE STARS BLOCK
Lots of mat wrestling and submission work. Torture rack avoided by Konami at 7:00. Triangle lancer for the win.
WINNER: Konami in 9:08.
(Pageot's Perspective: I still can't get over how Hayashishita's new gear makes her look like Giant-Size AZM. It trips me out.)
-Kyona said she's been hammered down in the Grand Prix. Two matches and two losses. Now she faces the red belt queen. If she can beat her here, she'll have a connection to the red belt. Priestley said nobody beats her.
(8) WORLD OF STARDOM CHAMPION BEA PRIESTLEY vs. GODDESS OF STARDOM CHAMPION JUNGLE KYONA – BLUE STARS BLOCK
Priestley untied a top turnbuckle three minutes in. She whipped Kyona back-first into the exposed turnbuckle three times while the referee stood idly by. Double-stomp to Kyona's spine. Kyona went on a flurry of offense capped off with a T-bone superplex. They traded forearms. Queen's Landing countered into a victory roll for a two-count. Boston crab to Priestley. Into a half-crab. Rope break. Double-stomp to Kyona's spine on the apron and both women tumbled to the floor. Body slam to Priestley at ringside. Priestley with a back drop out of a powerbomb attempt. Kyona with an apronbomb. She rolled back in at the referee's count of 18. Priestley made it to her feet at 19 and was clutching weakly at the ring ropes when the count hit 20.
WINNER: Jungle Kyona in 12:55 via count-out.
-"A win is a win and I just beat the red belt champion!" Kyona wanted a three-count but she won and got her first two points. That's all that matters. Who besides her can win this whole tournament? She polled the crowd on who thought she would win. Konami disagreed. She cannot fail. Kimura showed up. In singles matches, you always go with her. There was an accident today so Kimura's technically still undefeated. Kyona said they're all on the same team but they all have great ambitions. Kyona asked Rina who she thought would win. She said Kimura so Kyona and Konami pretended to beat her up. TCS posed to close the night.
(Pageot's Perspective: I'll take it! A win is a win indeed. I honestly thought the best I could hope for here was a time-limit draw but I forgot about another classic staple of wrestling, the count-out finish. I still say TCS doesn't survive the winter, though. If Kyona or Konami win the Grand Prix over her Kimura will have a nuclear meltdown.)
Red Stars standings after show 4:
AZM – 4
Saki Kashima – 4
Hana Kimura – 4
Tam Nakano – 4
Momo Watanabe – 4
Hazuki – 2
Mayu Iwatani – 2
Natsu Sumire – 2
Avary – 0
Blue Stars standings after show 4:
Jamie Hayter – 6
Utami Hayashishita – 4
Konami – 4
Bea Priestley – 4
Arisa Hoshiki – 2
Kagetsu – 2
Jungle Kyona – 2
Andras Miyagi – 2
Natsuko Tora – 0