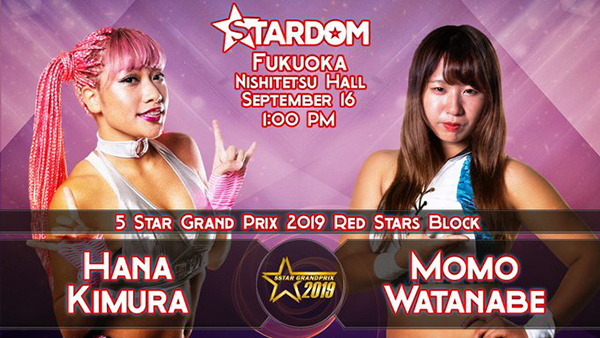 ---
SPOTLIGHTED PODCAST ALERT (YOUR ARTICLE BEGINS A FEW INCHES DOWN)...
---
STARDOM 5STAR GRAND PRIX
SEPTEMBER 16, 2019
FUKUOKA, JAPAN AT NISHITETSU HALL
AIRED ON STARDOM WORLD
REPORT BY HARLEY R. PAGEOT, PWTORCH CONTRIBUTOR
Onozaki said it was her first time in this town and she wanted to work hard with AZM. The card changed due to Jungle Kyona's injury so it also meant the return of Hoshiki and Kid, Starlight Tag.
(1) STARS: STARLIGHT TAG (Wonder Of Stardom Champion Arisa Hoshiki & Starlight Kid) vs. QUEEN'S QUEST (AZM & Leo Onozaki)
AZM nailed a lethal double-stomp to Hoshiki from halfway across the ring but the champ kicked out. Onozaki of course took the pin following a step-off kick from Hoshiki.
WINNERS: Stars in 5:43.
-Avary acknowledged that she can't win the tournament anymore but she can still screw up other people's opportunities. Nakano and Producer P were reunited! She said she's not great against foreigners but the Buddha must be smiling on her.
(2) TAM NAKANO vs. AVARY – RED STARS BLOCK
Cattle mutilation one minute in but Nakano made it to the ropes. Avary went up top but Nakano cut her off for a cutter from the second rope. Cartwheel knees to the back. Bridging northern lights suplex from Avary. Roundhouse kick from Nakano. Bridging tiger suplex but Avary slipped out at the count of two. Nakano wanted a second but Avary fought out. Lungblower. Hammerlock DDT.
WINNER: Avary in 6:19.
(Pageot's Perspective: Sounds about right. Nakano has one match left, against Kashima, so she's not out of contention yet but it seems grim. This was probably Avary's best Stardom match to date because the stakes were high.)
-Tora said no matter how hard she tries, she can't win the tournament so she'll settle for breaking Priestley instead. Priestley mocked the fact that Tora only has 2 points (which were awarded to her by forfeit following Utami Hayashishita's injury).
(3) WORLD OF STARDOM CHAMPION BEA PRIESTLEY vs. NATSUKO TORA – BLUE STARS BLOCK
They wound up at ringside early. Tora found a turnbuckle cover under the ring and hit Priestley with it. She hit her trio of frog-splashes at 5:30 but they had no effect. F-Crash but Priestley kicked out. Superplex from Priestley. High knee. She countered a spear attempt with another knee and hit a backpack stunner. Bridging back suplex for the win.
WINNER: Bea Priestley in 8:13.
(Pageot's Perspective: One thing this tournament has been very successful at is making me not take Tora seriously at all anymore. In my head she's below Kid and Iida at this point in terms of being a threat to win a match. Priestley has one match left, gaijin vs. gaijin, against Jamie Hayter. If she wins that one, she could win the blue stars block.)
-Oedo Tai said they'd do their best. Iida said it was a huge honor to team with Iwatani and Riho.
(4) OEDO TAI (Artist Of Stardom Champion Kagetsu, Hazuki, & Jamie Hayter) vs. RIHO & STARS (High Speed Champion Riho, Mayu Iwatani, & Saya Iida)
Of course Saya Iida took the pin. It was Hayter with the falcon arrow backbreaker who was responsible this time.
WINNERS: Oedo Tai in 9:02.
(Pageot's Perspective: The usage of Riho has been strange so far. She debuts right before the biggest tournament of the year but doesn't participate in it. She wins the high speed title in her first match but then never defends it. The person she won the title from immediately disappears so there's not even any follow-up there. I thought they could have had her defending the title against the rookie squad while the Grand Prix was going on to give us extra incentive to care about the opening matches. Instead she's just been inserted into random "get everybody on the card" tags. They're hardly capitalizing on the buzz that she's been generating in AEW this summer.)
-In this 5Star Miyagi would show us the real blah blah blah… (Evidently the real Andras Miyagi is a midcarder because she's only got six points.) Konami was the first person to address the fact that Kyona is injured. They were looking forward to wrestling each other in Korakuen Hall. Since that can't happen she would win the tournament for Kyona.
(5) GODDESS OF STARDOM CHAMPION KONAMI vs. ARTIST OF STARDOM CHAMPION ANDRAS MIYAGI – BLUE STARS BLOCK
Very slow moving to start, clearly pacing themselves for a longer match. Konami with a trio of German suplexes at 13:10. Top rope senton from Miyagi. Konami hit another German as the time expired.
DECISION: Time limit draw in 15:00.
(Pageot's Perspective: This is the first pairing they decided justified a time limit draw? I fell asleep for half the match because it was so boring. Konami has one match left against Tora so my assumption is that she beats her to move up to 11 points, then Priestley beats Hayter, tying them at 10 and giving Konami the blue stars win. Miyagi also has only one match left, also against Tora, so it's a moot point for her. She's been eliminated.)
-Sumire called Kashima the Japanese equivalent of white trash. She said this was the battle of the Revival. Kashima again chastised her for stealing her finishing move to beat Iwatani.
(6) ARTIST OF STARDOM CHAMPION NATSU SUMIRE vs. SAKI KASHIMA – RED STARS BLOCK
They both ran the ropes back and forth until Sumire ran out of breath and asked for a time out. She took a long drink of water from a water bottle, then started running the ropes again while Kashima watched. Finally Kashima tripped her. She collapsed into a seat in the crowd next to an older woman. Tora ran over to give her another drink. Springboard bulldog from Kashima in the ring. Double underhook suplex. Sumire stood on Kashima in the corner and nailed the crotch assault. Kashima avoided a cradle DDT and looked for Revival but Sumire kicked out. The referee got trapped in the corner behind Sumire and Kashima took a drop toe-hold that caused her to headbutt him in the groin. He and Kashima both went down in the corner, Sumire wanted another crotch assault, but instead she took a drop toe-hold into a second headbutt to his groin. With the ref down Kashima nailed Sumire with her own move – a cradle DDT! Revival but the ref was too slow to make the count and Sumire kicked out at two. Inverted atomic drop to Kashima and a Revival for the villainess!
WINNER: Natsu Sumire in 8:49.
-Sumire said everyone saw it. From this point forward, the Revival is hers! "See you at the merch stand!" Kashima said she can't just win and run away. This isn't funny! An enraged Kashima chased her out of the arena with the rest of Stars in hot pursuit.
(Pageot's Perspective: I was expecting the entire match to be the two of them attempting to land the Revival but instead it became a culmination of their entire feud, calling back to the matches when the hapless referees were constantly being low-blowed as well. Sumire gets the last laugh by winning here with Kashima's move and eliminating her from the tournament. I'd love if this led to a heel turn for Kashima.)
-Kimura said she was looking forward to this one. Watanabe said this was the one she was waiting for.
(7) MOMO WATANABE vs. HANA KIMURA – RED STARS BLOCK
They traded kicks to start. Kimura was hung upside-down in the corner at 5:30 and Watanabe unloaded with more. Running knees off the apron took out Kimura and AZM at ringside. Double knees again in the ring. Rear naked choke. Kimura appeared to be out cold but the referee chose not to call it. Double knees from the second turnbuckle. Watanabe off the top rope but into a big boot from Kimura. Suplex. Roundhouse kick from Watanabe. Bridging German. Octopus from Kimura. Rope break. Missile dropkick. Package piledriver.
WINNER: Hana Kimura in 10:53.
-Watanabe thought she could break her with those kicks but she won. Kimura boasted about her new missile dropkick + package piledriver combo. It's called Tiger Lily. She promised to use it to win the Grand Prix.
(Pageot's Perspective: Watanabe wrestled with a real urgency befitting a match this late in the tournament with the red stars field so narrow. We now have a six-way tie for first place in the red stars. Kimura has one last match against Hazuki. Watanabe has one last match against Iwatani. It's still anyone's game.)
Red Stars standings after show 10:
AZM – 8
Hazuki – 8
Mayu Iwatani – 8
Hana Kimura – 8
Tam Nakano – 8
Momo Watanabe – 8
Avary – 4
Saki Kashima – 4
Natsu Sumire – 4
Blue Stars standings after show 10:
Jamie Hayter – 10
Konami – 9
Kagetsu – 8
Bea Priestley – 8
Arisa Hoshiki – 8
Andras Miyagi – 7
Jungle Kyona – 6
Utami Hayashishita – 6
Natsuko Tora – 2