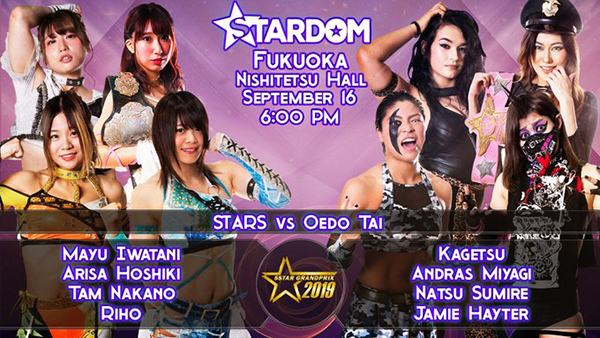 ---
SPOTLIGHTED PODCAST ALERT (YOUR ARTICLE BEGINS A FEW INCHES DOWN)...
---
STARDOM 5STAR GRAND PRIX
SEPTEMBER 16, 2019
FUKUOKA, JAPAN AT NISHITETSU HALL
AIRED ON STARDOM WORLD
REPORT BY HARLEY R. PAGEOT, PWTORCH CONTRIBUTOR
Iida didn't care about the match being changed to a three-way (due to Jungle Kyona's injury). She just wanted to win. Kid confirmed it was supposed to be her vs. Iida in a singles match initially. Priestley said she was supposed to be in a tag match. She wasn't worried about facing two Stars members here.
(1) WORLD OF STARDOM CHAMPION BEA PRIESTLEY vs. STARLIGHT KID vs. SAYA IIDA
Priestley pinned Iida with a bridging back suplex.
WINNER: Bea Priestley in 5:04.
-Avary said she was on a one-match winning streak, but here she was facing a 16 year-old ninja. AZM said if she didn't win here, she couldn't make it to the finals.
(2) AZM vs. AVARY – RED STARS BLOCK
Straitjacket lungblower and a hammerlock DDT.
WINNER: Avary in 6:26.
(Pageot's Perspective: This is the kind of booking I hate. Avary's been portrayed as a jobber the entire tournament but now that we're nearing the end she's suddenly picking up wins and eliminating people from contention. It doesn't come across as "wow, wrestling is chaotic and anyone can win on any given night" it reeks of "eh, we don't want her to win so we'll use the guest to just knock her out of the tournament." It instantly takes me out of the moment and reminds me that this is all scripted and pre-planned.
That was AZM's last match. She's still tied for first in red stars but at least two of her opponents are guaranteed to score at least one additional point so she has been eliminated.)
-Kamitani didn't know where Kimura was so she went looking for her. Onozaki wanted to have good teamwork with Watanabe and win.
Kamitani entered alone. Kimura eventually showed up. The rookie held the ropes open but Kimura kicked her off the apron instead.
(3) QUEEN'S QUEST (Momo Watanabe & Leo Onozaki) vs. HANA KIMURA & SAYA KAMITANI
Watanabe pinned Kamitani.
WINNERS: Queen's Quest in 7:15.
-Tora said she lost during the daytime show so it can only get better. Konami said this was her final match. She wants to go to the finals so she can't lose.
(4) GODDESS OF STARDOM CHAMPION KONAMI vs. NATSUKO TORA – BLUE STARS BLOCK
Spear from Tora. Konami into the ring post. Irish whip reversed, sending Tora into the ring post. Konami charged for a kick and Tora moved, leg colliding with post. Tora found an umbrella under the ring and attacked until the referee pried it away. A barrage of forearms from Tora in the ring. Konami tried for a kick. Tora caught the leg and chewed on her kneepad, somehow hurting Konami? Ankle lock from Konami. Enziguiri. Suplex. German suplex. Stretch muffler. Tora with the Oedo Tai placard. Samoan drop. The referee refused to count a pinfall for some reason? Two frog-splashes and Tora went for the placard again. She and the ref fought and he was knocked down in the process. She lay the placard across Konami and went up top but Konami moved. Triangle Lancer out of nowhere for the tap.
WINNER: Konami in 5:38.
(Pageot's Perspective: Not a bad match. Konami moves into blue stars lead alone, making Kagetsu and Bea Priestley unable to catch her. They have been eliminated. Jamie Hayter has one match left, against Priestley. If she can defeat Priestley or tie her, Hayter wins the blue stars. A win for Priestley is a win for Konami.)
-Hazuki still had nothing to say. Kashima said she lost to Sumire via her own move, the Revival. In this match she would show her Revival is still superior.
(5) SAKI KASHIMA vs. HAZUKI – RED STARS BLOCK
Hazuki tossed Kashima around by the hair. Springboard kick to the back. Codebreaker out of the corner. Revival, attempted counter by Hazuki, back into the Revival.
WINNER: Saki Kashima in 2:49.
(Pageot's Perspective: Hazuki still has one match left against Kimura so she's not out of it yet.)
-Oedo Tai were joined backstage by retired All Japan and Arsion wrestler Michiko Omukai. Stars were joined by Riho and the ring announcer. She said this is the new Stars. (Meaning Riho has officially joined them? A lot of context was missing from these promos for me.)
A young boy and girl accompanied Oedo Tai to the ring. (Omukai's children?)
(6) OEDO TAI (Jamie Hayter & Artist Of Stardom Champions Kagetsu, Andras Miyagi, & Natsu Sumire w/Michiko Omukai) vs. RIHO & STARS (High Speed Champion Riho, Wonder Of Stardom Champion Arisa Hoshiki, Mayu Iwatani, & Tam Nakano)
Oedo Tai of course attacked before the bell and of course the two teams brawled to ringside and into the crowd. Sumire held Iwatani so Omukai could hit her with the placard. Kagetsu held Nakano and Omukai hit her with a kendo stick. And a shot for Hoshiki too. Oedo Tai began to isolate Nakano in the ring. Sumire essentially told the ref "Hey, look over there!" so he did and she whipped Nakano. Crotch assault. Hayter in to work over Nakano.
Hot tag to Riho at 6:00. She cleaned house. Kagetsu and Miyagi double-teamed to take control. Tag to Hoshiki. Iwatani tagged in for the first time at 9:40. Omukai tripped her and jumped in the ring to conduct a train against Iwatani in the corner. Northern lights suplex from Sumire for two. Top rope Frankensteiner from Iwatani. Step-off kick from Hoshiki. Codebreaker + German suplex combo from Nakano & Iwatani but the rest of the heels broke up the pin. Cradle DDT from Sumire to Iwatani. Riho made the save. Omukai with the kendo stick to Iwatani. All four faces whipped into the center of the ring simultaneously. They rebounded with simultaneous dropkicks to clear the ring and four synchronized top rope splashes onto their opponents at ringside from each of the four corners. Iwatani whiffed Sumire on a moonsault but hit the dragon suplex for the pin.
WINNERS: Stars in 13:54.
-Nakano thanked the crowd and thanked Riho for joining Stars. Riho asked if she joined? She didn't know yet but today was the first time she truly felt what Stardom is.
(Pageot's Perspective: A wild nine-person tag. I grew tired of matches like this when The Elite did one every couple weeks in ROH but we haven't had anything like this in a while here so it was pretty fun. I'm guessing they're waiting until the Grand Prix is complete before Riho and Kamitani pledge their allegiances to any one faction. Let's be real, though. What other faction would Riho make sense in?)
Blue Stars standings after show 11:
Konami – 11
Jamie Hayter – 10
Arisa Hoshiki – 8
Kagetsu – 8
Bea Priestley – 8
Andras Miyagi – 7
Jungle Kyona – 6
Utami Hayashishita – 6
Natsuko Tora – 2
Red Stars standings after show 11:
Hazuki – 8
Mayu Iwatani – 8
Hana Kimura – 8
Tam Nakano – 8
Momo Watanabe – 8
AZM – 8
Avary – 6
Saki Kashima – 6
Natsu Sumire – 4