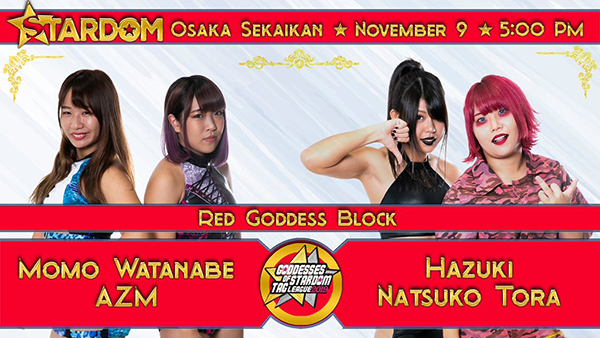 ---
SPOTLIGHTED PODCAST ALERT (YOUR ARTICLE BEGINS A FEW INCHES DOWN)...
---
STARDOM GODDESSES OF STARDOM
NOVEMBER 9, 2019
OSAKA, JAPAN AT OSAKA WORLD PAVILION
AIRED ON STARDOM WORLD
REPORT BY HARLEY R. PAGEOT, PWTORCH CONTRIBUTOR
Hayter said she's beat Iida every time they've faced and this wouldn't be any different. Iida said she was facing the #2 gaijin and always loses to the ushigoroshi but not this time.
(1) SAYA IIDA vs. JAMIE HAYTER
Hayter hit her falcon arrow backbreaker but Iida kicked out. Clothesline. Ushigoroshi.
WINNER: Jamie Hayter in 5:06.
-Kamitani said she'd do her best not to go down to Konami's submission skills. Konami said her odds of not losing were 100%
(2) GODDESS OF STARDOM CHAMPION KONAMI vs. SAYA KAMITANI
The rookie tapped to a stretch muffler.
WINNER: Konami in 6:44.
-Kyona was upset she didn't have a new TCS baseball cap like her British teammates. Lucas found one for her. Kid said she was looking forward to teaming with Iwatani and Kashima.
(3) STARS (World Of Stardom Champion Mayu Iwatani, Saki Kashima, & Starlight Kid) vs. TOKYO CYBER SQUAD (Goddess Of Stardom Champion Jungle Kyona, Bobbi Tyler, & Zoe Lucas)
A swinging sleeperhold from Kyona put Kid out.
WINNERS: Tokyo Cyber Squad in 8:29.
-Hoshiki said if they won this one and the next that would be four consecutive. She wants to go all the way to win the tag titles. She doesn't know what Nakano wants but it's a big deal. Nakano defended that she's been saying it's a big deal from the start. She asked what future she can have with someone she hates.
(4) ARTIST OF STARDOM CHAMPIONS OEDO TAI (Kagetsu & Andras Miyagi) vs. DREAM*SHiNE (Wonder Of Stardom Champion Arisa Hoshiki & Tam Nakano) – BLUE GODDESSES BLOCK
Miyagi tried to hit Nakano with the Oedo Tai placard but she moved and Kagetsu took the blow. Hoshiki looked for a kick but Kagetsu moved and Nakano took it. Placard shot to Nakano from Miyagi. Oedo Coaster from Kagetsu. Running knee strike and Kagetsu pinned Nakano.
WINNERS: Oedo Tai in 7:32.
(Pageot's Perspective: A surprising outcome but actually irrelevant to the points system. Hoshiki & Nakano have one match left, against Hana Kimura & Death Yama-San, who they are currently tied with. Regardless of whether or not TCS win this next match the blue block will be decided by that match on our next show.)
-Martina was excited to discover that Sumire was back. She asked her (in English) if they were going to party and drink Osaka dry like last time. Sumire (in Japanese) said, "I have no idea what you said, but I'll do my best!" The death squad chanted.
(5) TOKYO DEATH SQUAD (Death Hana & Death Yama-San) vs. THE DRUNK QUEENS (Artist Of Stardom Champion Natsu Sumire & Session Moth Martina) – BLUE GODDESSES BLOCK
Martina was too drunk for Death and kept getting freaked out by her until she found some liquid courage at the bottom of a can. Martina with an extended sidewalk slam that saw them both collapse to the mat. Sumire spit beer in Death's face to prevent a roll-up but Kimura broke things up. Death with the successful roll-up on Martina moments later.
WINNERS: Tokyo Death Squad in 5:41.
(Pageot's Perspective: The duo of Kimura & Death now have the best record of any act in Stardom in 2019 at 6-0. As far as the tag league goes, though, again this one didn't end up mattering. They move into the lead at 8 points over Hoshiki & Nakano at 6 but both teams have one match left – against each other. If Hoshiki & Nakano win there they will tie Kimura & Death and win the tiebreaker at the same time. If they lose or go to a time limit draw it will be the death squad taking on Bea Priestley & Jamie Hayter in the finals.)
-Neither team said anything significant.
(6) QUEEN'S QUEST (Momo Watanabe & AZM) vs. OEDO TAI (Hazuki & Natsuko Tora) – RED GODDESSES BLOCK
Peach Sunrise from Watanabe to Tora.
WINNERS: Queen's Quest in 12:44.
-Watanabe said they beat Oedo Tai but they can't go to the finals. Next week in Nagoya they face the tag champions, Kyona & Konami. The champs took the titles from Watanabe & Utami Hayashishita in Nagoya. She implied it was a non-title match.
Blue Goddesses standings after show 8:
Tokyo Death Squad (Hana Kimura & Death Yama-San) – 8
DREAM*SHiNE (Arisa Hoshiki & Tam Nakano) – 6
Oedo Tai (Kagetsu & Andras Miyagi) – 4
The Drunk Queens (Natsu Sumire & Session Moth Martina) – 2
3838 Tag (Saya Iida & Saya Kamitani) – 2
Tokyo Cyber Squad (Bobbi Tyler & Zoe Lucas) – 2
Red Goddesses standings after show 8:
Top Gaijins (Bea Priestley & Jamie Hayter) – 8
Riho & Starlight Kid – 5
Oedo Tai (Hazuki & Natsuko Tora) – 4
Queen's Quest (Momo Watanabe & AZM) – 4
Tokyo Cyber Squad (Jungle Kyona & Konami) – 3
Stars (Mayu Iwatani & Saki Kashima) – 2