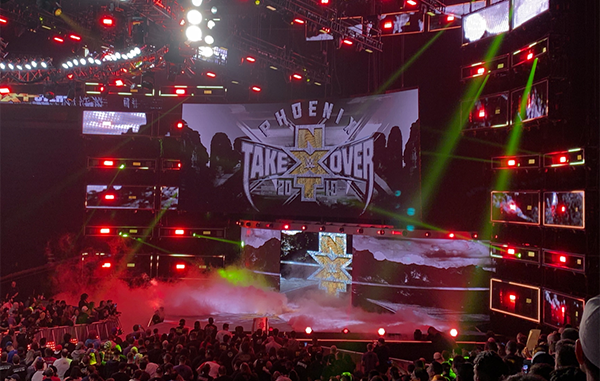 ---
SPOTLIGHTED PODCAST ALERT (YOUR ARTICLE BEGINS A FEW INCHES DOWN)...
---
I watch both NXT on USA and AEW Dynamite, but NXT is my clear preference. They have better top-tier talent, a great women's division, and their mid-card wrestlers are head and shoulders better than AEW, in my opinion.
Looking at the top tier, AEW has:
Chris Jericho, who is very old, noticeably slower, and much heavier than in his WWE days. He is the best talker and strongest character on either show in my opinion, largely because he is free from the corporate reins. But his in-ring wrestling is nowhere near what it was five years ago. And at 49 no one should expect it to be.
Kenny Omega, who hasn't shown anything in AEW. I saw him three or four times in Las Vegas with ROH and he wasn't my cup of tea. His promos always sound the same to me, especially the goofy ending that he uses every time.
Jon Moxley, who could be a big star but they've barely used him. He needs to ask out of his deal and go back to Japan where they'll portray him as a star.
Cody, who it's hard for me to see as a top guy since he was a mid-card character guy his whole career and if his name had been something other than Rhodes might not have been that high based upon his body and style. He's become a pretty good promo, but I just don't think mainstream wrestling fans will ever see him as a top guy who can carry a company.
The Young Bucks, they're either you're style or they're not. Again, I don't think that mainstream fans would ever take their no-sell jumping jack style seriously. There's an audience for them, I just don't think it's very big.
The Lucha Bros are AEW's best in-ring performers, but they're not framed as such. I just saw them with FSW in Vegas and they were five-stars each in their individual matches.
Pac. I'm an old school guy and he's was too small and tumbling/gymnastics for me. He's the bottom of AEW's top tier and I'd be surprised if he drew money or sold merch. To me he's a top mid-card guy rather than a top tier player.
AEW's second tier is a bunch of small guys and WWE mid-card castoffs. Frankly, I don't think Jake Hagar, Shawn Spears, MJF, Orange Cassidy, Sammy Guevara, LAX, Dustin Runnels, Best Friends, Evil Order, et al will ever be top guys as they were either big shots on indies that drew 200-500 fans or WWE mid-card and lower guys. I don't think you can get them over as top guys. And none of them have over-the-top gimmicks or looks that are likely to draw big. The one exception to this is "Hangman" Page, who I thought had potential, but AEW's booking has destroyed him and made him look like just another guy.
AEW's Women's Division is a dumpster fire. They would be better taking it off TV and spending a year training those ladies. I don't see how anyone can take Riha seriously. She's 5 feet tall and 95 pounds at best. She doesn't have any big moves that draw attention. It's not credible that she could win a real fight. They tried to push Dr. Brit Baker, but she's really green. Not a bad look, but a horrible in-ring performer (everything she does looks like a paint by numbers). They're trying to push Brandi, but she's not a wrestler. If she weren't Cody's wife, she wouldn't have a job. As for the rest of the women, no one stands out.
Frankly, it's not hard to see why AEW lost more than 30 percent of its audience in its first five weeks, and why their live attendance is declining too. It's pretty clear that they papered the first 4 weeks given the quantity of tixs and selling price on the after market on the day of the show. There is definitely a niche fan base for AEW, but after five weeks, I don't see many positive signs.
Looking at NXT's top tier, they have:
Adam Cole, who's small but works big. In-ring he's as good as anyone on the AEW roster. His promos aren't as good as Jericho and maybe Cody, but they're still pretty good. And he's a much better worker than either of those guys.
Finn Balor is a huge international star on the level of Omega. Like Omega, he hasn't got over big time in the USA, but he's way better known than Omega in the USA and Europe. Both are well-known and top guys in Japan.
Johnny Gargano and Tomasso Ciampa are both five-star in-ring wrestlers and really good promos. They're equal to or better than Cody and Pac, probably much better in the eyes of mainstream fans since they've never had corny mid-card TV gimmicks like Dashing Cody or Stardust or The Man That Gravity Forgot, and their TV roles with NXT have always been as top guys.
Velveteen Dream is still raw as a character, but he is distinctive and has more upside than any of the young AEW guys. And he's really young, while virtually all of AEW's top tier are mid-30s or older.
Matt Riddle has so much charisma and is a great in-ring guy for as little wrestling experience as he has. I think he'll main event a Mania in the next 5-7 years. He might have a top match in 2020 if the Goldberg rivalry works out.
Bobby Fish and Kyle O'Reilly are at least the equals of the Bucks or the Lucha Bros as a tag team. I believe they held the same or similar titles as those teams in ROH and NJPW. I'm sure they don't move as much merch as the Bucks, but that doesn't benefit AEW since you've reported that they gave the Bucks 100 percent of their merch rights.
Walter is a budding top guy who could also main event a Mania or SummerSlam someday, and his Imperium stable is really good.
NXT's mid-tier is way better than AEW. Keith Lee, Dominic Dijakovic, and Damien Priest all look like big-time stars going forward. Roderick Strong, Cameron Grimes, Shane "Swerve" Scott, and Killian Dain are all great carpenters with the potential to move into the top tier. And the Europeans Tyler Bate and Pete Dunne are really good in-ring and on the mic, way better than any of AEW's mid-card guys.
NXT's women are awesome, maybe as good as WWE's main roster. Shayna is a top five female in the business today. Bianca Belair, Io Shirai, Rhea Ripley, Candace LeRae, and Mia Yim are light years better than any of the AEW women. And Dakota Kai and Tegan Nox are still developing after injuries, but they're also better in ring than the AEW women. And they have Toni Storm and Piper Niven in the pipeline when/if needed.
So why do I prefer NXT? Talent, and lots of it. NXT not only has a better roster at the present, but they have a strong pipeline as well. NXT's in-ring work is also much tighter than AEW's. It'll be interesting to see how things shake out, but my best guess is that in six months NXT will consistently have a larger TV audience than AEW, and NXT will be stronger financially too (on its own) because it isn't burdened by the huge salaries AEW is apparently paying.
---
Submit a guest editorial for consideration to get published on PWTorch.com by sending a well-edited 6-12 paragraph single-topic point of view to pwtorch@pwtorch.com.