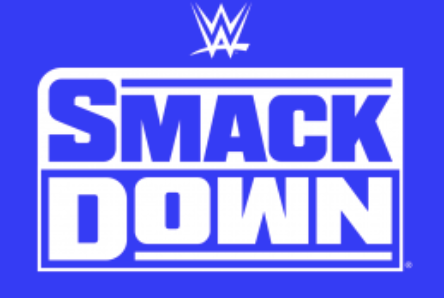 ---
SPOTLIGHTED PODCAST ALERT (YOUR ARTICLE BEGINS A FEW INCHES DOWN)...
---
WWE SMACKDOWN TV REPORT
APRIL 1, 2022
DALLAS, TX AT THE AMERICAN AIRLINES CENTER
AIRED ON FOX
Commentators: Michael Cole, Pat McAfee
Ring Announcer: Samantha Irvin
---
[HOUR ONE]
-As the camera panned the audience, Michael Cole introduced the show and called it "WrestleMania Smackdown." A fan held up a sign that said: "Shelton Wins (April Fools)."
(1) ANDRE THE GIANT MEMORIAL BATTLE ROYAL
Most of the wrestlers were in the ring already. They aired a video montage on Andre. Dolph Ziggler and Robert Roode made their ring entrance. So did Finn Balor. Tozawa was the first out, and then Damian Priest knocked Reggie to the floor. When R-Truth yelled down to them, Priest dumped him over also. Priest's mannerisms were heelish. Shelton Benjamin eliminated T-Bar with a running high knee. Madcap Moss eliminated Drew Gulak with a running clothesline. Happy Corbin walked to the ring. Madcap was happy to see him. Cole noted that Corbin once won this battle royal. Corbin held the top rope down, but Finn Balor reversed Madcap and he almost went over. Tomasso Ciampa then went after Madcap. Corbin walked to the back to avoid doing more damage. Apollo Crews kicked Cedric off the ring apron to eliminate him. Commander Azeez shoved Shelton Benjamin over the top rope easily.
Ciampa knocked Mansoor off the apron. Azeez and Shanky eliminated The Viking Raiders. Then they turned and faced each other mid-ring. Shanky grabbed Azeez's throat, but Azeez broke free. They battled near the ropes and they both tumbled over to the floor with a little shove from Balor and Priest. Priest tried to lawn dart Balor out of the ring. Balor blocked it. Balor then eliminated Priest. Ciampa battled Roode and Ziggler. Ziggler superkicked Ciampa off the apron to eliminate him. It came down to Balor, Ziggler, Roode, and Madcap. Balor double-stomped Roode. He tried to eliminate Ziggler, but Roode came up behind him. Ziggler and Roode tried to dump Balor over the top. Madcap ran up behind them and tossed all three over the top. Balor hung on, though. Madcap then eliminated Balor when he side-stepped him as he charged at him. Cole called it the biggest win of Madcap's career.
WINNER: Madcap in 10:00.
(Keller's Analysis: I've seen better, I've seen worse. It was booked without much drama, just a lot of spots and almost nothing athletic. Most eliminations were from a wrestler being knocked off the ring apron. I'm not surprised Moss got the win. WWE seems to be ramping up their investment in him.)
-Madcap gave a victory speech afterward. He said he looked up to Andre when he was young. He said he wanted to follow in his footsteps and he did it. Fans booed. He said he know everyone wants a joke. He asked what battle royal is named after the smartest Texans around: A cattle royal. He laughed uproariously and rolled on the floor. Cole called it "a unique way to celebrate."
-They went to Cole and Pat McAfee at ringside.
-A sponsored video package aired on Ricochet and Humberto Carrillo and Angel Garza last week.
-Ricochet's ring entrance took place. Cole actually mentioned ring announcer Samantha Irvin by name. [c]
(2) RICOCHET vs. HUMBERTO CARILLLO vs. ANGEL GARZA – Intercontinental Title match
Angel and Humberto came out together. They did the Kiss Cam graphic as they scouted the crowd for someone worthy of their attention. They found a woman in the usual spot and kissed her on her cheeks. She smiled and waved. Cole plugged the Hall of Fame ceremony after Smackdown. Ricochet took both heels over at once with a stereo huracanrana early. Angel and Humberto hugged each other after early success. They cut to a break. [c]
Humberto eventually tried to pin Angel. He got a near fall. Angel yelled at him. Ricochet then hit them both with a flying bodyblock off the t0p rope. Ricochet landed a moonsault on Humberto for a near fall, broken up by Angel. Cole called it a shooting star press; McAfee corrected him. Ricochet climbed to the top rope, but Angel grabbed his boot. Humberto then met Ricochet in the corner and set up a superplex. Ricochet blocked him and dropped him onto Angel. Ricochet then landed a 630 on Humberto followed by a Recoil on Angel for the win. Cole threw a series of superlatives at Ricochet as he celebrated the win.
WINNER: Ricochet in 11:00.
(Keller's Analysis: Good action. And it's like Monday's quick loss to Austin Theory never happened!)
-Cole hyped a recap of the Kevin Owens-Steve Austin feud after the break. [c]
-A lengthy video package aired on KO-Austin.
-Sasha Banks and Naomi made their ring entrance. Cole said it's their chance to "seize all momentum" before WrestleMania. [c]
(3) SASHA BANKS & NAOMI vs. QUEEN ZELINA & CARMELLA
After the break, Natalya & Shayna Baszler and Liv Morgan & Rhea Ripley were also in the ring in street clothes. Then they moved to ringside before the match began. Naomi pinned Zelina after a top rope moonsault.
WINNERS: Banks & Naomi in 3:00.
-Cole and McAfee thanked Pitbull for "I Feel Good," an official theme song of WrestleMania.
-Kayla Braxton approached Ronda Rousey who was working out in a ring in what appeared to be a hotel conference room. Braxton said Rousey appeared to be in good spirits despite what happened lately with her and Charlotte. Rousey said she is angry, but she's not going to walk around pissed off. She said that would wear her out and she can control her anger. She said she's going to relax and spent time with her baby (take a shot, she mentioned her baby again) until tomorrow. She looked into the camera and said Charlotte can either tap out or she'll rip her arm off and give it to her family as a souvenir. "Believe me, they'll love it," she said.
(Keller's Analysis: That's one weird family.)
---
PWTorch's YouTube Channel has been relaunched this week!
Check out the first of our steady stream of new content, a "Fireside Chat with Tyler Sage & Zack Heydorn" discussing WrestleMania 38 and other topics.
---
[HOUR TWO]
-A video aired on Charlotte vs. Rousey with soundbites from Trish Stratus, Dana White, and Triple H.
-Charlotte came out to her entrance theme and cut a promo from the stage. She complimented the video package. She said any footage of causing Rousey pain is more poetic than Oscar-winner "CODA." She said Rousey is angry because her submissions won't affect her. She said she will destroy Rousey instead. She said Rousey is acting like she's cool, "but we all know better, don't we?" She said she, on the other hand, is cool. She said she'll beat Rousey to a pulp and walk out as champion. "That is cool," she said. She said she'll take Rousey to school and teach her what cool is all about. "I've got you beat there too, bitch!"
-Madcap was polishing his Andre trophy backstage when Corbin walked up to him with a giant sword and scared Madcap. Corbin laughed.
-Cole hyped a video package on Brock Lesnar vs. Roman Reigns titled "Out for Blood" was up next. [c]
-The Lesnar-Reigns video package aired.
-Rick Boogs introduced Shinsuke Nakamura from the stage. McAfee stood on the announce desk and danced. Austin Theory came out of the crowd and knocked McAfee down. McAfee chased Theory to the back. Cole said, "Someone has to do something about this Theory kid." Theory ran into Mr. McMahon's office just as McAfee caught up with him. McAfee kicked the door open. McMahon walked out, seething mad. He asked him if he wanted him to cancel his WrestleMania match. McAfee said somewhat sheepishly, "No, obviously." McMahon told him to go do his job.
-The Usos made their ring entrance next. [c]
-Cole told McAfee, as he returned to ringside, not to blow his chance to get at Austin at WrestleMania. "We have to be professional," he said. I know he's a punk, but let's just do our job, alright?"
(4) RICK BOOGS (w/Shinsuke Nakamura) vs. JIMMY USO (w/Jey Uso)
Boogs pressed Uso from a sitting position and then executed a fallaway slam. Cole said Ken Patera and JBL would be proud. Theory walked back to ringside and took a "fan's" soda cup. Theory threw the drink at McAfee. McAfee stood, but restrained himself. Balor attacked Theory from behind on the ramp and threw him into the ring. Everyone began brawling and the ref called for the bell. McAfee yelled, "Kick his ass! Kick his ass!"
WINNER: No contest in 3:00. [c]
(5) AUSTIN THEORY & THE USOS vs. FINN BALOR & RICK BOOGS & SHINSUKE NAKAMURA
McAfee called Theory the biggest punk and the most insufferable human being ever. He said on Sunday, he's going to be the son of a bitch who puts him in his place. Cole said Theory loves to hide behind the Chairman. McAfee said at WrestleMania he is going to "punish three douche bag." The Usos isolated Balor for a while. When they tossed him to the floor, they cut to a break. [c]
Nakamura eventually hot-tagged in. He fended of the heels, then tagged Balor back in. Balor knocked Theory to the floor and then landed a running flip dive onto all three heels at ringside. Back in the ring he rallied with a slingblade and missile dropkick on Theory. The Usos knocked him off the top rope. Theory then hit his ATL for the win. The ring announcer, oddly, announced Theory as the lone winner.
WINNERS: Theory & The Usos.
-Theory taunted McAfee from the ring. McAfee leaped onto the ring apron. Cole tried to talk him down. Theory put his hands behind his back and invited McAfee to punch him. McAfee jumped to the floor. McAfee called him a punk bitch and said he can't wait until Sunday.
(Keller's Analysis: They're doing a really good job building the Theory-McAfee match. Who wouldn't want to see McAfee slap some humility into Theory.)
-Corbin and Moss made their ring entrance. [c]
-"Happy Talk" with Corbin and Madcap. They talked a bit, then threw to a video package on stealing Drew McIntyre's sword. Corbin held up the sword live in the ring. He said he retired Kurt Angle at WrestleMania and tomorrow he'll destroy Drew "once and for all" at WrestleMania. He said the sword is his insurance policy. He said when Drew carries it, it's a fancy accessory, but in his hands, it's a deadly weapon. He said he could decapitate someone with it. He said he wanted to give the sword a happy name. Corbin asked, "What does Drew McIntyre's sword and his mother have in common? He lost them both! Ha ha ha." (That's not needed.) McAfee said it crossed a line. Drew marched out to his music in response. Madcap charged at him. Drew knocked him out with one punch. Drew entered the ring with a chair in hand. Corbin held his ground with a sword and threatened to hurt Drew. Drew threw the chair at Corbin, then grabbed the sword and swung it at Corbin. Corbin ducked and rolled to the floor. Drew threw the Happy Talk chairs out of the ring and more pieces of the set followed. Drew then chopped the table in half with the sword. His music played again.
-Coke and McAfee ran through the WrestleMania line-up.