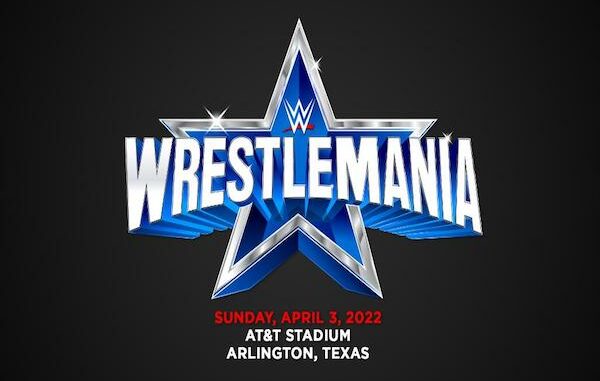 ---
SPOTLIGHTED PODCAST ALERT (YOUR ARTICLE BEGINS A FEW INCHES DOWN)...
---
It is time for WrestleMania Sunday, the second night of WrestleMania 38, on April 3, 2022, in the AT&T Stadium in Arlington, Texas for what they hope is a STUPENDOUS ending to the weekend (S-two-pendous? Okay, I'll stop now.) AJ Styles and Edge face off in what some may consider a dream match, two big men meet when Bobby Lashley tries toppling Omos, Johnny Knoxville likely does something stupid against Sami Zayn, and Pat McAfee steps away from the commentary booth to fulfill his dream against Austin Theory, and more. Plus, we'll witness a change in the dynamics of the WWE as the WWE Championship and WWE Universal Championship will merge in a winner-take-all match as Brock Lesnar and Roman Reigns face off one more time.
Brock Lesnar (c) vs. Roman Reigns (c) – Winner Take All WWE Championship and WWE Universal Championship Unification Match
Story in a nutshell: Brock Lesnar won the 2022 men's Royal Rumble match and chose Roman Reigns as his WrestleMania opponent.
Brock Lesnar was due to face Roman Reigns at Day 1 for Reign's WWE Universal Title, but the match was canceled due to Reigns falling ill. Instead, Lesnar was injected into, and won, the WWE Championship match. Lesnar challenged Reigns to a champion versus champion match but was rebuffed. At the Royal Rumble, skullduggery led to Lesnar dropping the title to Bobby Lashley. Not one to be deterred, Lesnar entered and won the Royal Rumble match and chose Reigns as his WrestleMania opponent. Still set on the whole champion versus champion thing, Lesnar got himself added into the Elimination Chamber match where he won the WWE Championship. Reigns briefly got the upper hand in the Madison Square Garden house show where he busted Lesnar open after Lesnar defended his title. Lesnar then repaid that by engaging in some vehicular destruction.
Prediction and analysis: With a lot of references to blood, I'm expecting to see some this match. If there is, I just hope they blade and don't do it hard-way or try to SFX it. Whoever wins this, I don't think we'll be seeing the loser for a while. I'm not opposed to having Lesnar at the top for a while as a babyface fending off heels until Reigns returns to claim the title. I'm of the mind the Reigns versus the Rock is what is tentatively planned for the WrestleMania in L.A. and one more year with Reigns who has beaten everyone on top might get monotonous. Still, Reigns is Reigns and I'm not betting against him.
Edge vs. AJ Styles
Story in a nutshell: Edge wanted someone to step up to him and be his opponent for WrestleMania and AJ Styles answered the call.
Failing to win the Royal Rumble, Edge laid out an open challenge for anyone with the courage to face him. Somehow Seth Rollins, Kevin Owens, Omos, and any NXT talent that would want to take a big step in their career, missed Edge's invitation. It was AJ Styles that eventually answered the call. Edge was pleased since he wanted to have a match with AJ for a while only, he wanted the "pit bull" AJ Styles who was a champion (basically New Japan Styles without saying it), not the one that hid behind Omos. So, to draw out that AJ, Edge brutally beat him. Luckily for Edge who didn't think things through, AJ Styles recovered in time for their match at WrestleMania.
Prediction and analysis: Okay, so this has not been the most well thought out angle they could conceive of, but we are getting an engaged AJ Styles and an engaged Edge in a match they've both wanted so this the match I'm most looking forward to. No matter the results, we win. (But, if you twist my arm, AJ wins for it to lead to a feud with Reigns if Reigns is victorious.)
Austin Theory vs. Pat McAfee
Story in a nutshell: While being interviewed on "The Pat McAfee Show", Vince McMahon offered McAfee (who is also the color commentator for Smackdown) a chance to fulfill his dream of wrestling on WrestleMania and, as it was later revealed, his opponent would be McMahon's "protégée", Austin Theory.
Vince McMahon went on the "The Pat McAfee Show" for a rare interview. McMahon put McAfee over and offered him a match at WrestleMania. McAfee accepted. Austin Theory, who was being mentored by McMahon, showed up on Smackdown, revealing himself to be McAfee's opponent. The two got physical a few times, at one-point leading Finn Balor to get knocked out as a result of the gamesmanship between the two opponents.
Prediction and analysis: I'm pulling for McAfee in this one despite not being a full-time wrestler. Perhaps he gets some help from the aforementioned Balor since Theory has embarrassed Balor a few times.
Johnny Knoxville vs. Sami Zayn – Anything Goes Match
Story in a nutshell: Odds are good you 'd want to knock at least one of these two jackasses out.
On WWE Day 1, Johnny Knoxville announced he was going to participate in the Royal Rumble. Sami Zayn took exception to this and the two engaged in a back and forth leading to Knoxville getting eliminated from the Rumble match by Zayn. Zayn continued his harassment of Knoxville and the two continued their back and forth including Zayn losing the WWE Intercontinental Championship thanks to interference from Knoxville. Zayn agreed to have a match with Knoxville at WrestleMania and after Knoxville posted Zayn's phone number, Zayn upped the ante by making it an Anything Goes match.
Prediction and analysis: Knoxville gets the "fall from somewhere high, Shane McMahon WrestleMania spot" leading to a win.
Randy Orton & Riddle (c) vs. Angelo Dawkins & Montez Ford vs. Chad Gable & Otis – WWE Raw Tag Team Championship Match
Story in a nutshell: While celebrating their title win over the Alpha Academy, Chad Gable and Otis, the Street Profits, Montez Ford and Angelo Dawkins, challenged the new WWE Raw Tag Team champions, RK-Bro, Riddle and Randy Orton.
After winning the WWE Raw Tag Team titles, Randy Orton threw a celebration for Riddle and admitted that he considered Riddle a friend. Angelo Dawkins and Montez Ford crashed the party and demanded a shot at the titles at WrestleMania. Orton refused but Riddle convinced him otherwise. Riddle and Ford had a match when Chad Gable and Otis interfered leading them to get added to the match.
Prediction and analysis: The Street Profits have shown more of an edge, and I can see them being RK-Bro's opponents for the next little bit so I think the champs retain.
Bobby Lashley vs. Omos
Story in a nutshell: Omos, having buried several members of the roster, asked who would challenge him at WrestleMania and Bobby Lashley was the answer.
Omos has been going on a rampage destroying several members of the roster. Angry at not having an opponent for WrestleMania he demanded to who would face him. Seth Rollins didn't hear Omos's call so Bobby Lashley confronted Omos in a surprise return from injury.
Prediction and analysis: I don't know how ready Omos is to do anything important. If Omos beats Lashley he'd have to be in title contention. I think it makes more sense for Lashley to stifle Omos's momentum propelling a babyface Lashley towards a heel Reigns.
Queen Zelina & Carmella vs. Sasha Banks & Naomi vs. Rhea Ripley & Liv Morgan vs. Natalya & Shayna Baszler – WWE Women's Tag Team Championship Match
Story in a nutshell: Several women were haphazardly paired together to face the WWE Women's Tag Team champions, Queen Zelina and Carmella, in order to get a bunch more people onto the WrestleMania card.
That was pretty much it. Carmella has been preoccupied with her upcoming nuptials that has led to some friction with her tag team partner, Queen Zelina
Prediction and analysis: Ripley and Morgan win. An attagirl for Liv and something for Ripley to do in the meantime.
---
CATCH-UP: VIDEO: PWTORCH DAILY NEWSWIRE 4/2 – Hall of Fame, Samoa Joe, more