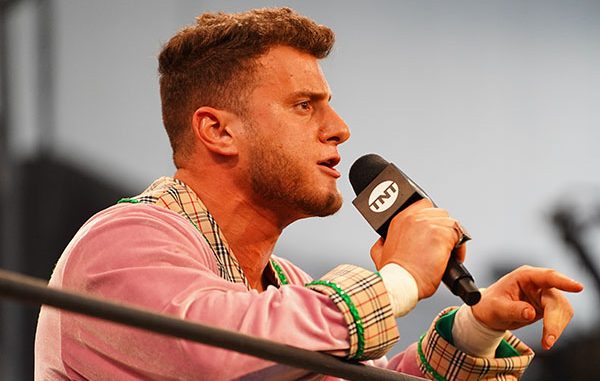 ---
SPOTLIGHTED PODCAST ALERT (YOUR ARTICLE BEGINS A FEW INCHES DOWN)...
---
Opening Revolution PPV Highlights Package: MISS
I appreciate the attempt to show non-PPV-buying fans what they missed, but this wasn't anywhere near sufficient. If you blink, you missed it. None of the major happenings on the show had a chance to resonate in the minds of viewers. This is something WWE does a lot better.
Orange Cassidy defeated Jay Lethal to retain the AEW All-Atlantic Title: MINOR HIT
This felt like an underwhelming presentation of stars right after a big PPV. I would have led with something more marquee.
As for the match itself, it was a fine, well-worked wrestling match with decent psychology. Cassidy seemed to tone down a lot of his usual comedy shtick. If anything, it was Lethal taking the "sports entertainment" limelight with his Flair impersonations.
After the match, Jeff Jarrett attacked Cassidy and Best Friends ran in for the save.
Powerhouse Hobbs Backstage Interview: MINOR HIT
Hobbs did a nice job leaning into the theft that Wardlow experienced after the PPV (assuming they are incorporating the real-life event with Wardlow's consent), and presenting himself like a cocky heel. I like that he's not relying too much on the excessive snarling that he did when he first turned heel. However, this wasn't exactly a "money" promo to hype up the main event.
Ricky Starks – Juice Robinson Angle: MISS
Starks came out and cut a short, unremarkable promo about moving on. He was then distracted by the Bullet Club music and laid out by Juice Robinson.
Very basic pro-wrestling angle. I won't hold my breath on this company explaining who Juice Robinson is.
Wardlow Backstage Interview: MINOR HIT
Wardlow referred to the theft that happened to him last night and acknowledged that his friends (FTR) let him borrow some clothes. He then suddenly upped the ante on Hobbs and suggested that the match be Falls Count Anywhere, Anything goes.
A marginally better promo than the one Hobbs cut earlier. I don't know what prompted him to make that challenge. I assume because he's in "street clothes" he wants something resembling more of a street fight?
Ruby Soho In-Ring Interview, Match with Skye Blue, and Post-Match Angle: HIT
Although I personally prefer Soho as a babyface, she seemed to be on a fast-track to nowhere in that role. She was liked, but kept getting paired with people who were more over than her (specifically, home-grown talent), so she never had a chance to shine after a hot debut. I thought she did a great job explaining the crowd reactions here, justifying her heel turn as "duh, what did you expect?" She also related it nicely to how Toni Storm and Saraya's runs have gone so far (granted, Saraya doesn't do much to make herself likable).
The match with Skye Blue was a long squash to build heat for Soho. After the match, Saraya and Toni Storm came out with a spray can, which Soho used to spray the letter "L" on Blue. Willow Nightingale then came out to reason with Soho, but the heels attacked and spray-painted her as well.
All-in-all, a pretty effective quarter-hour to build heat for Soho. AEW rarely devotes this much time to heat-building, so it was good to see, even if I don't care as much for the "originals vs. outsiders" storyline. At least it's the most relevant Soho has been in a while.
Hangman Page Backstage Interview: HIT
Good, serious promo from Hangman. He wasn't apologetic about the dark, violent side he had to display at the PPV, even though he technically "apologized" to Renee for having to see that side of him in interviews leading up to the match. He laid the blame on Moxley for pushing his buttons, but still came across as though he's staying true to himself and his core values.
MJF Pre-Recorded Post-Match Promo: HIT
Another effective heel promo by one of the best in the business, rubbing in his victory to everyone. Apparently, we're going to get a Bar Mitzvah to celebrate his win next week. Can we please keep real-world religion references off of TV please? I especially hate it when minority religions are used to gain heel heat.
I'd have preferred if the celebration were held this week and that Moxley and Hangman were kept off TV to sell their injuries instead.
FTR In-Ring Interview: HIT
Strong promo by both members of FTR detailing how they lost their multiple tag titles in a month, lost a friend (Jay Briscoe), but are still hungry to bounce back and make a statement in AEW. They also spent time addressing the Gunns specifically, which can often be lost when you've got a hot crowd who would love to just hear about you. I was worried that the crowd reaction for their return may be tepid given some of Harwood's podcast comments, but they received a huge ovation.
I'll ignore the silly line about "babyface promo" from Dax Harwood.
Jade Cargill Backstage Interview: IT HAPPENED
Cargill is 53-0 and challenged a Canadian wrestler for next week's show in Winnipeg.
Chris Jericho, Daniel Garcia, and Sammy Guevara defeated AR Fox and Top Flight: MINOR HIT
Nothing spectacular to this match. It serves the JAS well to get a win over a trios team who has had competitive matches with the Elite, which leads in nicely to the post-match stuff.
Post-Match Stuff with the Elite and House of Black: MINOR HIT
Although Don Callis has been his old heelish since Omega's return (while the team he supports are babyfaces), I think he channeled that effectively in mocking Jericho in this segment. It did mildly win over the crowd, who booed him when he grabbed the mic from Omega.
House of Black continue to annoy with their lights out gimmick, and the JAS are their usual selves.
Apparently, we're getting a three-way match between these teams next week. That should be fun, but I'm not as excited as I should be. Two are heels, and the babyface team continues to hang out with a heel manager (who has shown the capacity to carry himself like a babyface before).
Tony Khan Announcement on the All-Atlantic Title: 50-50
The championship will now be called the AEW International Title, and Shazam: Fury of the Gods apparently has something to do with it. Tony Khan's delivery here was a little clunky with redundant points about "leveling up" the championship. He's really not the best spokesperson for these kinds of corporate sponsorship/branding tasks.
Anyway, while I think the new name for the title is an improvement, I still have the same basic issue with it as I do with the WWE World title vs. the Intercontinental title. Don't the words "international," "intercontinental," and "world" basically mean the same thing?
With the preponderance of belts in AEW, and given how often they still bring in talents from other companies, I'd rather they minimize the number of in-house belts they have.
Bryan Danielson Pre-Recorded Post-Match Promo: HOME RUN
Stellar post-match promo by Danielson. Even better than MJF's earlier. There was agony in defeat, and not just your average babyface anguish. He reflected on what he told MJF about his family, how he fought for his family, and how he carried a "never give up" attitude. But on Sunday, he was forced to tap out because he realized that lingering in that submission hold could injure him to a point where he'd no longer be able to play with his kids.
This promo tied the story of the match very nicely together. The ending where Danielson said "it's time for me to go home" made it seem like he's going to take some time off. I'd argue this sets him up perfectly to return several months later and eventually be the one to dethrone MJF, but I doubt that's what the company's plans are.
Go out of your way to watch this.
Blackpool Combat Club (Jon Moxley and Claudio Castagnoli) defeated Dark Order (John Silver and Alex Reynolds) + Post-Match Angle: 50-50
The match was an exhibition to showcase the intensity and sinister side of the BCC as they beat down some sympathetic babyfaces. They continued attacking them after the match. Hangman and Evil Uno ran out for the save, but they got beaten up too.
In vacuum, there was nothing wrong with this. It was actually a pretty compelling, heat-building angle for what we can safely assume are new heels. The problem is that the Dark Order have been very inconsistently presented on TV, to the point that being forced to invest in them in a serious, major angle is going to be an uphill task. I'd also rather the Moxley-Hangman feud be over and done with.
Another thing that bugged me was that Moxley, who lost a gruesome match a few days ago, is out here wrestling a medium-length, semi-competitive match with very little selling of PPV injuries. Why couldn't it have been Claudio and Wheeler Yuta instead? Danhausen, coming out earlier today in a sling, actually sold his injury better Moxley tonight.
The Acclaimed-2point0 Backstage Confrontation: MISS
I chuckled at how the Acclaimed cackled at 2point0, but there was nothing to this.
Powerhouse Hobbs defeated Wardlow to Capture the TNT Title: MISS
A helluva brawl capped by a bad finish. Not only was there interference by QT Marshall, a gatekeeping, comedic heel for rookie babyfaces to squash, but we also got unprotected chair shots to the head, which is incredibly cringe-inducing in 2023. A blatant unforced error in an attempt to gain heat when what you want to do is minimize undue long-term health damage to your talent. QT Marshall, who co-owns a wrestling school and helps Tony Khan with producing the show, should be the first to object to this.
Anyway, I'm happy to look at QT with a fresh pair of eyes if he's going to be a feature act alongside new champion Powerhouse Hobbs, but the end of this show just left a bad taste in my mouth.
Commentary: MINOR HIT
Nothing special.
Overall Show: MINOR HIT
A lot of storyline and character development on this show, which is usually a good thing. However, many of the developments tonight left me with mixed feelings. In order to effectively progress a story, you need to effectively emphasize key events of the past, and AEW either refuses to do it or is really bad at it.
The Danielson promo was easily the best thing on the show. I really wish he came out to the ring to deliver that promo, all bandaged up, soaking in the crowd reaction, reflecting on the match, then leaving. Even if the announcers immediately pivot to the next match, that would have at least been more memorable than a brief, pre-recorded clip.
In addition, I'm really getting sick of unprotected chair shots to the head, even with a close distance between two wrestlers. I know it's very rare, but still. It adds nothing to the angle and needlessly increases the risks of CTE, and possibly alienates some fans. Shame on AEW for persisting with this.
---
CATCH-UP: 3/8 AEW DYNAMITE TV RESULTS (Updated): Keller's report on Wardlow vs. Hobbs for TNT Title, Cassidy vs. Lethal for All-Atlantic Title, Mox & Claudio vs. Dark Order