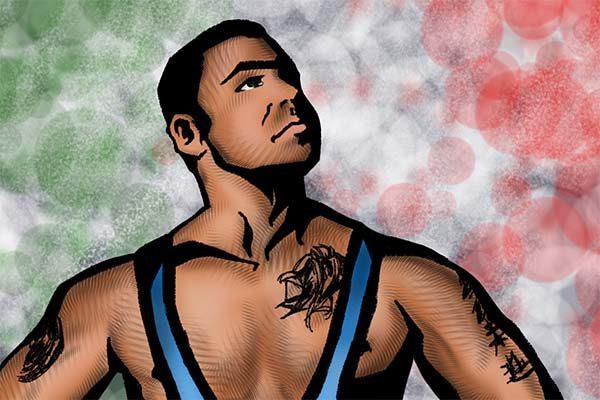 ---
SPOTLIGHTED PODCAST ALERT (YOUR ARTICLE BEGINS A FEW INCHES DOWN)...
---
IMPACT HITS AND MISSES
MARCH 16, 2023
LAS VEGAS, NV
AIRED ON AXS TV (RECORDED)
BY JOHN LASLO, PW TORCH CONTRIBUTOR
BTI: "OUTRAGEOUS" ZICKY DICE (w/Johnny Swinger) vs. CHAMPAGNE SINGH (w/Shera) – MISS

Both competitors came to the ring with local radio DJs, which is apparently still a thing. Zicky Dice got off a very impressive move from a prone position; he launched Champagne Singh into the air using his legs. Dice is actually a pretty good worker. I've seen him in some great matches on the indies; I just wish they would let him wrestle more. This was a typical BTI match which warms up the audience and gives people a little more time that they wouldn't otherwise see.
JONATHAN GRESHAM & "SPEEDBALL" MIKE BAILEY vs. DECAY (Crazzy Steve & Black Taurus) – HIT
Not to let my biases show, but I love tag team matches and I love all the people in this match. I could have let it go with a hit based just on those things, but this was a great match. Jonathan Gresham and Mike Bailey are at the top of their game and managed to use their strengths throughout the match. Crazzy Steve took a nibble of Bailey's toes, which was a choice, and I'm sure will show up on websites shortly. One Decay highlight was a dropkick from the top rope onto Gresham's groin. Even though they lost, both members of Decay came out of this match looking better than they went in, Crazzy Steve especially. Anyone in this match could be a contender for the X Division Title at the drop of a hat.
BACKSTAGE SEGMENTS
Josh Alexander & Rich Swann & Frankie Kazarian spoke with Gia Miller. – MISS
This was just to further the rivalry with Steve Maclin.
Giselle Shaw (with Savannah Evans and Jai Viadl) spoke with Gia Miller – MISS
Set up the Johnny Swinger vs. Jai Vidal match later on the card.
STEVE MACLIN vs. HEATH – MISS
A match of restholds. It only really served to show that Maclin was still dominant and show that Heath was a threat; it did those things well. What really killed it, though, is that the momentum in the match completely changed during a commercial break, but they never recapped how that happened.
BACKSTAGE SEGMENT – MINOR MISS
The Death Dollsz talked about the match with The Coven and made reference to a potential Havokk return.
PCO continued his trek across the desert into Vegas.
Gresham and Bailey set up re-match for Sacrifice. Now, personally, I really want this to be a 60 minute Iron Man match where I get to chant "Fight Forever!" in my living room to the annoyance of the people in the apartment below mine.
JOHNNY SWINGER vs. JAI VIDAL – MISS
This was another match as way to further other wrestlers' feud. In this case, Jai Vidal and Johnny Swinger were just set dressing to further the Deonna Purrazzo and Giselle Shaw feud. Jai also needs his own entrance music.
BACKSTAGE SEGMENTS
The Design & Sami Callahan – MINOR MISS
Establishing that the loss last week was to punish Sami Callahan, but it didn't really establish if he succeeded in accepting that punishment. I'm going with no.
Tommy Dreamer & Mickie James – MINOR MISS
It is getting increasingly hard to care about the Tommy Dreamer and Bully Ray feud. However, it was more about reminding people that Mickie James tapped out to Jordynne Grace.
EDDIE EDWARDS ADDRESSES THE IMPACT CROWD FROM THE RING – HIT
Eddie Edwards came to the ring to say that he was changing how he was going to conduct himself and to concentrate on his future. Then PCO showed up. Then Kenny King showed up to whale on PCO as well. While they didn't come out and say that King was the one who hit PCO with the car last week, it is heavily implied. King and Edwards were just merciless on PCO, even trapping him behind the ring steps.
BACKSTAGE SEGMENT
Santino Marella & Joe Hendry – HIT
Okay, while I'm not sure if people will know who Oleg Prudius is, they do know him as Santino Marella's former tag team partner Vladimir Kozlov. Looking into it, he's been doing Russian Language commentary for Impact for awhile now. I have to say that I loved the joke of "His name is still trademarked, you can not say his name" and then Joe Hendry comes out from behind a sign. Joe Hendry forced a rematch with Brian Meyers at Sacrifice. Then Marella set up a tag team match for Dirty Dango & Joe Hendry vs. Meyers & Moose.
DEATH DOLLZ (Rosemary & Taya Valkyrie with Jessicka) vs. THE COVEN (Taylor Wilde & KiLynn King) – Knockouts Tag Title match – MINOR HIT
After seeing Taya Valkyrie on AEW Dynamite the night before, I knew how this one was going to go, but like I said, I'm a sucker for tag matches. Don't get me wrong, I love the occasional title drop on free TV, but this could have been more. KiLynn King and Taya had a ton of great exchanges, in particular and I would have loved to see more. I think the big takeaway from this match and the previous Death Dollz segments, is that they are building a Taylor Wilde-Rosemary feud.
BULLET CLUB (Ace Austin & Chris Bey & Kenta)  vs JOSH ALEXANDER & RICH SWANN & FRANKIE KAZARIAN – HIT
This match was pure chaos, as all the best six-person matches are. It broke down early, and regular tag rules broke down frequently. While everyone got a chance to shine, I feel like Chris Bey was the real stand out. The best part was when Bey went to go over the top rope and got caught in a cutter from Frankie Kazarian. I'm not the hugest fan of the ending, but it furthered the Maclin-Alexander build up and kept Bullet Club looking good.
FINAL THOUGHTS: Lots of multi-person matches, which is my favorite thing. Lots of out-of-the-ring chaos; it was great. One thing that always irks me is that everyone knows that Impact is recorded, but they still skip the time during commercial breaks. Sometimes it's no big deal, but there are occasions like this card where things happen, and they don't recap. It's totally unnecessary. I have no idea where the PCO and Eddie Edwards thing is going, but I'm going to grab some popcorn and enjoy the ride.