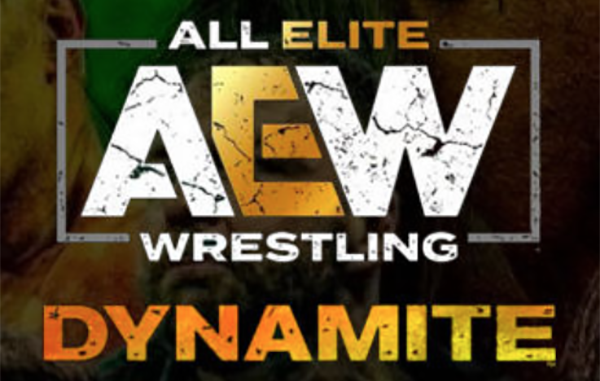 ---
SPOTLIGHTED PODCAST ALERT (YOUR ARTICLE BEGINS A FEW INCHES DOWN)...
---
AEW DYNAMITE REPORT
MARCH 29, 2023
ST. LOUIS, MO.
AIRED LIVE ON TBS
Commentators: Excalibur, Taz, Tony Schiavone
Ring Announcer: Justin Roberts
---
[HOUR ONE]
-The Dynamite opening aired.
(1) "JUNGLE BOY" JACK PERRY vs. MATT HARDY (w/Ethan Page)
Perry made his entrance first. Then Hardy accompanied by Ethan. Excalibur said Stokley was still recovering from the match with Hook last week. There was a dueling chant of "Let's Go Hardy! / Jungle Boy!" Ethan played into it excitedly as Perry shook his head at the Hardy fans. Hardy bailed out early. When Perry was going to dive through the ropes at him, Ethan stepped in his way. As soon as Ethan moved, Perry leaped onto Hardy. Hardy caught him and gave him a Side Effect. They cut to Darby Allin watching on a monitor backstage. Then they cut to Sammy Guevara making out with Tay Melo and ignoring the match on the monitor. Perry leaped off the edge of the barricade and sledgehammered Hardy and then threw him back into the ring. They stood on the ring apron and had what Excalibur characterized as a hockey fight. Hardy gave Perry a Side Effect. With Hardy in control at ringside, they cut to a split-screen break. [c/ss]
Hardy remained in control during the break. Perry fired back with a clothesline. Hardy countered with a forearm. Perry dropkicked Hardy and let out a big yell. When he climbed to the second rope, Ethan distracted him. Hardy got up and superplexed Perry to the mat. He scored a two count. Ethan stood on the ring apron to protest to the ref. Hook's music played and he marched out to his music. Ethan swung at him. Hook fired back. Hardy held Hook. Ethan swung, but Hook ducked and Ethan punched Hardy. Hook punched away at Ethan as Perry leaped onto Hardy at ringside. Perry climbed to the top rope, but Hardy kicked him out of the air. Perry scored a sudden two count with a backslide and then countered a Side Effect. He landed a Flatliner followed by a running elbow to the back of Hardy's head for the win. As Perry's music played, they showed Darby looking distressed backstage.
WINNER: Perry in 10:00.
(Keller's Analysis: Good match. One of Matt's better matches in a while.)
-MJF's music played and he walked out. He spun around and showed off his AEW World Title belt. Tony Schiavone said, "He's rotten to the core. A boil on the butt of pro wrestling." MJF said he runs the show around there and asked fans to shut their mouths. MJF said he didn't appreciate Perry interrupting his Bar Mitzvah two weeks ago. He said one thing he said really stood out to him. He took issue with Perry saying he had it easy and just got to waltz his way to the top of the card. Fans chanted "Shut the f— up!" MJF said, "No." He turned back to Perry and said he was right. He said he barely wrestles and barely breaks a sweat and then obliterates the losers in the crowd and then takes a leer jet back home to "the most magical place in the world known as Long Island, New York." Fans booed. He said they'll be going there next week, then plugged ticket sales.
He said Perry's career, meanwhile, has been kind of mid. He said he scratched and clawed his way up the ladder with one standout match after another, leaving blood, sweat, and tears in the ring for the fans. He said he's never heard the fans thank Perry. Fans chanted "Thank you, Jack!" MJF told the fans it was too little, too late. He said he hasn't been rewarded with much TV time. He said he has a right to be pissed, but not at him or the fans. He said he should be pissed at himself. He said after their match at Double or Nothing 2020 where stole the show and went to war in 90 degree weather in Jacksonville, Fla. to prove they were the future, he walked to the back and felt like he had just met his equal inside the ring. Perry sneered skeptically at what seemed like a compliment.
MJF said he felt for the first time he had met a man in the ring whom he respected. He said he sought him out backstage and shook his hand. He asked Perry if he remembers what he said. Perry stepped out of the corner. He said he told him that he had all the skills and all the potential in the world, but nice guys always finish last. He said MJF told him to ditch his friends and not care about anybody but himself. MJF said he did tell him that. MJF said he went on to hang out with Dyno-Douche, Marko Stunted Growth, and Christian Cage. "Good call, by the way," he said. "Great call." He said all those guys held him back. He said his new friend Hook won't be any different. He said he could have listened to him and followed him to the top of the mountain. He said it could have been the MJF Show and the Jack Perry Show, but instead he had to be the good guy for the fans. "Really? These people?" MJF said. MJF said fans might chant his name, but where has being a good guy gotten him. He said he's now the best pro wrestler in the world, holding the grandest prize of them all, while Perry is still just Jungle Boy.
Perry said if he were to be honest, a long time ago he thought that maybe somehow, some way they could be friends. He said in a lot of ways, he wishes he was more like him. MJF was pleased. "I wish I could talk like you do," Perry said. "I wish I had the confidence that you have. I wish that I didn't care about anybody else but myself. I wish I didn't care about lying and stabbing people in the back to get what I want. I wish I didn't care about being the most selfish, narcissistic piece of shit in this entire place." Fans chanted "Piece of shit!"
Perry said that's not him, so if that makes his road to the top of the mountain more difficult, so be it. He said he'll do it his way and when he beats him and becomes AEW World Champion, at least he won't wake up alone every day and hate the person he sees in the mirror. Schiavone said those were live rounds.
MJF paced briefly and then said that was really good. He said fans should give him a round of applause. He said it only took him four years to learn to talk. He said they could have been friends and partners, but in fact, he has turned out to be a massive disappointment. "You're weak, Jack," he said. "Weak of the body, mind, soul, and heart." He said his "hot ass girlfriend, Anna Jay," told him that he's weak between the knees too. Perry tackled MJF and then kicked and stomped away at him in the corner. Then he clotheslined him to the mat and let out a big roar. He went for another move,  but MJF slid out of the ring. An enraged MJF yelled, "I'm still the World Champion!"
(Keller's Analysis: Tremendous segment. MJF was at his best there staying within the parameters of the narrative structure of being a scumbag world champion in a show that's a simulated sport. It drew from the legit history and career paths of MJF and Perry. And it set up Perry to deliver his best promo in AEW to date tearing down MJF as someone who shouldn't be proud of his path and his selfish attitude and suggests he even hates himself, whereas he will take a different path that might take longer, but one he can be proud of. Just good stuff and the crowd ate it up. That's pro wrestling at its simplest, stripped down to the basics of a good guy and a bad guy battling over a world title. No internet references, no fishing for social media reaction, no meta backstage stuff that contradicts the storyline presentation of the product on air. More of that, please. It made MJF vs. Perry feel like a big singles match in just a ten minute segment, one that flew by.)
-They went to Excalibur, Taz, and Schiavone at ringside. Excalibur hyped upcoming matches including the Kenny Omega vs. Jeff Cobb match for the IWGP U.S. Title.
-Backstage, Alex Marvez approached Don Callis who was chatting with Kenny Omega whose arm was getting taped up by a trainer. Callis said a lot of people are talking about what happened between him and Hangman Page last week. He asked Omega why he assumed his so-called friend Hangman Page attacked him last week when all that actually happened is he slipped. He asked what that says about his friendship with him. Omega said, "He's punched you before." Callis said he just had the greatest match in Dynamite history last week and is about to do it again, so he's going to go apologize to Hangman so Omega can focus on Cobb. He said he'll make everything right. Omega shook his head like he thought Callis was a goof or a distraction.
-A skit aired with The Acclaimed and Billy Gunn hanging out with Matt Menard and Angelo Parker in St. Louis at a Blues NHL game and a local restaurant and riding a merry-go-round. Parker then asked if they're in or out. Anthony Bowens said they'll tell them next week. When Parker and Menard were left alone, Parker said they had fun but they hope it was worth it.
(Keller's Analysis: That was fun, the idea being Gunn and the Acclaimed let Parker and Menard take them out for a night on the town on J.A.S.'s dime, but ultimately of course have no interest in working with them.)
(2) DALTON CASTLE & THE BOYS vs. CLAUDIO CASTAGNOLI & JON MOXLEY  & WHEELER YUTA
As Dalton and The Boys made their entrance, Claudio, Moxley, and Yuta attacked them from behind and beat them up at ringside. Claudio destroyed Brandon Tate and pinned him after a powerbomb. Taz said they're meaner now and he likes their style and demeanor.
WINNERS: Claudio & Moxley & Yuta in 1:00.
-A video package aired on last week's Omega vs. Vikingo match and the angle built around it with the attack on the Young Bucks and then a "Hangman" Page run-in afterward.
-A promo aired with Omega in front of a New Japan sponsor backdrop telling Cobb to follow him to America and try to take his IWGP U.S. Title. Then a soundbite aired with Cobb telling him he's coming to St. Louis.
-Marvez interviewed Hangman backstage and asked for an update on the Young Bucks. Hangman said they've been better. He said Nick has a separated shoulder and Matt has a partial bicep tear. When Marvez asked who did it, Hangman asked if he was kidding and said it was obviously the Blackpool Combat Club. Callis walked in. Hangman asked who the hell invited him. Callis said he slipped lastweek and he apologized for the misunderstanding. He said he wouldn't want to get between him and Omega. Hangman asked if he was for real. Suddenly Mox, Yuta, and Claudio attacked Hangman. Callis offered a handshake to Mox, but Mox punched him. Excalibur wondered if Callis would be able to be in Omega's corner later. They showed Callis sitting up, bleeding from the forehead. [c]
(3) KENNY OMEGA vs. JEFF COBB – IWGP U.S. Title match
As Cobb walked out, Excalibur said he is part of the United Empire faction in New Japan, but has wrestled in AEW before. They cut backstage to Schiavone approaching Omega and telling him BCC attacked Callis backstage. Omega seemed thrown off and tried to regain his focus. Omega then made his entrance. Taz said he thinks Omega is an elite enough athlete to maintain his focus despite what happened to Callis. The bell rang 44 minutes into the hour. The announcers discussed the change in style between Vikingo and Cobb. Excalibur said it's not apples and oranges, it's apples and cinder block. Omega landed a flip dive onto Cobb at ringside. Excalibur said IWGP is the governing body that oversees all championships in New Japan Pro Wrestling. Cobb made a comeback and landed a running brainbuster suplex. They plugged AEW All-Access debuting right after Dynamite. They fought to ringside where Cobb rammed Omega into the ringpost. They cut to a split-screen break at 4:00. [c/ss]
The announcers noted Omega's ribs were taped and that becomes a target. Omega clutched his ribs as Cobb focused on them. Cobb landed a running corner splash. Omega charged at Cobb, but Cobb caught him and suplexed him. Omega flipped onto his feet. Cobb landed a right to Omega's jaw. Omega landed a knee strike for a two count seconds later. Omega was slow to capitalize because of his sore ribs. He kicked Cobb and landed a knee to the jaw followed by a Snap Dragon suplex, but Cobb popped up and clotheslined Omega. Both were down and slow to get up. Fans applauded. The ref began counting. Taz said he was hit by Bam Bam Bigelow like that and he still feels it. Schiavone said both men are giving it their all. Taz said so much is at stake.
Omega and Cobb stood and exchanged chops. Cobb hit Omega's ribs, then landed a running back elbow in the corner. He followed by putting Omega on the top rope and then headbutting him followed by a superplex. Cobb rolled slowly onto Omega for a two count. He followed with a standing shooting star press for a very near fall. Cobb followed up with a V-Trigger to Omega. Excalibur declared that they are going to crown a new champion. Cobb set up Omega for a One-Winged Angel, but Omega slipped free. Omega countered Tour of the Island with a knee and then a V-Trigger to the back of Cobb's head. He followed with another attempt at One-Winged Angel. He landed this one which popped the crowd and he scored the three count. Omega could barely stand to celebrate afterward.
WINNER: Omega in 14:00 to retain the IWGP U.S. Title.
(Keller's Analysis: Really good, hard-hitting back and forth battle. They did a lot with the taped ribs and the distraction with Callis being attacked to create a plausible reason for Omega to lose despite being a star in AEW and Cobb being an infrequent visitor.)
-Moxley, Yuta, and Claudio walked out afterward and surrounded the ring. As they were about to enter the ring, they stopped when Bryan Danielson's music played. He jogged to the ring. Excalibur said Danielson said he needed to take time to clear his head after Revolution, and here he is. Danielson entered the ring and asked Moxley, Yuta, and Claudio what they were doing. He turned to check on Omega who backed away and cowered in fear of another attack. Danielson offered Omega help up. Omega was skeptical. Schiavone said he doesn't blame him.
[HOUR TWO]
Danielson then charged at Omega with a running high knee and then he applied a Crossface. Mox, Yuta, and Claudio stomped away at Omega. Fans were disappointed. Security charged to the ring, but BCC fended them off easily.
(Keller's Analysis: I know Danielson has said he likes being a heel, and after having his match with MJF perhaps there was nowhere else for him to go as a babyface. That's a lot of recently-babyface talent to wrap up in a heel faction, though, especially with Matt Jackson out with an injury. The crowd booed and even openly encouraged Danielson not to attack Omega and urged Omega not to trust Danielson. They were legitimately upset that Danielson joined the others, so they're getting heel heat and it's a credit to Omega the fans choose him.)
-A highlight package aired on FTR and The Gunns last week.
-A promo aired with The Gunns backstage. Austin Gunn said FTR are truly one of the great teams of their generation, but it's sad it took them 19 years to get to that point. Colten said they busted their asses for those tag titles they now hold. Austin criticized FTR for taking time off to bitch and moan and politic for a title shot. He told FTR that they used to be their heroes, but then they met them and now they hate them and don't respect them. Colten said next week they battle in a titles vs. careers match and it will be "Top Guys, out."
(Keller's Analysis: The Gunns are polishing their look and expanding their act week after week with strong in-ring and strong on-mic work. Maybe they spoke "too much truth" in that promo about being work horses lately while FTR were whining elsewhere, but their delivery tends to be so smarmy they're still ultimately unlikable. I think FTR win next week, by the way.)
(4) ORANGE CASSIDY vs. THE BUTCHER (w/The Blade) – AEW International Title match
Butcher came out first, accompanied by The Blade. Then Cassidy made his entrance. Blade attacked Cassidy before the match. The ref ordered Blade to the back as soon as he threatened Cassidy with a crowbar as Butcher held him. As the ref was preoccupied by Blade, Butcher continued the beatdown on Cassidy. The ref checked on Cassidy before calling for the bell. Cassidy said he could go. As soon as he stood, the ref asked again. Cassidy raised his arms and told Butcher to bring it. The bell rang nine minutes into the hour. Butcher cut off Cassidy's slo-mo kicks. Then he pressed him and threw him onto the top turnbuckle. Butcher rammed Cassidy into the ringside barricade. They cut to a split-screen break. [c/ss]
Butcher dominated during the break. He applied a sharpshooter mid-ring after the break. Cassidy raked Butcher's eyes as Butcher lifted him for a powerbomb. He followed with an Orange Punch attempt, but Butcher blocked it. Cassidy landed a Slum Dog Millionaire, but Butcher countered into a powerbomb attempt. Cassidy countered into a DDT for a two count. Cassidy climbed to the top rope and landed a top rope leaping DDT for a two count.
Butcher distracted the ref in the corner and grabbed onto him as Blade ran back out and hit Cassidy with a crow bar. Butcher then gave Cassidy a backbreaker and scored a believable near fall. Chuck Taylor and Trent Beretta ran out and attacked Blade at ringside. Butcher threw the ref down and went after Chuck and Trent at ringside. Trent hit Butcher in his gut with the crowbar and then Chuck threw him back into the ring. Cassidy then caught him with an Orange Punch and a Beach Break when he returned to the ring to score the pin. Chuck and Trent joined Cassidy to celebrate.
WINNER: Cassidy in 8:00 to retain the AEW International Title.
(Keller's Analysis: Solid match. That's some of the most effective use of Butcher to date as a challenger to what has essentially become AEW's TV Title. Cassidy overcame a lot to win.)
-A video package aired with Jade talking about Taya Valkyrie. "Smart" Mark Sterling threatened a lawsuit if Valkyrie uses the Jaded to win her match on Friday. Jade said she is The Goddess of AEW.
-Excalibur hyped Cole vs. Garcia and Willow Nightingale vs. Ruby Soho. [c]
-A soundbite aired with Juice Robinson talking about facing Action Andretti on Rampage, but he said he has tunnel vision for Ricky Starks right now so he'll be making an example out of Andretti as a message to Starks.
(5) RUBY SOHO (w/Toni Storm, Saraya) vs. WILLOW NIGHTINGALE
Soho bailed out early after a flurry by Willow. A couple minutes in, Saraya interfered with knees to the side of Willow's head as Soho distracted the referee. They cut to a split-screen break. [c/ss]
Soho dominated during the split-screen break. Willow came back with a spinebuster after the break for a two count. Soho begged off. Willow yanked her up. Soho broke free and elbowed her. Willow lifted Soho onto her shoulders and drove her to the mat hard for a near fall. Storm kicked Willow off balance when she climbed to the second rope. Soho then delivered two No Future kicks for a near fall. Neither kicked looked great, especially the second one. Willow scored a two count with a backslide. She followed up with a Pounce, sending Soho hard into the ropes. She played to the crowd and pounded her chest. Saraya distracted the ref. Storm yanked Soho out of Willow's hands. Soho then rolled up Willow and put her legs on the middle rope for extra leverage to get the win.
WINNER: Soho in 8:00.
-After the match, The Outcasts attacked Willow. Ruby pulled a chair out from under the ring and slid it into the ring. They put Soho's leg in a chair. Riho and Skye Blue ran out for the save, but they were quickly overwhelmed. Soho was about to spray Riho with spray paint, but Jamie Hayter ran out for the save. She gave Soho a nasty back breaker. Saraya and Storm fled the ring. Hayter helped Riho to her feet. Riho signaled she wants to become AEW Champion again. Excalibur said she'll have her chance in seven days. Hayter then ran up the ramp, so the heels scurried off the stage as quickly as they could run.
-Excalibur plugged Rampage: Guevara vs. Konosuke Takeshita, Malakai Black & Brody King vs. Best Friends, Taya Valkyrie vs. Marina Shafir, and Juice Robinson vs. Action Andretti. Dynamite next week features Juice vs. Starks, "MJF Day" in Long Island, Hayter defending against Riho, The BCC speak, and FTR put their AEW careers at stakes for a shot at the Gunns tag titles. [c]
-A vignette aired with Powerhouse Hobbs talking about his recent victories.
(6) ADAM COLE vs. DANIEL GARCIA
During Garcia's entrance, Excalibur plugged Friday night's ROH PPV. Fans chanted "Welcome back!" and "Adam Cole!" when the bell rang to start the match 45 minutes into the hour. Garcia got the better of an early lock-up and then pretended to kick dirt on him with his feet. He lectured Cole and told him to stand up. Garcia controlled from there as they cut to a split-screen break. [c/ss]
Cole made a comeback, but Taz said Cole is grabbing at his neck and certainly feeling tingles in his arm. He cited his experience with neck issues. Garcia scored a two count after a neckbreaker over his knee. Garcia caught a Cole superkick attempt. Garcia ducked an enzuigiri attempt and then delivered a German suplex. Garcia smiled as Cole writhed on the mat. Cole superkicked Garcia seconds later and scored a two count. Excalibur plugged AEW All-Access after Dynamite. Garcia applied a sharpshooter. Cole crawled over to the bottom rope to force a break. Excalibur plugged some specific matches on the ROH PPV including Samoa Joe defending the ROH TV Title against Mark Briscoe and Claudio vs. Eddie Kingston for the ROH Title, which Excalibur called a match "15 years in the making." Garcia piledrove Cole rather casually, as if he knew he was delivering a move that could re-injure Cole, for a two count. Cole caught a charging Garcia with a kick and then landed the Panama Sunrise. He followed with the Boom for the three count.
WINNER: Cole in 11:00.
-As Cole's music played, Britt Baker walked out and kissed Cole mid-ring. Streamers dropped over them. Excalibur said it was so great that he was able to return to the ring.
-Afterward, Chris Jericho marched out to his music. He checked on Garcia. He helped him out of the ring and put his arm around him. He looked over his shoulder toward Cole, then returned to the back with Garcia, who was still groggy. Jericho paused on the ramp again and sort of looked over his shoulder. Cole's music began playing again as Excalibur shifted to talking about Cole's nine month road back to Dynamite to score a win in his return match.
(Keller's Analysis: Good match. It didn't stand out too much, though. I'd have preferred more build this week with promos. Looks like they're planting the seed for a Cole vs. Jericho match.)