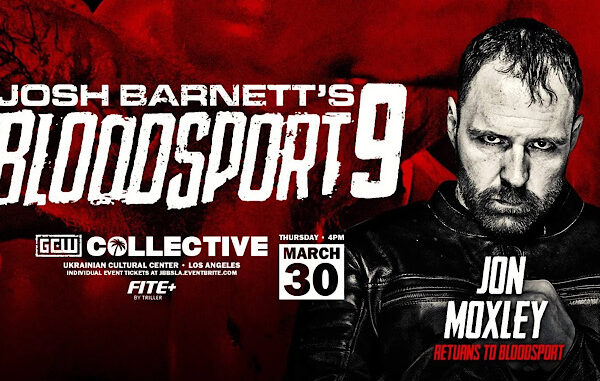 ---
SPOTLIGHTED PODCAST ALERT (YOUR ARTICLE BEGINS A FEW INCHES DOWN)...
---
GCW: JOSH BARNETT'S BLOODSPORT 9
MARCH 30, 2023
LOS ANGELES, CALIF.
UKRAINIAN CULTURAL CENTER
AIRED LIVE ON FITE+
Announcers: Lenny Leonard and Dan Barry.
The rules for Bloodsport matches were read to the crowd. All of the fighters were then introduced to the crowd. Kota Ibushi got a really big pop when he was introduced to the fans. Josh Barnett got on the mic and said they had gathered the best to give their blood, sweat, and tears tonight. He said this is the hardest hitting event in pro wrestling. He said there are many imitators, but no equals to Josh Barnett's Bloodsport. He concluded by saying let the fights commence.
They showed a tale of the tape before each match.
(1) JEFF COBB (2-0) vs. CALDER McCOLL (2-0)
They went back and forth on the mat with McColl getting the upper hands at times. McColl went for a flying armbar, but Cobb blocked it and slammed McColl into the mat to break it up. He then hit a diving forearm and the ref dove in and declared Cobb the winner.
WINNER: Jeff Cobb (3-0) in 6:00 via ref stoppage.
(Radican's Analysis: This was setting up to be an intense chess match on the mat until Cobb got the sudden victory.)
The fans erupted in cheers for Cobb after the finish.
Both men shook hands and then hugged after the match.
(2) CALVIN TANKMAN (2-2) vs. ERIK HAMMER (3-0)
Leonard said he heard an interview where Hammer felt he was 10 times more faster and athletic than Tankman. Tankman got on top of Hammer and threw several palm strikes at his head, but Hammer managed to roll to the floor. The announcers mentioned this was Hammer's first in-ring appearance in 18 months. Tankman was controlling the action, but Hammer got on top of him and submitted him with a double wrist lock.
WINNER: Erik Hammer (4-0) in 3:00.
(Radican's Analysis: Not much to this one. It was another surprising finish where it looked like Tankman was going to have his way with Hammer because of his size advantage, but Hammer used his submission skills to quickly win the match with a double wrist lock.)
The crowd booed when Hammer was announced the winner after the match. He flipped them off.
(3) MARINA SHAFIR (2-0) vs. KILLER KELLY (1-0)
Shafir took the fight to Kelly during the early going. She pie-faced her to the floor and hit several knee strikes. Kelly ended up tripping Shafir on the hardwood floor. Shafir eventually fired back after taking several knee shots with a kick to Kelly's chest that sent her down to the ground. Shafir got an arm submission and Leonard thought Kelly had tapped. She then got a headscissors choke and that was good for the submission victory.
WINNER: Maria Shafir (3-0) via submission in 6:30.
(Radican's Analysis: This was a good back and forth fight. Shafir took a ton of punishment to the head before getting the win in the end.)
(4) KOTA IBUSHI (0-0) vs. MIKE BAILEY (0-1)
Bailey got a big pop coming out. The fans started chanting for Ibushi before his music played. Ibushi then came out to a big pop for his first match in two years. The bell rang and the fans chanted "holy s–t." Bailey was working a submission on the mat and Ibushi got on top of him. He was trying to get to a better position when Bailey launched him to the floor using his legs. Ibushi connected with some kicks, but Bailey fired back with a series of kicks of his own. Ibushi hit a double knee moonsault and grabbed an arm bar. Bailey tried to go to the floor, but Ibushi hung onto his hips and hit a German to bring him from the floor back into the ring. Ibushi hit a Regal-plex and hung onto Bailey's wrist and hit the Kamigoye for the win. WOW!
WINNER: Kota Ibushi (1-0) in 7:00 via KO. (***½)
(Radican's Analysis: This fight had a great atmosphere as the fans were jacked to see both men go at it. This was a lot of fun with both guys catching each other with strikes at times before the abrupt finish. I would have loved to have seen more from these two. The suplex spot from the floor back into the ring by Ibushi was crazy. The atmosphere was tremendous.)
Both men showed each other respect after the match. They seemed to indicate that they would be receptive to having another match down the line. Bailey left the ring and the fans chanted for Ibushi.
They aired a video to honor Erick Paulson with The Josh Barnett Lifetime Achievement Award. Chavo Guerrero came out to present the award. Chavo got into the ring and the fans started a chant for Eddie Guerrero. Guerrero talked about the wrestlers that had trained under Paulson such as Josh Barnett and Brock Lesnar before introducing him to receive the award. Paulson said pro wrestling had taken off and he put over Barnett starting something special with Bloodsport. Paulson said the art of catch wrestling had disappeared for a while, but it had made a return in Bloodsport. He said he was proud to be honored.
(5) YUYA UEMURA (1-1) vs. BAD DUDE TITO (1-4)
Tito pushed Uemura out of the ring during the early going. Uemura got right back into the ring and shoved Tito down. Uemura sent Tito to the floor with a belly to belly suplex. He went for a dive and saw the ropes weren't there, so he just got a running start and wiped out Tito with a dive. I haven't seen many dives on Bloodsport events. Tito got an ankle lock and grapevined the leg. Uemura then tapped out quickly.
Winner: Bad Dude Tito (2-4) via submission in 5:30.
(Radican's Analysis: This was a good fight. Uemura showed he wouldn't be intimidated, but ultimately he fell short to Tito.)
They showed a picture in picture replay of the finish after the match ended.
After the match, Tito pie-faced Uemura after Uemura had offered a handshake. Tito bailed before Uemura could get to him.
(6) HARRY SMITH (5-1) vs. J.R. KRATOS (4-2)
Neither man could get a sustained advantage during the early going. Kratos got on top of Smith and hit some short elbows, but Smith managed to get to a knee and he started nailing Kratos with some knees to the head. Smith hit some knees to Kratos's ribs as well. Kratos fired back with some big forearms. They began trading blows and Smith grabbed Kratos and hit several knees. Kratos went down to his knees.
Kratos went for a Boston Crab, but collapsed because he was tired. Smith nailed him with a big knee to the chest while he was down. Smith hit a big powerbomb, but Kratos told the ref he could still go. They went to an exchange and Kratos took Smith down with a jumping kick and both men were down. They got to their knees and began trading and then to their feet where they continued to trade blows. Smith eventually blocked a suplex and got a crossface. Kratos tried to fight tapping, but he had no choice and he tapped out.
WINNER: Harry Smith (6-1) in 11:00. (***)
(Radican's Analysis: This was easily the longest fight of the show so far. It was slow to get going, but they picked things up with some nice striking and counter exchanges late to get the crowd going before building to a strong finish.)
Both men shook hands after the match. Kratos even raised Smith's hand before leaving the ring.
(7) JOHNNY BLOODSPORT (1-0) vs. ROYCE ISAACS (2-3)
Royce hit several knees after blocking a punch. Johnny went for a knee, but Isaacs caught it and delivered a leg capture suplex. Isaacs got a double wrist lock, but Bloodsport managed to get side control and he hit a couple of big knees to Isaacs's ribs. Isaacs got control from the back and hit a pair of German suplexes. He held onto Bloodsport, but Bloodsport fought off a third German and hit a big knee to Isaacs's head. Bloodsport hit a spinning kick from the ground and got the Muta Lock, but Isaacs countered it into a rear-naked choke. Bloodsport managed to escape the hold.
Isaacs countered an arm bar into a cloverleaf submission. Bloodsport eventually managed to roll to his back to escape the hold. They were jockeying for position when Isaacs suddenly hit Storm Zero and locked in a choke. The announcers thought Bloodsport was out, but he suddenly fought back and hit a gator roll. Then then got a front choke and Isaacs tapped.
WINNER: Johnny Bloodsport (2-0) in 11:30. (***)
(Radican's Analysis: This was another solid fight with both men going hold for hold on the ground. They didn't take the fight to another gear until the finish, which was well executed and added some needed drama to the match.)
Both men showed each other respect after the ref raised Bloodsport's hand when the winner was announced.
Jon Moxley was supposed to face Davey Richards next, but Richards retired.. Alex Coughlin was named as his replacement.
(8) ALEX COUGHLIN (2-3) vs. JON MOXLEY (3-1)
Coughlin stunned Moxley with a pair of slaps early. They went back and forth on the mat and Moxley ended up shoving Coughlin out of the ring. He went to get back in and Moxley grabbed an arm bar with Coughlin still on the floor. The ref went to break it up, as the rules are you have to let your opponent back into the ring, but Coughlin lifted Moxley up as he still held the submission and gave him a stiff looking apron bomb to break free.
Moxley hit several headbutts and grabbed a rear-naked choke. He hit a Death Rider, but Coughlin no-sold it and they began trading slaps to the face. Moxley suddenly took Coughlin down with a jumping knee. Moxley got on top of Coughlin and hit several punches. He hit a knee to the head and grabbed a bulldog choke. Coughlin somehow got Moxley onto his abc while he held the bulldog choke, but Moxley slipped out of his hold and took him down again. Moxley worked a choke out of a gator roll. Coughlin finally passed ]out and the ref stopped the match.
WINNER: Jon Moxley (4-1) in 7:00 via ref stoppage. (***¼)
(Radican's Analysis: I thought this was a good match, but the crowd never seemed to believe that Coughlin was going to win and they just sat down and never really fully got into the match. Coughlin looked really good here despite taking the loss. For whatever reason, the crowd just wasn't fully invested into this encounter.)
Both men shook hands after the match.
(9) JOSH BARNETT (4-0-1) vs. TIMOTHY THATCHER (1-2) 
Neither man could get the upper hand on the mat during the early going. Thatcher got a single leg crab and the crowd popped, but Barnett quickly countered and got a knee bar. Thatcher got on top and hit several blows before going for an arm submission. Barnett fought it off and lifted Thatcher up with one arm and he slipped off. Barnett got on top of Thatcher and tried to work a double wrist lock. Barnett then got on top of Thatcher and hit several short elbows when he tried to escape.
Thatcher countered and got a wrist lock, but Barnett countered and got Thatcher's ankle. Barnett went for the STF, but Thatcher blocked it and went for the Fujiwara arm bar, but Barnett rolled through. He then got up and hit a Saito suplex. The feed went out briefly and came back with both men near the edge of the ring. They ended up spilling to the floor at the same time.
They traded strikes from their feet. Thatcher hit a suplex and worked on Barnett's arm again. They got to their feet and Barnett caught Thatcher with an exploder suplex. He then hit a big powerbomb, but Thatcher grabbed his arm out of nowhere. Barnett tried to roll through and Thatcher went right to a knee bar for the win.
Timothy Thatcher in 13:00 via submission. (****)
The crowd exploded as Thatcher became the first person to beat Barnett in Bloodsport. They chanted his name and gave him a big ovation.
The fans chanted Bloodsport as both men shook hands to end the show.
Overall score: (6.5): I like the Bloodsport format and this had a lot of good fights on it, but there have been better Bloodsports shows in the past. The only fight really going out of your way to see is Thatcher vs. Barnett. The rest of the fights are good, but there wasn't anything really going out of your way to see other than perhaps the Bailey vs. Ibushi fight. Bailey vs. Ibushi was very good, but it was a tease of a contest, as it lasted only seven minutes. I'd LOVE to see these to in a longer wrestling match.
Contact Sean at pwtorchsean@gmail.com. Follow him on Twitter @SR_Torch