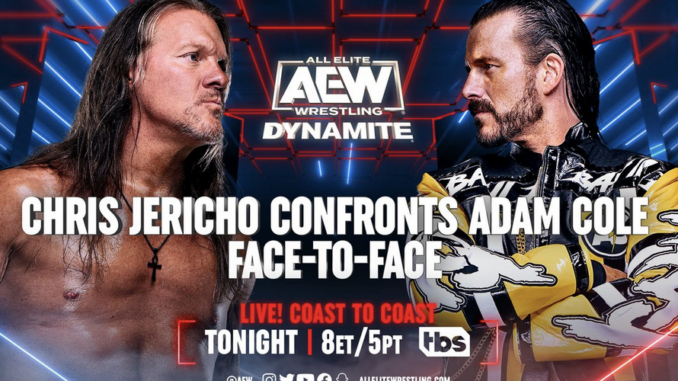 ---
SPOTLIGHTED PODCAST ALERT (YOUR ARTICLE BEGINS A FEW INCHES DOWN)...
---
Wednesday night's episode of AEW Dynamite on TBS drew an average of 830,000 viewers, down from 866,000 and 877,000 viewers the prior two weeks. Dynamite competed this week with NBA and NHL playoff games being broadcast on national and regional sports cable networks.
The average viewership so far this year through 16 weeks is 897,000. The average viewership through 16 weeks last year was 994,000. That's a drop of nearly 10 percent.
The overall cable rating this week was 0.60 (the percent of homes with access via traditional or streaming cable services that tuned in to Dynamite), down from 0.62 and 0.63 the prior two weeks. The average rating through 16 weeks this year is 0.66, down from 0.69, a drop of 4 percent. This data is more indicative of actual interest in the AEW product since it's a percent of homes with access to Dynamite watching and is comparable without the factor of "cord-cutters" (people who canceled a service that provided TBS to them) exaggerating the drop.
That percent difference in the dropoff in viewership compared to cable rating roughly is indicative of AEW losing 4 percent of regular viewers this year versus last year who still have access to TBS, and the other 6 percent was lost due to "cord cutters."
Going back to mostly pre-pandemic Dynamite ratings the first 16 weeks of 2020, the average rating was 0.62. The average the first 16 weeks of 2021 was 0.56 in the midst of the pandemic.
In the key 18-49 demographic, Dynamite drew 0.26, down from 0.28 and 0.30 the prior two weeks. The average through 16 weeks is 0.30. Dynamite dropped to no. 7 among all cable shows. NBA games on TNT dominated the key demo ranking no. 1 and no. 2 with 1.43 and 0.98 ratings, roughly four-to-five times Dynamite's key demo number. It also finished behind two NBA pre-game shows and two programs on Bravo.
In the male 18-49 demo, Dynamite drew a 0.36, down from 0.40 and and 0.41 the prior two weeks. Through the first 16 weeks this year, the average is 0.41. One year ago through 16 weeks, the average was 0.53. That's a 23 percent drop and is possibly due to the absence of C.M. Punk compared to a year ago, but other factors are very likely influencing the exodus of 18-49 male viewers in such a high percentage.
The younger male demo of 18-34 year olds drew a 0.26 rating, down from 0.34 and 0.28 the prior two weeks. Through 16 weeks this year, the average rating is 0.28. Last year, the first 16 weeks drew an average 0f 0.31. That's a drop of almost ten percent. So again, the biggest exodus of viewers this year compared to last year appears to be the 35-49 year old demo, since the younger slice of the male demo is not down all that much.
UPDATED DVR-INCLUSIVE DATA
The seven-day viewership total for the Apr. 5 Dynamite was 1.004 million. Through the first 14 weeks of the year, the average seven-day viewership total is 1.049 million. The average through 14 weeks last year was 1.171 million. The average through 14 weeks in 2021 was 1.020. And in 2020, it was 1.110 million. So this year through 14 weeks, viewership is down 122,000, but above 2021 by 29,000 and above 2020 by 39,000 on average through 14 weeks.