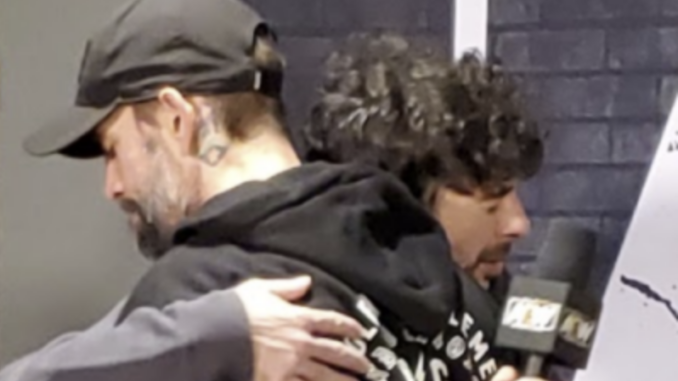 ---
SPOTLIGHTED PODCAST ALERT (YOUR ARTICLE BEGINS A FEW INCHES DOWN)...
---
CM Punk finds himself at the center of another AEW controversy. Punk, by multiple accounts, wanted Ace Steel, his longtime friend with whom he traveled the Midwest indy circuit, back with AEW when he returned. (Steel was fired last October for his role in the backstage fight with The Young Bucks and Kenny Omega after All Out last September.) There was apparently confusion over the terms and there's some conflicting reporting regarding whether Steel was already working remotely for AEW or not for the last month or so, and there's not clarity on what Tony Khan told Punk to accommodate his request regarding Steel when negotiating with Punk the conditions of his return after his injury healed.
One thing is clear: AEW launched Collision, the new Saturday night live two-hour prime time series on TNT, based on the projected drawing power of CM Punk as the centerpiece of the brand. His name was on the initial press release, but removed between Tuesday and the Wednesday announcement. The remaining names were wrestlers who either had issues with key names on the "Dynamite roster" (Thunder Rosa, Andrade) or were amenable to working with Punk (Samoa Joe, Powerhouse Hobbs, Miro).
What if this situation cannot be resolved? It appears clear AEW is waiting to officially announce the first Collision from United Center in Chicago, Ill. until they have worked the situation out with Punk as the announced list of dates excludes the first week's show. If Punk isn't available, as I talked about Wednesday night on the Wade Keller Pro Wrestling Post-show after Dynamite, they'll likely look to move the first taping to a smaller venue or at least a different city where Punk's drawing power wouldn't be essential to drawing a big crowd on relatively short notice.
This is a mess. In another context I'll be getting more into analyzing the interpersonal dynamics involved, especially regarding what this says about Tony Khan's leadership and CM Punk's pattern of behavior that suggests his own culpability when there are blow-ups like this. But more pertinent than sorting out who is to blame are the ramifications of this falling apart and ultimately not being put together again.
Imagine the Warner Bros. Discovery executives who green-lighted a new weekly prime time series for their premier cable network, TNT, and had an announcement locked in for Wednesday this week at the Upfronts, only to find out that the lead player front and center in all of the publicity for the show announcement is not on board. They, of course, are hearing TK's side of what happened, but the responsibility – no matter what TK's explanation is – falls on his shoulders as the leader.
TK counted on Punk, someone with a long track record of being a malcontent who some of his top wrestlers don't even want to share a locker room with nearly nine months after a locker room fight. Keep in mind, this is a business where locker room dust-ups happen semi-regularly (it happens in pro sports, too), but the involved parties most often move on and find a way to coexist. That's not happened in this situation.
It's clear TK is a big fan of Punk going back to his early stand-out work in Ring of Honor through his run as a main event-level cult-like figure in WWE. The message of Punk's infamous "Pipe Bomb Promo" could almost be seen as a manifesto/mission statement for AEW as a company. Punk melting down and emasculating TK at the All Out media Q&A last year wasn't enough for TK to completely sour on him. TK not only is a fan of the Punk on-air character (which closely resembles the actual person off-camera), but he's a businessman who knows that the ebb and flow of AEW's ratings correlate positively when Punk is a weekly part of the show.
For a new two-hour weekly AEW show to work, he might see Punk as an essential centerpiece. With the TV rights fees at the levels they're at these days for pro wrestling, TK had an incentive to downplay the warning signs that this might not work out. He might have assured Warner executives that he and Punk were on the same page and that he had a strategy to keep Punk apart from his enemies with a roster split of sorts between Dynamite and Collision.
If Punk doesn't come back, does that blow up the rights fees Warner is willing to pay for a second weekly live two-hour show if the main event centerpiece isn't part of it anymore? If Punk isn't part of the new series, does AEW have the established star power to draw big crowds twice a week at arenas big enough to look major league on national cable to compete with WWE and what sports fans are used to seeing for NBA and NHL games on cable?
If Punk isn't available, does TK have to ask his current top stars to work two nights per week more often? That would mean travel Tuesday night, work Dynamite on Wednesday night, fly back late Wednesday or Thursday, and then fly to Collision either Friday night or early Saturday, only to fly home late Saturday night or Sunday and then have one true day per week without work or travel? Or does TK split the main eventers so half appear on Dynamite each week and half on Collision three days later? That would require pretty quickly effectively elevating wrestlers down the card whom he believes fans will buy as a higher-level act.
Is it too late to pull the plug on Collision without egg on the faces of Warner and AEW? Yes. Is that even an option being considered at this point? I highly, highly doubt it. Maybe more pertinent is would Warner have agreed to a second show if they didn't think Punk would be part of it at all? It's possible they're actually shrugging their shoulders at this and see the loss of Punk as a small bump in the road and are sold by TK that he can reshuffle things and replace Punk just fine. If so, then time will tell if that is feasible, but there was always the chance Punk would get injured again soon and Collision would have to operate without him anyway.
The notion that Punk is essential to Collision's success is reasonable, both in terms of drawing respectable crowds every week at a second major venue and in terms of attracting and retaining viewers, not to mention the boost wrestlers such as Powerhouse Hobbs would get from working a full-fledged feud with Punk. But there's also an argument to be made that AEW without Punk is an AEW that can move forward without the drama and disruptions that Punk has been part of.
I am consistently told by multiple people in AEW in various roles and of various ages and experience levels  – wrestlers and otherwise (some who have known Punk for many years and others who just have been around him in AEW) – that most of AEW's top wrestlers who regularly appear on Dynamite would be relieved if Punk and AEW parted ways. That has to be a consideration for TK when deciding how far to bend to Punk's parameters for a return and whether it's time to start looking for an exit plan, even if the ramifications regarding Collision's chances of success and TV rights fees from Warner are on shaky ground.
I will have more details and comments on various aspects of this, including what key sources in AEW are telling me their perspective is on both Punk and TK, later today or tomorrow on a VIP-exclusive Wade Keller Hotline podcast. (Become a VIP subscriber and learn more about benefits HERE.)
Check out Zack Heydorn and Tyler Sage discussing the Punk situation in today's PWTorch Fireside Chat on YouTube…
---
PWTorch editor Wade Keller has covered pro wrestling since 1987. He has been a guest on the Steve Austin Show as an analyst of current events and pro wrestling history 40 times, making more appearances than any other guest. He currently hosts the "Wade Keller Pro Wrestling Podcast" and "Wade Keller Pro Wrestling Post-show" along with several PWTorch VIP-exclusive podcasts every week. He was inducted into the National Wrestling Hall of Fame for "Excellence in Writing on Professional Wrestling" in 2015. He hosted "The Ultimate Insiders" DVD series in the 2000s including long-from studio interviews in Los Angeles, Calif. with Matt & Jeff Hardy and Vince Russo & Ed Ferrara. He has interviewed more big name wrestlers and promoters in long-form insider interviews over the last 35 years for the Pro Wrestling Torch Newsletter, usually in the "Torch Talk" transcribed Q&A format, than any pro wrestling reporter. The list of those he has interviewed include Steve Austin, The Rock, Vince McMahon, Kevin Nash, Scott Hall, Hulk Hogan, Goldberg, Eric Bischoff, Verne Gagne, Lou Thesz, Jesse Ventura, Drew McIntyre, Brian Gewirtz, Paul Heyman, Mick Foley, Jim Ross, Tony Schiavone, Jon Moxley, and dozens of other top stars and influential promoters and bookers/creative team members.