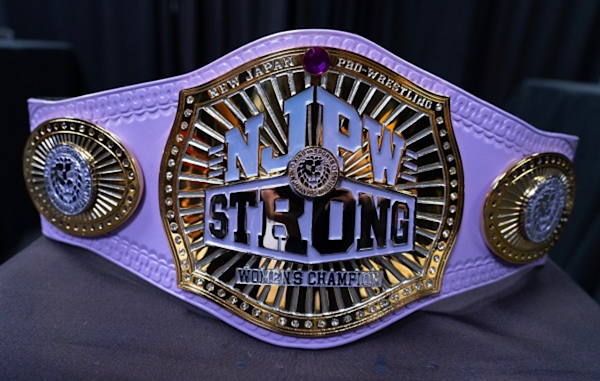 ---
SPOTLIGHTED PODCAST ALERT (YOUR ARTICLE BEGINS A FEW INCHES DOWN)...
---
NJPW Resurgence ended up being a more newsworthy show than expected thanks to Willow Nightengale winning the NJPW Strong Women's Championship Touranment by defeating Mercedes Mone in the main event.
It was evident when the brackets for the tournament came out that Mone and Nightengale was going to be the main event match. No offense to Momo Kohgo and Stephanie Vaquer, who both fell in the first round of the tournament, but Nightengale vs. Mone was the only pairing that could main event this PPV.
Nightengale was making her NJPW debut last night and it wasn't expected that she would win the Strong Women's Championship. At best, it was realistic to think that Willow would give Mone all she could handle before Mone beat her and establish the NJPW Strong Women's Championship. According to a report from PWInsider that PWTorch has independently confirmed, Mone was supposed to win the match, but an audilble was called after she broke her ankle falling off the second turnbuckle to the floor while she was battling up top with Nightengale.
Watching the show live, I didn't catch Mone's injury, so the way in which she was able to finish the match and have everything come off so well in the end is commendable. I did notice Mone being carried to the back by an attendent to close the show, which was the first warning bell that things didn't go as they were supposed to in the match.
Depsite all that went wrong in this match with Mone being injured, this came across as an incredible night for women's wrestling and Willow Nightengale. NJPW isn't known for pushing women's wrestling at all historically, but their partnership with Stardrom in Japan and slow inclusion of women's wrestling into NJPW cards has gone well so far, especially with Mone making NJPW her first home after leaving WWE.
The Mone vs. Nightengale main event felt special right off the bat. The opening bell rang and the entire audience or at least those that could be seen on camera stood up and cheered for both women. The cheers lasted for several minutes and both women got emotional in response to the crowd being so unexpectedly receptive to the importance of their match and the positioning of the match on the show.
Although Nightengale's win wasn't planned, it resulted in one of the best moments I've seen in wrestling in recent memory. The crowd errupted into cheers after Nightengale pinned Mone after escaping a crossface and hitting two Dr. Bomb powerbombs. It was truly a joyous moment as Nightengale cut a promo thanking the fans and talking about her journey from the indies to main eventing this show to becoming the first Strong Openweight Champion.
The crowd reaction to Nightengale winning and her cutting a post-match promo in tears to an incredible reaction made this match and the title feel important. Nightengale has been getting a big reaction when she has appeared in AEW and when she has appearead in ROH she has won her last six matches in short order with none of her wins going over seven minutes. The reaction Nightengale got in Long Beach made it clear that the same people watching her in AEW and ROH were in the building for her crowning moment in the main event of Resurgence against Mone.
Mone's performance should get the attention of AEW booker Tony Khan and hopefully he can find a way to harness some of the momentum Nightengale has coming out of Resurgence with an unexpected title win in front of an adoring audience. Nightengale shouldn't be someone Khan only pays a little bit of attention to going forward. He should be looking at her performance and the reception she got from the fans at Resurgence and figuring out how he can make her a bigger draw and star in AEW.
It was clear after Resurgence that even thought Nightengale winning wasn't the plan, it was a great alternative to Mone winning the title given how much fans have gravitated to Nightengale. The first time I saw Nightengale in Beyond Wrestling several years ago, it was her bubbly personality that grabbed my attention, but it is the contrast between her personality and in-ring style that makes her so popular with fans. She may look like a sweetheart, but she wrestles like a modern day Dr. Death.
PWTorch columnist Sean Radican has written for Pro Wrestling Torch for twenty years covering Ring of Honor, independent wrestling, and NJPW. Follow him on Twitter @SR_Torch and email him at pwtorchsean@gmail.com.