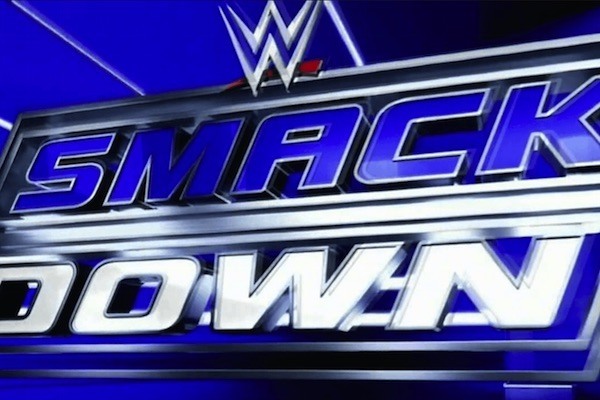 ---
SPOTLIGHTED PODCAST ALERT (YOUR ARTICLE BEGINS A FEW INCHES DOWN)...
---
The WWE World Heavyweight Title tournament continues on Smackdown, as Neville takes on King Barrett; Stardust faces U.S. champion Alberto Del Rio; and Ryback takes on Kalisto.
WWE Smackdown review
November 12, 2015
Taped 11/10/15 in Manchester, England
Aired on SyFy
By Greg Parks, PWTorch Columnist (Twitter: @gregmparks)

– WWE Open.
– Smackdown Open.
– Following the opening fireworks, the announcers were shown on-camera discussing the WWE World Title tournament and how it came about. They also showed the bracket for the tournament and ran down tonight's first round matches: Neville vs. King Barrett, Stardust vs. Alberto Del Rio, and Ryback vs. Kalisto.
– But first, the Wyatt Family made their entrance. Tonight, The Usos take on Erick Rowan & Luke Harper. During the entrance, a video package aired on what happened with the Wyatts, Undertaker, and Kane on Raw Monday night. Harper took the mic first and said when the Wyatts show up, blood runs cold. I hope that doesn't mean Glacier is the next Wyatt Family member. Harper previewed the upcoming tag match with the Usos. Rowan said they'll bring pain and humiliation to those who oppose them. Strowman vowed to destroy anyone in his path and he'll pile the bodies to the sky for the Eater of Worlds.
Finally, it was Bray's turn. He said Kane and Undertaker will never be the same again. He said he took pieces of them that they can never recover. He said they've become part of him. Bray challenged the Brothers of Destruction at Survivor Series: Their family against his family. Taker and Kane against any two of the Wyatts, their choosing. So much for the Traditional Survivor Series match with them. He gave Kane and Taker until the end of the night to decide. Next, Braun Strowman is in singles action. This promo was just empty words from Bray, given what we saw Monday night.
[Commercial Break]
1 – BRAUN STROWMAN vs. FANDANGO
Fandango looked so sad coming to the ring on his own, trying to get the Fandango-ing thing going again. Strowman had Fandango where he wanted him. Fandango got a foot up on a charge, but then Strowman caught him with a clothesline coming off the ropes. Strowman locked Fandango in his finisher for the win.
WINNER: Strowman, via submission, at 1:13. WWE continues to protect Strowman, and so far, it's working.
They replayed some key moments in the match.
– Up next, Neville vs. King Barrett in a WWE World Title first round match-up.
[Commercial Break]
– Rich Brennan thanked Imagine Dragons for "Warrior," the official theme to Survivor Series.
– The WWE World Title was shown sitting pretty at rinside
2 – NEVILLE vs. KING BARRETT – WWE WORLD TITLE TOURNAMENT FIRST-ROUND MATCH
Neville did an inset interview talking about what this opportunity means for him, and about finishing what Wayne Rooney started Monday night with Barrett. As Barrett came to the ring, they showed what Neville was talking about. Roll-up by Neville in the early going for two. Brenann brought up Barrett beating Neville in the King of the Ring tournament. Barret grabbed Neville's hair, and from the apron, pulled him over the top rope and down head-first onto the mat. Barrett knocked Neville around the Holy Trinity of Ringside: The announce desk, the apron, and the barricade. They cut to break with Barrett on the offensive at 2:53 of the match.
[Commercial Break]
Back at 6:23 with Barrett hitting a pump-handle slam for two. Barrett choked Neville in the ropes, then kneed him in the upper body. A running boot floored Neville. Neville tried to work out of a rest-hold, but the crowd wasn't helping him all that much. Barrett threw Neville under the bottom rope, and Neville slid to the outside, flying all the way to the barricade. That's similar to the old Rey Mysterio spot. Barrett ran his mouth to the announcers, so Neville dove off the barricade and onto Barrett. Kicks to Barrett back in the ring, followed by a standing shooting-star press for two. Mule kick by Barrett for two. Unhappy with the cadence of the referee's count, Barrett got in the face of Charles Robinson. German suplex and a bridge for two from Neville. Winds of Change for two by Barrett. Bull Hammer turned into a pinning combination for two by Neville. DDT out of nowhere as Neville countered Wasteland. Red Arrow connected for the win.
WINNER: Neville, at 15:11. Both of these men work the big man vs. little man formula effectively. I was surprised by the lack of crowd heat, however, which worked against the match.
Replays were shown.
– Renee Young was backstage with The Usos. The Usos addressed the longtime rivalry with their Wyatt Family counterparts. The Usos said they're getting even, and getting going, tonight.
– Next, Ryback vs. Kalisto in another WWE World Title tournament match.
[Commercial Break]
3 – KALISTO vs. RYBACK – WWE WORLD TITLE TOURNAMENT FIRST-ROUND MATCH
Kalisto cut an inset promo trying to cram as many little-man clichés into 30 seconds. An inset interview with Ryback also aired. He talked about his instincts telling him to plow through the tournament. Kalisto did some kicks and held onto a side headlock despite Ryback's protestations. Ryback tried to drop Kalisto from an overhead press, but Kalisto landed on his feet. Salida del Sol for only two at 1:26. Ryback's emphatic kick-out launched Kalisto out of the ring. They cut to break at 1:39 of the match.
[Commercial Break]
Back at 4:45 with Kalisto keeping Ryback on his knees with kicks. Until he didn't. Ryback powerbombed Kalisto numerous times, holding on each time. Vertical suplex by Ryback, but Kalisto kneed his way out of it. So Ryback picked him up in the move again and connected quickly. Ryback applied a bear-hug with Kalisto on the mat, then picked him up and slammed him with a spinebuster. Kalisto managed to dropkick Ryback out of the ring when Ryback got his leg hung up on the top rope. Springboard moonsault, but Ryback caught him and dropped him. It wasn't smooth, as Ryback lost his balance when he tried to catch Kalisto. Kalisto's spike hurricanrana was countered by Ryback. No Shell Shock, though, as Kalisto got out. Meat Hook clothesline, and Brennan telegraphed the non-finish by declaring it over; Kalisto got his foot on the rope to break the pin. He couldn't capitalize, however. Salida del Sol off the second rope and Kalisto picked up the upset win.
WINNER: Kalisto, at 12:35. Wow. And here I was about to write that WWE had Kalisto last long enough and get enough offense in to make him seem deserving of a spot in this tournament. Interesting that the undersized Neville and Kalisto both won over bigger opponents tonight.
After Kalisto's celebration, Ryback stood face-to-face with him and offered his hand. He raised Kalisto's hand in victory. Nice moment there. The closing moment of the match was replayed.
– The Usos vs. The Wyatt Family is still to come.
– But next, Stardust vs. Alberto Del Rio.
[Commercial Break]
– Some shots of Manchester were shown.
– Forbes named Wrestlemania one of the top sports brands in the world.
– A video package aired of shots of the Wrestlemania on-sale celebration.
– Alberto Del Rio and Zeb Colter came out for the next tournament match. Colter said he calls the "United Kingdom" the "Divided Kingdom." Clever. He talked about everyone in the UK hating each other. He said both he and Del Rio have improved themselves by eradicating the hate. Del Rio said Manchester's two soccer teams are dividing the city in half. Del Rio told the crowd to imagine a hate-free Manchester…united by humanity. Colter talked about merging the WWE World Title with the MexAmerican Heavyweight Championship (which of course, doesn't exist, unless he's renaming the U.S. Title).
4 – ALBERTO DEL RIO vs. STARDUST – WWE WORLD TITLE TOURNAMENT FIRST-ROUND MATCH
In a pre-match inset interview, Stardust called himself a dark horse who will be running to Survivor Series, and running to the WWE World Heavyweight Championship. Del Rio, from outside the ring, hit a step-up enziguiri on Stardust, stepping onto the apron with Stardust poking his head in between the top and middle ropes. Stardust came up holding his shoulder after being thrown into the barricade. They went to break at 1:07 of the match.
[Commercial Break]
Back at 4:09 with Stardust running into a tilt-a-whirl back-breaker for a two-count. Stardust mounted Del Rio in the corner and hammered away with rights. Del Rio dropped him across the top rope, however. Step-up enziguiri again. Side slam by Stardust and both men were down. A few neck-breaker variations by Stardust gave him a few near-falls. Backstabber to Stardust by Del Rio. Disaster kick by Stardust, but Del Rio was able to grab the rope to break up a pin. Stardust got his feet up on a corner charge. Stardust went to the top, but slowly enough for Del Rio to halt his momentum. Kick to the back and then the double foot-stomp by Del Rio. The pin was academic.
WINNER: Del Rio, at 9:43. Kind of an odd mesh of characters in this match.
The finish was replayed.
– Tonight's main event tag is still to come.
[Commercial Break]
– Reviews for the WWE 2K16 game were shown on screen.
– The announcers talked about Becky Lynch vs. Paige from Raw, and highlights were shown of the finish and post-match. A graphic was then shown for Paige vs. Charlotte for the Divas Title at Survivor Series.
– This coming week on Raw, Roman Reigns vs. Cesaro in the quarterfinals of the WWE World Title tournament.
– Renee Young was backstage with Roman Reigns. Reigns equated his chase for the WWE World Title to climbing Mt. Everest. He addressed Cesaro's strengths, but said he won't stop him on Monday night. Young threw it to footage of Triple H offering Reigns a handout on Raw, and Reigns turning it down. Reigns said he's not a sellout and he believes in the big fight. He said at Survivor Series, he'll stand at the top of the mountain as the sole survivor of the tournament.
– The Usos made their entrance for the main event, which is next.
[Commercial Break]
– Before the bell even sounded for the match, a brawl broke out involving the two teams. The Wyatt Family cut off the Usos and did some two-on-one work until the other Uso regained his bearings. The fight went to the outside. Finally, the match began after an Uso dive took out Rowan and Harper at ringside.
5 – THE USOS vs. LUKE HARPER & ERICK ROWAN
Rowan took one of the Usos down early while Bray Wyatt and Braun Strowman looked on from ringside. A running knee by Harper, and a tremendous sell at ringside took the show to break at 1:04 of the match.
[Commercial Break]
Back at 4:05 with Rowan wearing down one of the Usos, grinding his fists into the side of his foe's head. Harper came in and delivered more of the same to the downed Uso. A slam attempt ended with Rowan falling on the Uso for two. Harper missed a running boot in the corner, allowing Jey time to crawl to his brother. Jimmy made the tag at 7:23. Jimmy set up for a splash, but Rowan just yanked him out of the ring. No matter, as he quickly steadied himself on the top and hit a cross-body for two. Corner butt splash by Jimmy, then a twisting dive onto Rowan. "Cover him!" shouted Booker, not realizing Rowan was not the legal man. Air Uso was unsuccessful. Sit-out powerbomb in the ring, but during the pin, Jey came off the top with a splash onto Harper. Rowan also got involved. Discus clothesline was no good, and both Wyatt family members were kicked out of the ring. Jimmy and Jey with stereo splash on Rowan and Harper. Bray seemed to get ready for a fight at ringside, and he called on Strowman for aid. The bell rang when all four Wyatt Family members got involved.
WINNERS: The Usos, via disqualification, at 11:41.
As the assault intensified, the crowd chanted for the Undertaker. Wyatt finished Jimmy off with two Sister Abigails. The Undertaker's bell tolled and the lights went out. His voice came over the PA and said at Survivor Series, Wyatt's family will rest in peace. Lightning hit the ring posts, which shot off with fire. Wyatt smiled, happy to see that Taker and Kane accepted his challenge.
Did you watch Thursday's Smackdown episode? Send your 0-10 score & Reax to pwtorch@gmail.com for our TV Reax feature.
Greg Parks has been covering WWE Smackdown for PWTorch.com since January of 2007. He is the host of "Moonlighting with Greg Parks," a PWTorch VIP-exclusive audio show posted each weekend. Follow him on Twitter @gregmparks for live Tweeting during Raw, Impact, and PPVs, as well as other bits of wisdom. Comments, questions and feedback are welcome, and can be sent to g_man9784@yahoo.com.