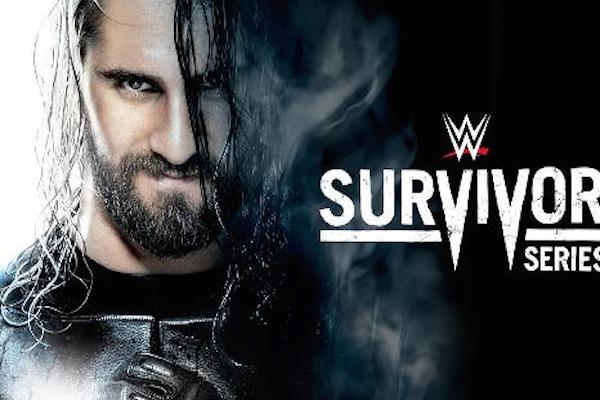 ---
SPOTLIGHTED PODCAST ALERT (YOUR ARTICLE BEGINS A FEW INCHES DOWN)...
---
THE PULL LIST (VOL. 8)
"The Pull List" is a new feature column mixing the most noteworthy topics in wrestling, comics, books, Movies & TV Blu-Ray releases, and videogames along with reviews and commentary in each category.
WRESTLING
Thoughts on the state of WWE heading into Survivor Series
WWE's reliance on pushing their legacy acts over building new stars was going to cost the company at some point and it could be now. The roster is thinner than ever due to a variety factors. The major hits come from the loss of WWE champion Seth Rollins, Randy Orton, and Daniel Bryan to injury, plus John Cena's sabbatical, and Brock Lesnar sitting at home due to the limited dates on his contract.
Creative and more specifically Vince McMahon are to blame for the current state of WWE. Everyone on the active roster not named Roman Reigns has been pegged as a mid-card act. Look at 15 of the 16 names in the WWE World Championship Tournament – it's a who's who of mid-card stars and jobbers. When was the last time Kalisto even had a singles match on Raw?
Roman Reigns winning the WWE Title will clearly be rejected by fans if he continues to play the babyface role. He needs to turn heel. If WWE turns Reigns heel to mitigate the backlash from fans, the question then becomes who are the babyfaces that are going to chase him in the coming months.
If another candidate comes out of the Final Four besides Reigns to win the title, WWE has another Seth Rollins situation on their hands where the champion is a joke because he hasn't proved he can stand on his own two feet or win two matches in a row for that matter.
Vince McMahon created this situation. Fans don't want to see Cena holding the title again. They don't want McMahon to put the belt on Reigns either because he is the next choice by the WWE corporate brand to run with the ball and eventually replace Cena at the top of the card.
Looking elsewhere at the big matches on the Survivor Series card, The Brothers of Destruction, Undertaker & Kane, did not even need to find a couple of partners to face the mighty Wyatt Family. Why? Because they managed to take them all out with a large numbers disadvantage last week on Raw. The follow-up this week was a real snoozer. Thanks for sending the jobber druids, Bray!
Finally, there's Charlotte vs. Paige. This quickly went from standard moronic WWE Diva booking to sleazy with Charlotte referencing her dead brother and then Paige mocking him to close the talking portion of their show-closing segment on Raw before they brawled. Charlotte delivered her lines tremendously during the segment and Paige was good on the mic as well as the heel, but the tone of the feud took a left turn down a dead-end road (excuse the pun).
How does WWE go from making Charlotte look stupid for trusting Paige after the first time she turned on her to this serious angle with Paige slamming Charlotte's dead brother on the mic? Not only was it tasteless, but it put a serious tone on the feud that hadn't been there before.
Perhaps Vince watched the Rousey-Holm fight last weekend and decided he wanted to cash in by suddenly putting some layers behind the storylines in the Divas division. The problem was that the story Charlotte and Paige told was missing a beginning and middle.
There's not much to look forward to at Survivor Series this weekend. The WWE roster is filled with unappealing options to lead the brand going forward. For all the steam put behind The 25 Years of Undertaker marketing heading into his match against The Wyatt Family this weekend, the story they told just wasn't very good or interesting.
WWE is going to have to once again rely on part-timers and legacy stars once again heading into the build towards WrestleMania next year to reinvigorate interest in the product. The longer the company waits to push new stars, the more difficult it is going to be for the company to make the product interesting 52 weeks per year, especially during a time where the roster is thinned out as it is now. Fans want to see stars in WWE and right now there's arguably no one on the roster that can move the needle.
2015 MOTY TOP 10 LIST 
This is a running list of the top 10 best matches of 2015. I still have things I need to catch up on and watch, so I will be adding new additions to this list throughout the year. My entire 2015 MOTY list updated regularly can be found HERE. I will also update the Top 10 list in this column.
(1) Biff Busick vs. Eddie Edwards, Beyond Wrestling, "Greatest Rivals Round Robin," Sept. 26, 2015. (*****)
(2) Tomoaki Honma vs. Tomohiro Ishii, NJPW, "G1 Climax 25: Night 16", Aug. 12, 2015. (*****)
(3) Hiroshi Tanahashi vs. Shinsuke Nakamura, NJPW, "G1 Climax 25 Finals," Aug. 16, 2015. (*****)
(4) Kota Ibushi vs. IWGP IC Champion Shinsuke Nakamura, NJPW, "Wrestle Kingdom 9," Jan. 4, 2015. (*****)
(5) IWGP Hvt. champion Hiroshi Tanahashi vs. Kazuchika Okada, NJPW, "Wrestle Kingdom 9," Jan. 4, 2014. (*****)
(6) Hiroshi Tanahashi vs. A.J. Styles, NJPW, "G1 Climax 25: Night 17," Aug. 14, 2015. (*****)
(7) Zack Sabre, Jr. vs. Roderick Strong, EVOLVE, EVOLVE 45, July 10, 2015. (****3/4)
(8) Tomohiro Ishii vs. Hirooki Goto, NJPW, "G1 Climax 25: Night 14, Aug. 9, 2015. (****3/4)
(9) Katsuyori Shibata vs. Kota Ibushi, NJPW, G1 Climax 25: Night 7, July 29, 2015. (****3/4)
(10) Hiroshi Tanahashi vs. Kota Ibushi, NJPW, G1 Climax 25: Night 1, July 20, 2015. (****3/4)
VIDEOGAMES
NHL 16
NHL 16 represents a return to form for the long-running franchise from EA Sports after NHL 15 felt like a barebones game that left a lot to be desired. This year EA Sports has flushed the game out with several modes that were either added or much improved from last year including EASHL, Be a GM, Be a Pro, 6 v. 6 Online Team Play, and HUT.
You can do nearly whatever you want in terms of playing hockey. If you want to take a created player and mold him based on a progression system you can in Be a Pro. If you want to play an entire season or skip right to the playoffs, you can do that as well. The game is versatile enough that you can do just about whatever you want in terms of playing the game the way you want to, which wasn't the case with NHL 15. The popular offline shootout is back as well, which should make a lot of fans of the series excited to pick up the latest installment in the NHL series.
I enjoyed being a fantasy GM playing endless hours of GM. There is a lot to sink your teeth into in this mode and not only do you have to balance player personalities, but you also have to decide on when to pull the trigger on a deal and manage the different personalities on your roster.
Be a Pro was fun as well, although the experience was a bit of a mixed bag for me. The new Visual On-Ice Trainer is awesome to utilize in this mode. It shows you how to pull of slick deke moves. Most importantly, it shows you how and where to shoot, which is very helpful once you jump into various online modes. This mode is a good place to start if you're new to the game or have played before.
The Visual On-Ice Trainer is a great addition to the game, but the Coach Feedback leaves a lot to be desired. Often, I would find myself having a really good game, but the feedback I would get wouldn't match what was happening when my pro was on the ice.
When it comes to a hockey game the most important thing is gameplay and this game is nearly rock solid. You can deliver crunching hits, slick passes, pull of dekes, and so much more and it all looks fantastic as the game is playing. The only issue I ran into is that occasionally my controlled player or players nearby on my team would seem to pull away from the puck.
It wasn't a huge issue, as it didn't impact my experience constantly, but it was annoying that every so often my player or one of my computer controlled players wouldn't simply scoop up the puck when they were close to it. This seemed to happen most frequently around the net goalie most often, although it did happen in the lower part of the defensive zone as well.
The EA Sports Madden Ultimate Team and NBA 2K My Team modes have set the standards for card-based games where you can build your own team and put it through its paces by buying packs. Hockey Ultimate Team (HUT) seems a bit lacking compared to all of the options offered by Madden's MUT and 2K's My Team.
Online seasons in MUT are a ton of fun, but there are no challenges offered to build your coin stash to buy more packs of cards or bid players as can be found in MUT and My Team. That being said, HUT is an enjoyable mode and is only in need of a facelift for the menus and perhaps some challenges added to offer more variety.
Doc Emerick and Eddie Olczyk head up the commentary team with Ray Ferraro reporting from the ice as part what's advertised as an expanded NBC Sports broadcast package. This aspect of the game tends to get a bit repetitive both with the game introductions and commentary during the game. Hopefully Emerick and Olczyk can record more commentary for the next installment of the game.
The crowds and arenas are very well designed and look great while you play. The players look good as well, but the game could benefit from scanning the players, as they look very generic once the cameras zoom in during replays.
Overall thoughts: (8.0) – NHL 16 set the foundation for the game to take some big steps forward in the coming years. The core gameplay and some of the modes could use some tweaking, but the foundation is in place for this to be a tremendous game.
One of the things I noticed about Madden 16 this year was how the menus popped compared to NHL 16. I think an overhaul of the look of the menu system would bring some life to the game, as the menus work well, but look drab. If this aspect of the game is improved along with the commentary, it would go a long way to bringing the game to life visually before you take things down to the ice.
The gameplay itself is a lot of fun minus some small puck detection issues I encountered. The game worked great online overall and I only encountered a couple of clipping problems with the game. I really loved the feel and look of the action on the ice. Tipped pucks find their way into the net, bone-crunching hits leave plunder on the ice, and there's nothing more satisfying than delivering a big slap shot that knocks the goalies water bottle up in the air. This game is definitely worth a purchase this year given the overall improvements made from last year.
NHL 16 is currently available for Xbox One and PS4. You can purchase NHL 16 at stores where videogames are sold and from online merchants as well.
FIFA 16
FIFA 16 is the first installment of the game in several years that feels like the series has taken a step forward with several gameplay enhancements with the most noticeable being the improved defense A.I. The changes to some of the defensive controls along with the improved defensive A.I. make this feel like a totally different game.
The FIFA gameplay has always been solid, although the tried and true strategy to beat defenses with speed down the sideline or over-the-top through-balls was always readily exploitable because of the shoddy defensive A.I. Scoring on a corner kick or a cross was fairly common as well, but this year it takes strategy to build your attack towards the goal.
Defenders are right on top of you whether you're sprinting down the sideline or trying to get execute a successful through-ball. It's simply not possible to land an endless barrage of crosses this year either, instead when begin putting time into FIFA 16, it's clear that players returning to the series are going to have a learning curve on offense. Passing through the middle of the field takes timing and precision.
The slide tackle mechanic has been improved and you can win the ball back for your team from a distance that hasn't been attainable in the pass. If you miss a slide tackle, you're defender no longer takes forever to pop back to their feet, although it almost seems unfair at times how fast the defenders controlled by the computer will pop up after missing a slide tackle near the goal.
It's a blast to play defense in this game. Defenders always seem to have their feet in the passing lanes and it's especially gratifying to break up a play at the last second with a toe poke. The tackle feint is another nice addition to the game to counter opponents trying to fake you out with their dribbling. You can even foul a player on purpose if they're about to break into open space, which is worth the harsh penalty you will most likely get, as the ref's tend to be like The Authority at times with the way they hand out yellow and red cards.
Since you have to use well-timed passes to counter the new defensive A.I., the folks at EA Sports have opened up some new offensive mechanics as well. No-touch dribbling opens up some new options when it comes to faking out defenders, but it didn't seem particularly effective or ground breaking when I put the mechanic through its paces.
The highlight of the additions to the offensive mechanics in the game is a new hard pass that can be utilized with the press of the R1 button on the PS4 controller. It takes skill to pull off these passes and knowing your roster and what they're capable of, but they pay off when trying to battle through the middle of the field, which can become quite the war of attrition.
FIFA Ultimate Team (FUT) is very successful for this franchise, but unlike EA Sport's other Ultimate Team offerings that I've enjoyed so far such as Madden Ultimate Team and Hockey Ultimate Team, I just can't get into FUT. Having to acquire players through packs and align them based on their chemistry to build the most successful team just isn't a fun challenge to me. I just want to open packs, get good players, and dominate on the pitch.
This year, FIFA introduced a new Draft mode that sits within the FUT menu. You have to purchase draft coins for an entry into an online or offline tournament with your drafted team. Madden 16 introduced a similar mode this year, but the difference was you didn't have to pay for an entry with a large amount of coins or purchased points as you do here.
The rewards for advancing through the four games in the draft challenge are high, so there's definitely some appealing aspects to draft mode. It's just not something I found appealing, as the chemistry aspects to building a successful team that are present in FUT are also present in the Draft mode.
Playing the game online or in career mode is a blast and there was more than enough offered to keep me coming back for more. The FIFA Trainer is also fantastic and really puts you through the paces to improve your skills in the game.
Overall thoughts: (9.0) – FIFA 16 is simply a great soccer game. The game looks tremendous with lively stadiums and fantastic announcing. You can pull off crazy goals and fun celebrations and it truly is an engaging experience to play the game when you mix the core gameplay mechanics with the sterling presentation.
This edition of FIFA is no simple yearly update. Instead, FIFA 16 is a new game thanks to the new defensive mechanics and A.I. The game forces you to use strategy on offense and offers a more realistic experience than ever because the defense can't be exploited with tactics that were commonly used in the past.
Overall, this game is well-worth a purchase. The game is incredibly well-rounded and even includes Women's National Teams, which are a great addition to the game. Thumbs up!
FIFA 16 is currently available on Xbox One and PS4. You can purchase FIFA 16 from stores and online outlets that sell videogames.
NEW MOVIE BLU-RAY RELEASE
VACATION (Blu-Ray, DVD, & Digital HD combo pack)
One of my favorite series of comedies was the National Lampoon Vacation movies starring Chevy Chase and Beverly D'Angelo as the Griswolds. The family that just couldn't stick together provided some great humor. The original series of Vacation movies featuring Chase in his prime and the sultry D'Angelo in the lead roles are all-time classics, so the new "Vacation" starring Ed Helms and Christina Applegate had large shoes to fill.
Helms has proven himself to be a valuable supporting player in comedies, so casting him in the lead role as Clark Griswold's son Rusty when bringing the Vacation movies back was a big leap of faith by Warner Bros. Applegate has always been great in supporting roles in comedy movies, but the script for this movie fails her in her role as Rusty's wife, Debbie, and in many ways is a letdown.
The movie begins with the Griswolds deciding to go to Walley World, which will take them from Chicago to San Francisco. Along the way, their adventures traveling to different cities on their way to California, the banter in the car and the attempts at comedy just never connect. Chevy Chase provided so many memorable moments in the original series of Vacation movies, but Helms just doesn't have his gifts for physical comedy and some of the gags like Helms trying to herd some sheep with his brother-in-law on ATV and eventually driving right through a cow come across as more gross than funny given the R rated special effects for the stunt.
There haven't been many R rated comedies that have found box office success, as most have gone the PG-13 route. Vacation has an R rating, but instead of utilizing it to create hilarious and creatively raunchy gags, Rusty's younger son Kevin (Steele Stebbins) is a foul-mothed that bullies his older and much bigger brother James (Skyler Gisondo). The movie also tries to mix in some lame fecal and pedophilia-based comedy that brings about zero laughs.
The highlight of the movie is Leslie Mann (Audrey Griswold) and her well-endowed husband Chris Hemsworth (Stone Crandall) providing some big laughs when Rusty visits his sister on their way to Walley World. They provide the high points of the movie. Chevy Chase and Beverly D'Angelo show up for a cameo, but by the time you get to their scenes, it's too little too late.
The Blu-ray extras are actually more entertaining than the movie itself. "Return to Walley World" talks about bringing back the Vacation series. It's an interesting feature in the sense that John Francis Daley and Jonathan Goldstein prove to be delusional talking about how this movie had to work for people that loved the old Vacation movies and fans new to the series. All I could hear in my head while watching most of this movie was the "Leave the Memories Alone" song that played during Ric Flair's retirement montage. Ed Helms calling the script hilarious had me nearly rolling my eyes into the back of my head.
The Griswold Odyssey is a feature that lasts around 20 minutes and there is some interesting content from the directors and cast as they talk about the big plot points of the movie. The story about finding the car from the original Vacation movies is especially interesting. I couldn't believe some of the scenes that were left on the cutting room floor from the deleted scenes, especially Hemsworth appearing for a stint on The Weather Channel.
Overall thoughts: (4.0) – Unfortunately bringing back the Vacation series wasn't a good idea. Helms and Applegate weren't given a lot of good material to deal with. Outside of some of the scenes with Hemsworth and Mann, this release is skippable.
"Vacation" on Blu-ray, DVD, & Digital HD is now available to purchase at most retail stores.
***
Please click and click "like" to join the Radican's Wrestling Community Facebook fan page.
Follow Sean on Twitter @SeanRadican
Email Sean at PWTorchSean@Gmail.com