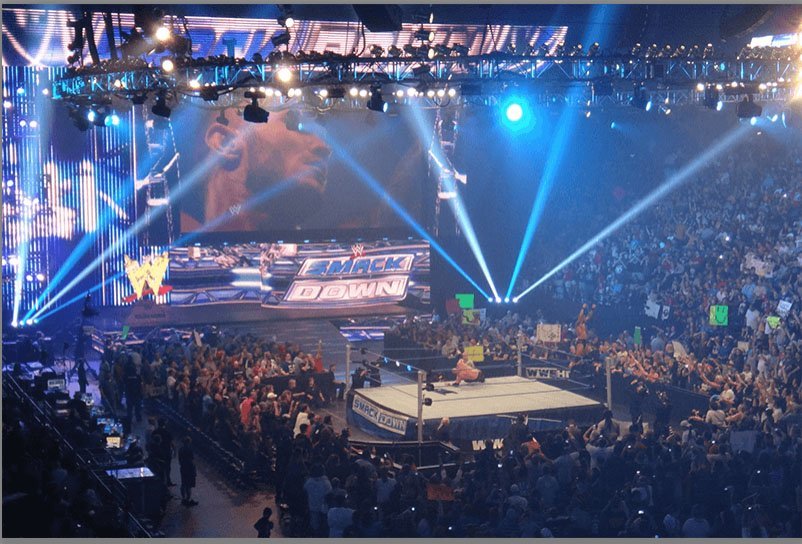 ---
SPOTLIGHTED PODCAST ALERT (YOUR ARTICLE BEGINS A FEW INCHES DOWN)...
---
When long-time TV announcer Mauro Ranallo takes over the Smackdown lead position on January 7, the idea is to usher in a new presentation to the blue brand, differentiating it from Raw.
According to Ranallo in media interviews promoting his hiring, the idea is for him to be a cross between Michael Cole and Jim Ross; and for Smackdown to be a mix of Raw and NXT.
"I'm getting that feeling. It's a brand new platform and it's great to have both programs under one umbrella at the USA Network. I get the sense they want to make it kind of a hybrid between Raw, the flagship show with all the storylines and great performances from our Superstars in the ring, and what's happening in NXT. That's really been a phenomenon and I'm a huge proponent of that style of storytelling," Ranallo told Jonathan Snowden of Bleacher Report.
"I think if Smackdown can become a hybrid of the two, we'll have a winning formula regardless of who's on the microphone. But since it's going to be me,  I love that it's playing to my strengths. I think they want to set us all up to succeed. It's going to be a new look and a new sound with the move to USA on Thursday, January 7."
Ranallo, who was at Monday's Raw TV in Philadelphia to begin shadowing the announce team, said he's being allowed to use his real name, unlike other new WWE announcers who are often-times given a new stage name. Along with Ranallo being allowed to continue calling boxing and kickboxing, he believes it's part of trying to make Smackdown seem more sports-like by having a credible, recognizable voice on the air.
"I think it begins with the fact that I will be known as Mauro Ranallo on 'Smackdown.' I understand why they want to change people's names and want to give them their own identity, but the fact that they respect my breadth of work and respect what I've done over the last 30 years as a broadcaster already puts me in a proper mindset," Ranallo told Brian Fritz for Sporting News.
"I'm going to call WWE like I call everything. Yes, I'm going to be passionate. Yes, I'm going to be excited, but at the same time I'm hoping to get better as a storyteller and I'm hoping to complement the people I work with who have been doing this a lot longer than I have."
Ranallo added to Bleacher Report: "I think WWE knows what they get in me as far as my passion and my storytelling ability. They want me to call sports entertainment the way I've called it over the past three decades. There's a lexicon and certain things I'll have to get used to, but that's been true of any job I've been involved in. WWE wants the Mauro Ranallo everyone either loves…or doesn't."
Vocally, the key to pulling off a "new identity" for Smackdown might be the announcers he is working with. Ranallo said he's not sure who will be part of the team, but he "feels good" working with any of the four main voices of Jerry Lawler, Booker T, JBL, or Byron Saxton.
As for his personal schedule, Ranallo says he understands this will be a tough task pulling off the weekly WWE TV schedule, traveling to Raw and PPVs, and handling boxing and kickboxing broadcasts. But, he's excited about the journey ahead.
"I'm just glad that I'm able to do all of it, and who knows what the future holds? It's going to be a hectic schedule and I have to wait and see how all of us react to this. But I can guarantee everyone that I will be fully committed to each and every event and each and every task just like I was 20 years ago, 10 years ago, five years ago. I'm taking better care of myself," Ranallo said.