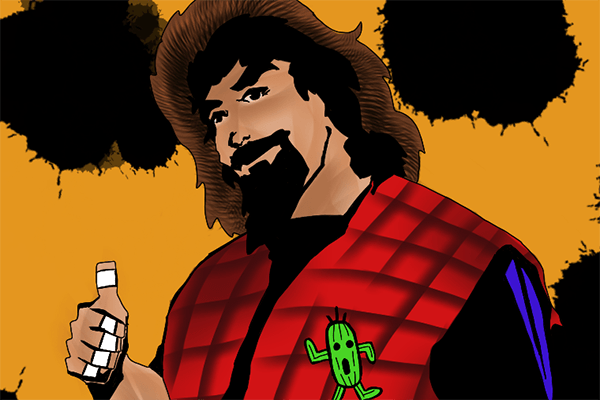 ---
SPOTLIGHTED PODCAST ALERT (YOUR ARTICLE BEGINS A FEW INCHES DOWN)...
---
Dear Santa,
I realize you may not be a wrestling fan, especially given how often you have been mocked and beaten up on "sports entertainment" shows, but please read this on behalf of millions of us kids at heart that love wrestling. Here is the Christmas wish list of a life-long fan for a better 2016.
FOR VINCE MCMAHON: A brash new creative team with freedom.
FOR NEW CREATIVE TEAM:  A Quality Control Supervisor monitoring internal logic and character consistency.
FOR DANIEL BRYAN: A generous retirement package and job as an agent.
FOR C.M. PUNK: Good luck on his MMA journey.
FOR BROCK LESNAR: A role as a James Bond villain.
FOR SHAWN MICHAELS:  Ban on appearances unless he is passionate.
FOR UNDERTAKER: A Hall of Fame Induction.
FOR STING: A safe formula WWE win.
FOR KURT ANGLE: A safe WWE retirement match.
FOR RAW: Jim Ross as commentator with a consistent heel JBL.
FOR USA NETWORK: Realization that Raw should be two hours max.
FOR WWE NETWORK: Episodes of WWF Superstars and Wrestling Challenge in sequential order.
FOR NOELLE FOLEY: A WWE valet job and for her boyfriend, Frank the Clown, an adviser role in Creative for being one of the smartest and most passionate wrestling fans.
FOR SMACKDOWN: A complete overhaul.
FOR MY STOMACH: A return of WWF Ice Cream Bars. Those really were amazing.
FOR DONALD TRUMP: An invite for a role in WrestleMania 32. Imagine the reaction he would generate in that stadium!
FOR STEVE AUSTIN: A hefty paycheck to be the host of WrestleMania 32.
FOR HULK HOGAN: Sensitivity training and a new publicist.
FOR JOHN CENA: A well-booked heel turn.
FOR STEPHANIE MCMAHON: Self-awareness.
FOR TRIPLE H: Courage to influence Vince with some of his NXT show philosophies.
FOR ROMAN REIGNS: Acting lessons on facial expressions.
THE ROCK: A movie star Mania match with Batista.
BATISTA: A movie star Mania match with Rock.
BOOKER T: A behind-the-scenes role away from commentary.
JERRY LAWLER: A behind-the-scenes role away from commentary.
DEAN AMBROSE: Freedom to be himself.
LANA & RUSEV: Erasure of April to December.
RONDA ROUSEY: A match at WrestleMania.
ALMOST ENTIRE ROSTER: Cool names. I grew up with Hulk Hogan, Macho Man, Bret "Hitman" Hart, The Heartbreak Kid, Stone Cold, The Rock, etc. Now the WWE Random Name Generator comes up with Seth Rollins, Dolph Ziggler, Wade Barrett, and Neville? These sound like a bunch of guys fired from my local Bank of America. Roman Reigns deserves to be champ on the strength of that cool name alone.
FOR EVERYONE: Ban on usage of terms "sports entertainment."
Ban on heels appearing in any charity spots on TV.
Ban on every character from Twitter. Has it helped anybody at all?
FOR WADE KELLER, BRUCE MITCHELL, RIC FLAIR, JASON POWELL, TODD MARTIN, JAMES CALDWELL, ETC.: A huge Thank You for your podcasts, which provide me way more entertainment than the actual wrestling shows.
I know this may sound like a greedy list, but think of me as Jeremy Creek speaking for the town of Jeremy Creek, the town that was forgotten for so long. These gifts will make the wrestling world a better place so we hope you have room on the Grandest Sleigh of Them All.
Thank you, and of course, to all Torch readers, a very happy holiday season!
Please send questions, comments and feedback to shawnvalentino@gmail.com. Please check out my new blog ShowstopperShawnValentino.com.