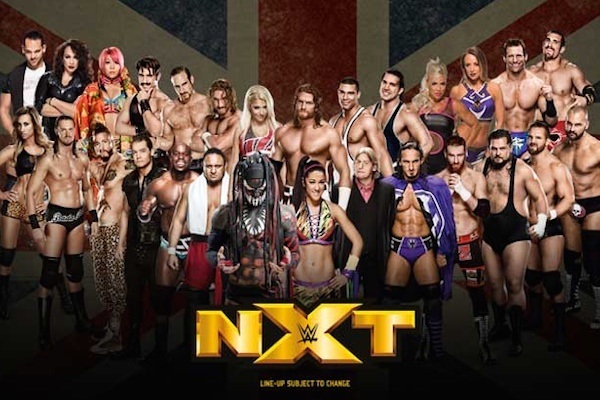 ---
SPOTLIGHTED PODCAST ALERT (YOUR ARTICLE BEGINS A FEW INCHES DOWN)...
---
This week's WWE NXT episode features Sami Zayn in action, plus a big main event of Samoa Joe vs. Johnny Gargano … yes, on a WWE television program.
WWE NXT Results
January 20, 2016
Taped at Full Sail University
Aired on WWE Network
Report by Justin James, PWTorch contributor
[Q1] I just realized that Dana Brooke was strangely absent in last week's #1 contender battle royal for the NXT Women's Championship.
Sami Zayn kicks off NXT to a hot crowd. Dasha Fuentes has changed up her announcing style a bit. And it looks like Sami Zayn will be pooping on Adam Rose's party tonight.
1 – SAMI ZAYN vs. ADAM ROSE
Zayn and Rose trade wristlocks. Only Zayn could get a big pop for a wristlock. Zayn speeds it up and sinks into an armbar to slow it down again. Sunset flip from Rose, Zayn rolls through, Rose covers up expecting a retailiation, Zayn leaps over and dropkicks Rose's head from behind. Rose with a basic grind offense. Knee to the middle stuns Zayn.
Zayn fires up out of the corner, then rallies on the apron, but Rose knocks him off the ropes. This is the most boring match I have ever seen Zayn in. The crowd is struggling to remain invested. Sudden Koji Clutch ends it, thankfully.
WINNER: Sami Zayn in 5:35. That was such a sad return match for Zayn.
Backstage, Rich Brennan interviews Johnny Gargano, who is facing Samoa Joe. Gargano acknowledges that Joe is a monster, but says he isn't afraid of Joe. Gargano says he will handle Joe. My wish has been granted – good to see Gargano back.
Jason Jordan and Chad Gable are upset that they weren't nominated for Tag Team of the Year, but Blake and Murphy were when they have a win over them. They challenge Blake and Murphy to a match next week, to add to their list of former NXT tag team champions they have beaten. They talk themselves up, and call themselves the "American Alphas."
[ J.J.'s Reax: These two are so smug yet corny, there is just something fun about them. ]
[Q2] Tye Dillinger gets his usual pop on his way out. He is facing Apollo Crews who also gets a loud reaction. Crews is looking to get back on track after taking a knocking in his feud with Baron Corbin. Dillinger is quickly becoming the replacement for Tyler Breeze, or a Dolph Ziggler.
2 – APOLLO CREWS vs. TYE DILLINGER
Lock0up produces some back-and-forth until Dillinger ends up in the corner. Cautious feeling-out process, then mat wrestling. Sweet dropkick from Crews forces Dillenger to stop fooling around. Delayed suplex from Crews, then Dillinger fights his way down. Crews re-hoists him in an amazing feat of strength.
Dillinger rolls outside, then yanks Crews off the apron. Dillinger with a suicide dive, which is a new move for him. Dillinger with his knee version of Eat Defeat finisher, and Crews barely kicks out. Dillinger puts Crews on the ropes. Double leg takedown from Crews, then a delayed suplexed into a powerbomb for the win.
WINNER: Apollo Crews in 4:40. I like Dillinger, I love Crews, but this match didn't quite flow. They were pacing for a 10-minute match and wrapped it up in under five minutes.
Post-match, Crews gets the mic. He says he hates matches that end in a disqualification. He knows he hasn't earned a title match, but he wants a non-title one-on-one match with Finn Balor to finish what was started.
[ J.J.'s Reax: Great way to build a face-vs-face match. Crews comes off as a winner and someone who shows respect, while wanting a shot at the top. ]
Backstage, Alex Rayez tries to interview Buddy Murphy and Wesley Blake. Alexa Bliss takes over the interview. She says that she is upset about how she was humiliated in London by their loss. Bliss says she will team up with Emma to take out Bayley and Carmella.
Vignette showing the Vaudevillains looking happy, then mean-mugging.
Clips from an NXT show in Milwaukee, where Kevin Ownes suddenly appeared to face Sami Zayn. That must have been a real treat.
Baron Corbin is out for a match. He is facing Rich Swann. Graves and Phillips put Swann over as a great talent.
3 – RICH SWANN vs. BARON CORBIN
[Q3] Swann avoids Corbin at first, using his speed. Swann looks tiny next to Corbin. Swann jumps into Corbin's arms, then escapes, but a giant body drop sends Swann into a full spin mid-air. Corbin starts to wipe the mat with Swann. Swann responds with some amazing moves. Spinning heel kick gets Swann a close nearfall. Graves thinks that Corbin might be overlooking Swann, then Swann walks into a massive End of Days.
WINNER: Baron Corbin in 3:15. I hope this was an audition for Swann, as he truly maximized his minutes. He would fit right in on this roster.
Backstage, Rich Brennan interviews NXT Women's champion Bayley and Carmella. Carmella says she is so happy to have a title match, but she won't let their friendship get in the way. Bayley says this is about shutting up Emma and Alexa Bliss. Dash and Dawson fake congratulate Carmella, then says that she never wins when it counts like Enzo Amore and Colin Cassady. Bayley has to calm Carmella down.
In the arena, I think Alexa Bliss has new music, a dub step-py remix of her old glitter music. No Blake or Murphy. Emma and Bliss work out their differences from last week's battle royale. Light pop for Carmella. Big pop for Bayley, of course. Graves predicts that Carmella will turn on Bayley.
Pre-match, Bliss and Emma ambush Bayley and Carmella. Bayley takes the brunt of it.
4. NXT Women's champion BAYLEY & CARMELLA va. EMMA (w/Dana Brooke) & ALEXA BLISS – Tag Team match
Bayley elects to start the match despite selling ribs, and takes a quick beating in the corner. Brooke adds insult to injury from the outside. Bayley is hurt going into break.
[ Break ]
Bayley is stuck in an armbar out of the break. Bliss keeps Baykey away from a tag. Spinning elbow from the top buys Bayley a rest. Bliss tags, then Emma clears Carmella just as Bayley dives for the tag. Bayley rallies. Bayley lets Brooke distract her, letting Bliss hit a cheap shot. Brooke is doing a really good job here in her role on the outside. Double underhook suplex gets Emma two, then Emma punches Bayley in the head over and over.
Bayley finally gets the tag. Carmella with Thesz Presses on Bliss. Carmella with a Bronco Buster, then dumps Emma. BLiss with a roll-up, but Carmella kicks out. Carmella chokes Bliss with her legs and forces a tap out.
WINNER: Carmella via submission in 6:29. Good formula to get Carmella more support for saving Bayley on the hot tag. Bliss and Brooke really stood out here for their heel mannerisms. These two just keep growing. Is Brooke injured?
[Q4] Alex Rayez talks to Finn Balor about Crews's challenge. Balor says that he talked to William Regal and the match is booked and they will find out who the better man is. No date on that.
5 – JOHNNY GARGANO vs. SAMOA JOE
Graves doesn't give Gargano much of a chance, except to get hurt. Joe puts Gargano into the corner early on. Lots of crowd support for Gargano. Gargano uses a ref break to jump Joe, but Joe weathers it and sends Gargano back to the mat. Gargano kicks Joe, then Joe bails. Gargano wants an attack from the apron, but Joe leg-sweeps Gargano.
Joe with a flurry of offense. Gargano with chops, but Joe comes right back. Kick to Garano's leg flips him over. Joe sends Gargano to the ramp and hangs out for a count out win chance. Gargano makes it in at nine-and-a-half.
Gargano blasts Joe with elbows, then Joe slaps the tar out of him. Enziguris stun Joe. DDT almost puts Joe down for three. Gargano comes through the ropes, but goes right into a kick. Coquina Clutch gets Joe the tap-out win.
WINNER: Samoa Joe in 4:35. Really enjoyed this match getting Joe over as a killer and Gargano as a guy with heart. Glad to see Johnny Gargano back in NXT.
Final Reax: After a few hectic months, NXT returns to its tried and proven formula. Solid episode to advance storylines all around.