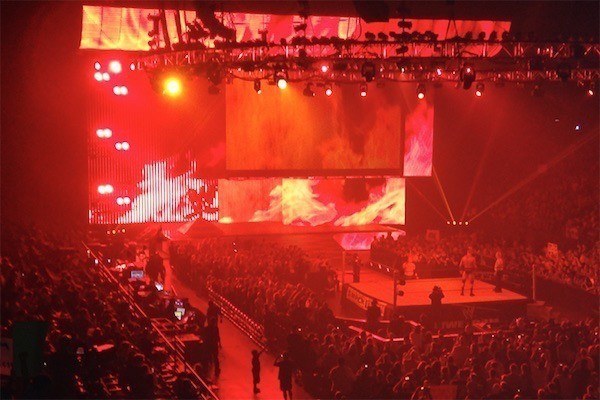 ---
SPOTLIGHTED PODCAST ALERT (YOUR ARTICLE BEGINS A FEW INCHES DOWN)...
---
This week's Raw episode against the college football National Title game drew a big DVR audience, particularly in the third hour.
As a result, the third hour nearly came close to matching the first hour. The pattern was Raw started off okay, then fell off in the second and third hours. As has become the pattern, the second hour of the show was the weakest with viewers fast-forwarding through the middle of the show.
WWE Raw TV Ratings Tracking
– January 11: Monday's Raw scored a 2.36 rating, down from a 2.49 rating last week for the first show of the year.
Last year's Raw against the college football title game scored a 2.71 rating, a 13 percent decline.
Similarly, the college football title game was down 15 percent from last year's inaugural College Football Playoffs championship game on ESPN.
Hourly Break Down
– Raw averaged 3.323 million first-run viewers, down about 250,000 viewers (7.0 percent) from last week's average audience of 3.575 million.
DVR Update: Raw averaged 3.804 million total viewers with DVR included, down about 150,000 viewers from last week's total audience of 3.957 million.
DVR viewing closed the gap by about 100,000 viewers from last week's show. Hourly Break Down:
Raw First Hour
3.536 million live viewers, down slightly from last week's first hour.
439,000 DVR viewers added (12.4%)
3.957 million total viewers (vs. 4.084 million total last week)
Key Metric: This is the hour for female viewers. F18-49 viewers was at its highest for the second consecutive week.
Raw Second Hour
3.206 million live viewers, a sharp decline from the first hour.
446,000 DVR viewers added (13.9%)
3.652 million total viewers, down from 3.856 million total last week
Key Metric: Viewership was soft across the demographic board for the middle of the show.
Raw Third Hour
3.228 million live viewers, up slightly from the second hour
559,000 DVR viewers added (17.3%). This is a huge number that topped the second hour by more than 100,000.
3.787 million total viewers, still down from 3.933 million total last week
Key Metric: The adults 25-54 demo popped 20 percent in DVR viewing, going from a 1.25 rating to a 1.50 rating.
Overall, the viewership gap between the first and third hour was about 300,000 live viewers. But, DVR viewing cut the gap to about 170,000.
Demographic Break Down
The most interesting thing remains the upward trend of male viewers over the course of three hours and the downward trend of female viewers over the course of three hours.
Males 18-49 (downward trend)
1.55 first hour; 1.79 with DVR
1.49 second hour; 1.72 with DVR
1.61 third hour; 1.91 with DVR, a gain of 18.6 percent
The second hour m18-49 viewership was light during the live portion of Raw against the football game, and remained very light in DVR viewing, with viewers clearly fast-forwarding to the end of Raw.
Females 18-49 (downward trend)
0.89 first hour; 1.02 with DVR (exact same as last week)
0.82 second hour; 0.95 with DVR (nearly exact same as last week)
0.75 third hour; 0.89 with DVR (down from 0.95 DVR last week)