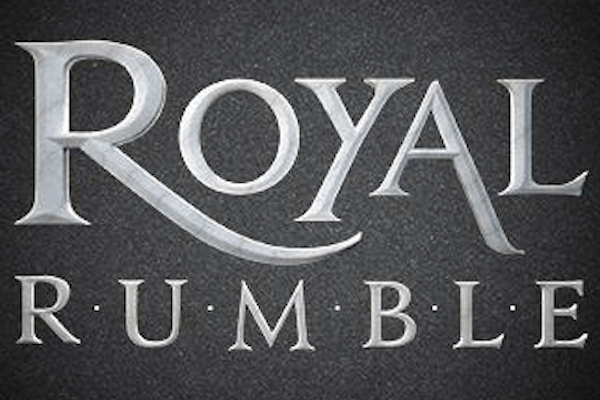 ---
SPOTLIGHTED PODCAST ALERT (YOUR ARTICLE BEGINS A FEW INCHES DOWN)...
---
The road to WrestleMania begins in earnest! Welcome back, and thanks for reading as we go over the good, the not so good, and the Triple H'iness that was this year's Royal Rumble. All in all I thought it was a very good show, and sets up quite a few intriguing possibilities as we head towards Dallas and the biggest show of the year. Random thought from my fiancé during the show: "Why is it so easy to throw guys over the top rope in matches usually, but so hard here?" Don't worry about it.
All right. Let's go.
BEST MATCH – DEAN AMBROSE VS. KEVIN OWENS
An unusual choice for an opening match, but nonetheless a match that stole the show. Both men looked great and worked really hard, and had the benefit of having a crowd that was behind them the entire way. I didn't think that WWE would have Ambrose retain (although it added to the credibility of his threat somewhat when he made it to the final two in the Rumble later), but at least they had what was presumably an excellent blow-off to their feud, and both men are free to start anew. Ambrose vs. Jericho and Owens vs. Styles perhaps? Hope so.
WORST MATCH – CHARLOTTE VS. BECKY LYNCH
Not a bad match by any means, but the weakest of the show in my opinion. This is a feud that (due to good booking and the always plus of having 100 percent more Ric Flair than other feuds) is really clicking for me. It seemed to resonate with the live crowd as well. A nice match, followed by a strong post-match angle with Sasha Banks as she (I assume) gets ready to go for the gold at Mania. Again, I thought this was the 'worst match' on the show, but it certainly doesn't deserve the connotations that implies.
BIGGEST SURPRISE – A.J. STYLES!
Well, maybe not a surprise after weeks of speculation and WWE even joining in on the fun and having their Superstars openly allude to the possibility, but a fun moment nonetheless. A.J. looked awesome (always does), and had a good showing before getting tossed by Kevin Owens (feud now, fellas). I'm excited to see where he goes from here, and the potential "dream matches" are in no shortage.
BIGGEST LETDOWN – NONE
The show was a bit predictable, but when you're booking towards what will be the biggest WrestleMania ever, that's not a bad thing. There was nothing on this show that I didn't enjoy.
BEST QUOTE – VINCE MCMAHON
Who doesn't enjoy on screen Vince? And his quote at the beginning of the show was hilarious: "I love this idea. Almost as much as I love me."
I'm totally using that at work.
BEST MOVE – KEVIN OWENS
In a match full of exciting spots, Kevin Owens's flip fall from the top rope through two tables stacked on the arena floor was a highlight-reel moment. And, it was actually the finish!
BEST MATCH FINISH – ROYAL RUMBLE
For the second year in a row, I liked how this all went down. If Triple H vs. Roman Reigns is indeed our WrestleMania main event, it works much better to have Reigns chasing the title rather than defending it. And of course, say what you want about Triple H, but there`s a guy that does not half-ass it in a match, especially in what will most likely be the main event on April 3. I'm looking forward to this build. How does Reigns get his number #1 contender spot? In a match with Lesnar at Fastlane perhaps?
OTHER THOUGHTS
– Alberto Del Rio and Kalisto had a fun match. Not sure if I like the idea of flipping the title back and forth so much, but the effort was indisputable. It seems like this wasn't the end, so we'll see what's in store for Fastlane.
– So, Bray Wyatt vs. Brock Lesnar at WrestleMania? An interesting choice.
– No Undertaker. Huh. I thought he'd be a surprise entrant for sure. Chris Jericho vs. Undertaker at WrestleMania?
– I like that WWE is still acknowledging the Sami Zayn vs. Kevin Owens rivalry. These two could tear the house down at WrestleMania if that's the direction.
– The Usos and New Day had a good tag match. I'm tired of seeing these two teams, but nothing wrong with the match at all.
WHAT IT'LL BE REMEMBERED FOR
Starting the build to WWE's biggest show ever. A lot of interesting ideas are in play. Let's see how it all unfolds…
Follow me @nathankyght. Seriously. Let's be friends.
UPDATED 2016 PPV EVALUATION RANKINGS
1 – WWE ROYAL RUMBLE (2016-01-24)
2 – TNA ONE NIGHT ONLY LIVE! (2016-01-08)