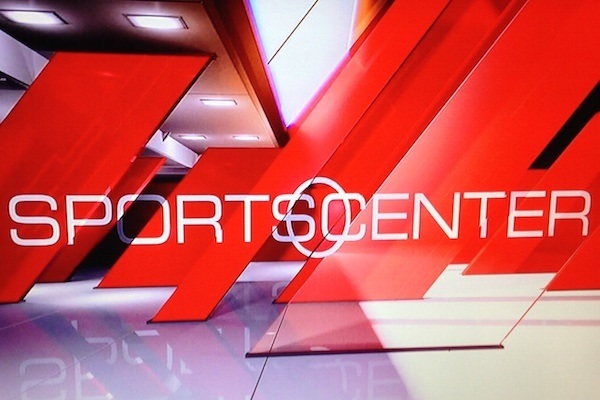 ---
SPOTLIGHTED PODCAST ALERT (YOUR ARTICLE BEGINS A FEW INCHES DOWN)...
---
ESPN and WWE are aiming to expand on their initial partnership covering WWE events, such as Summerslam in New York last August, and the weekly interview segment Tuesday nights on ESPNews.
Former WWE announcer/current SportsCenter anchor Jonathan Coachman talked to Sports Illustrated about getting ESPN management on-board with the initial idea and now planning to expand coverage.
"The biggest challenge before [was that] we never had the right people in charge," Coach told SI's Justin Barrasso. "I pitched this latest project in July, but the new leadership really took over about fifteen months ago. Before that, any time I would pitch going to SummerSlamor WrestleMania was always met with, 'We don't do that.' That was without even looking at the numbers, or the amount of fans, or the venue. It was just a cold no. So it was infuriating when I knew, as a talent and a person who loves to produce content, this was going to work. We met in July and came together forSummerSlam, and that was a big success, and then the green light was given for our Tuesday night 'Off the Top Rope' sometime in September, and we started our first one at the end of October. … We're hoping to expand what we do as the year goes along."
There is certainly cross-over between WWE fans and sports fans, but the most vocal, loyal, and consistent "customers" of each genre typically like them separate. Sports fans are not very thrilled to see WWE mixed with NBA and NFL highlights, while WWE fans are not typically excited to see an athlete guest-hosting Raw.
The long-standing concern for WWE and the more-recent concern for ESPN is whether trying to broaden the programming to reach more viewers – or seem more mainstream-acceptable – is losing the people who will actually stick around during all seasons.
Coachman had a key quote that captures much of the disconnect between WWE and its hardcore audience, as well as ESPN and hardcore sports fans – the people who are loyal to a product up until a certain point.
"We're starting to understand that the 'E' in ESPN stands for entertainment. For the longest time, we got caught up in thinking, 'It's got to be in this box, or it doesn't belong on ESPN,'" Coach said.
WWE's top programming, Raw and Smackdown, and ESPN programming fell double-digit percentages in 2015. In the name of trying to draw in new viewers by focusing on the "E" in their respective acronyms, did that have an indirect negative effect on TV audiences?
Coach is arguing for expanding from the core base. In the case of the ESPNews's segments on WWE, he says the "numbers have been really, really good." Of course, it's lower-tier ESPNews, which draws a small audience on a typical week-night. Adding a weekly brand-specific segment (whether 10 minutes on the Warriors, Broncos, Cubs, or WWE) within the general SportsCenter broadcast should automatically boost viewership because they're targeting a specific "team." In this case, it's WWE, which self-describes itself as everyone's "home team." But, is there long-term damage if the ESPN brand, in general, contains too much "E" when sports fans tune in for sports programming? Or, when wrestling fans tune into Raw for quality wrestling matches and heated promos, not long-winded 15-minute monologues or celebrity-driven skits?
Some WWE fans will be upset by a celebrity-related idea Coach floated in the interview. Trying to fill 52 weeks of WWE-themed content per year, Coach said one idea is having celebrities in the WWE segment, flashing back to the celebrity guest star/guest host era on Raw.
"'Off the Top Rope' is a venue for not only WWE wrestlers. We plan on having celebrities who love wrestling," Coach said. "We plan on having legends that were former wrestlers. This is an entertainment venue. If Adam Sandler is on Monday Night Raw, and we can get him on 'Off the Top Rope,' that's exactly what we're going to do."
If viewing potential celebrity involvement negatively, the trade-off is Coach trying to line up big-name guests like Vince McMahon, Triple H, or The Undertaker. Of course, these are five-minute soundbyte interviews and not a live "Stone Cold Podcast" on WWE Network getting deep into subjects, but Coach says he is passionate about delivering a product that WWE fans will enjoy.
"This is a passion project, but a lot of people at ESPN want to be involved with it, too. I'm the face of it, so it's easy for me to get gratification, but I want everyone to know they're a part of it," Coach said.
"Paul Heyman and Triple H are at the top (of the interview guest list), and people would love to see the boss, Vince McMahon. I control a lot of what we do on 'Off the Top Rope,' but I don't always control who we're going to have on. I can guarantee you that my vision is that this is going to continue to grow for the next several years, and if that's the case–we'll do our best to have The Undertaker on."