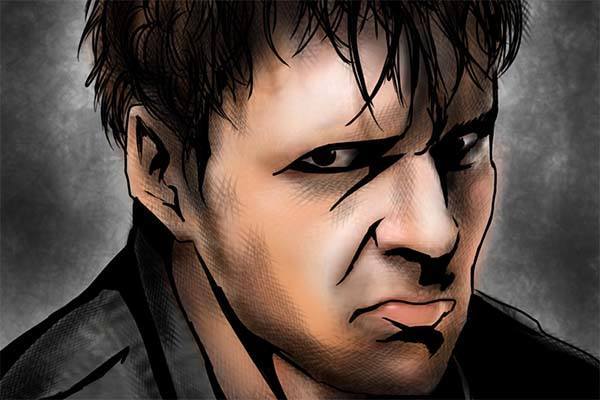 ---
SPOTLIGHTED PODCAST ALERT (YOUR ARTICLE BEGINS A FEW INCHES DOWN)...
---
2/15 RAW HITS
Fatal Five-Way: After a solid opening with Dean Ambrose and Stephanie McMahon, Raw got going well with this Fatal Five-Way for Ambrose's Intercontinental Championship. This was a good match that went over 12 minutes. I am not a fan of a wrestler getting a title shot without earning one so I was not thrilled with Stardust or Tyler Breeze's inclusion in this match. What has either of them done to deserve this other than lose to Titus O'Neil lately? Moving past that, this was a good match. It was a bit hectic as this format tends to be. But, it featured good wrestling action. It was fun to watch. This is a good way to get the IC Title off of Ambrose and get him out of the Title picture. If he is going to win at Fastlane (I doubt he will, but still), then he doesn't need it. Another match that had been rumored for him awhile back at WrestleMania was against Chris Jericho. I could see him also facing Brock Lesnar. Neither of those would need the IC Title if they happen. I hope Owens moves on from Dolph Ziggler after Fastlane and gets a strong one-on-one opponent for the IC Title at WM32 (A.J. Styles perhaps?).
Follow-Up Interview: I loved Renee Young's follow up interview with Ambrose in the back about losing the IC Title. We should get more of these bits following up on big matches. Ambrose was great in the way he sold his frustration and moved it on to motivation to win the triple threat at Fastlane to go on to main event WM against Triple H for the World Title. I also appreciate that Young actually threw it back to the announcers at ring side instead of standing there awkwardly as she is produced to do after most of these interviews. The announcers then had to cut right back when the new IC Champ Kevin Owens was demanding time to talk. He was interrupted by Ziggler. It was all short and well done to enhance two storylines.
Brie Bella and Charlotte: WWE did a nice job of building to the Divas Championship at Fastlane with this interview with Brie Bella being interrupted by the Divas Champion Charlotte along with her father Ric Flair. Brie and Charlotte played their parts well. This was a smart way to follow up on Daniel Bryan's retirement speech from last week to transfer some of his popularity onto his wife. This may have been the best Brie has ever been on the mic. Charlotte is so much better as this heel character than she was as a babyface. Flair was a bit too cartoonish in his reactions for my taste, but it didn't take away from the quality of the segment.
Styles vs. Miz: This was another good match for A.J. Styles and The Miz. They had a good match on Smackdown a few weeks back, but this one was even better. They performed very well here. The match went nearly 12 minutes and went back and forth nicely. I like that Styles got a win in the tag match on Smackdown with the spring board forearm. That made for a believable nearfall in this match when he hit the move on Miz. Styles has multiple ways he can win a match which is good. He is doing a good job of establishing the Calf Crusher as a legit submission finishing move. By kicking out of the Scull Crushing Finale, it helped him look strong as that is a finishing move that has been pretty well protected.
After the match, it was good to actually hear Styles on the mic in a fairly long promo where he interrupted Chris Jericho to challenge him to a rubber match at Fastlane. Jericho had done a good job of doing guest commentary during the match and was good here reacting to that challenge and putting Styles off until Smackdown to wait for his answer. He is playing this tweener character very well.
Heel Dudleys: I was sick last week, so I didn't have a chance to write about Raw, but I was thrilled with the heel turn from the Dudley Boyz. I find it amusing that the announcers kept talking about how nobody saw it coming, when I knew with 100 percent certainty that they would turn on the Usos as soon as they were added to the match and I'm sure I was far from alone in seeing that coming. But, it was a good heel turn and was desperately needed. They were not working as a nostalgia act. I liked their promo from Smackdown explaining themselves. This wasn't as good, but it was a solid way to follow up on that for those who hadn't seen Smackdown. I like the idea of them refusing to use tables. Bubba Ray is very strong on the mic, but Devon is holding his own as well. I loved how he talked about this not being a retirement tour. WWE needed to do something with the Dudleys and they needed to do something to shake up the tag team division and they have found the answer.
2/15 RAW MISSES
Big E vs. Mark Henry: This was a bad stretch of Raw. The New Day were not good in their overly-long promo before the match. It actually started with the random replay of their interaction with Edge & Christian from several months ago. WWE needed to have E&C on at some point with their new WWE Network show ready to debut on Sunday, so they are going to have a Cutting Edge Peep Show with The New Day at Fastlane. (Which has apparently bumped the U.S. Title match – which is now 2 out of 3 falls! – onto the pre-show, which is a big shame to me.) So this segment became a jumbled mess with this replay, New Day talking about Edge & Christian, and then trying to put the focus back onto Mark Henry, who walked out on New Day in their match last week. Somewhere in there, you had Big E pantomiming a sexual act while pretending to play a recorder and calling Henry a booty hole. Ugh. Then came the match which wasn't good. The ending was just strange as Big E. had Henry up for the Big Ending, but Henry squirmed off of his shoulders and fell to the mat, apparently hurting his ribs. I'm not sure if that was supposed to happen, or what. Maybe he was legit injured. Either way, it was ugly.
Summer Rae beats Paige: I see three possible scenarios coming out of this match. The first is a push for Summer Rae which is not a good idea as she just isn't good enough. She should not be getting a push ahead of Paige, Natalya, Becky Lynch, Sasha Banks, or Naomi. With the depth at NXT, she just isn't in the same league in the ring with many of the women in WWE. The second is a losing streak angle for Paige where this is the first in a line of surprise and frustrating losses for her. I'm not a fan of losing streak angles. They seldom work to put a wrestler over in a meaningful way and I don't want to see that happen to Paige. The third is that this is forgotten about by next week's Raw. That is the best case scenario that I see and when forgetting something happened is the best way to go, then it shouldn't happen in the first place.
Heyman, Reigns, Dudleys, Ambrose: This whole segment didn't work for me. I didn't buy into this false choice that Paul Heyman laid out about Roman Reigns having to choose between his daughter and his friend. Part of the problem is just trying to sell a triple threat match without a heel. It came across like Heyman is so worried about Reigns that he is trying to get him to turn on Ambrose, but that seems out of character for the ultra confident Heyman. I don't remember a lot of what was said as they were talking for what seemed like a long time without much sinking in. The attack by the Dudleys came too far from left field. The situation is too muddied with Brock Lesnar, Reigns, and Ambrose with Heyman, Triple H, and Stephanie McMahon all stirring the pot. There is a major prize on the line and they are trying to sell the idea that Reigns and Ambrose will turn on each other. There was enough going on without getting the Dudleys involved. Ambrose making the save makes sense, but the brief tease of Dirty Deeds afterwards didn't work. Why tease it if they were just going to laugh it off at that point?
Slater vs. Ryder: This is the type of match that wouldn't be on Raw if it was only two hours.
R-Truth and Goldust: I have been trying to ignore these horrible segments with Goldust attempting to recruit R-Truth as a tag partner. I try to ignore how stupid it is that the cameras are always following Truth around, at a hotel, at the Space Needle, and now at a restaurant for a Valentine's Day date. I try to ignore the horribly unfunny material. But when you have Goldust simulating ejaculating on a woman, I just can't ignore it any more. This is so so so TERRIBLE!
Del Rio's Finisher: It is bad enough when a wrestler has to be in such an unnatural position to take Alberto Del Rio's finisher and then has to have his body in position with his back parallel to the mat in order for Del Rio to be able to stomp on his chest. The wrestler could just let gravity do its work and hang with his head down and then he can't get stomped on. This one was even worse with Sin Cara hung up in the ropes and having to be in that position for far too long before Del Rio finally hit the move.
Braun Strowman vs. The Big Show: What kind of a Raw main event was this? Not every Raw main event needs to be a huge match, but it should be bigger than this, particularly on a PPV go home show. WWE did very little to hype this match throughout the show. They did talk about it, but I don't think they ever billed it as the main event. They must have known that this wasn't a good main event, otherwise they would have talked about it being the main event. I guess it had to be last so Kane could destroy the ring, but why is the final segment before Fastlane dedicated to a match that hadn't yet been announced for the PPV? And it is a match that nobody cares about (okay, yes I shouldn't speak for all people, but I would be surprised if very many WWE fans actually care about it). If this is what The Undertaker will ultimately be a part of as the final Titan at WM32 to join with Kane, Big Show, and Ryback against The Wyatt Family, then it is going to be a very disappointing use of Taker for WrestleMania.
Jon Mezzera is PWTorch.com's WWE Hits & Misses Specialist, providing his point of view for Raw and Smackdown each week. Email him at jmezz_torch@yahoo.com.
Act now and become my 45th Twitter follower @JonMezzera (pretty clever handle right?). Just be aware that I don't live tweet Raw, I don't tweet much about wrestling, and I don't tweet much at all. But, I'm slowly inching towards 50 followers!
For another view from the original Hitlist author, compare Jason Powell's views to mine by visiting prowrestling.NET's "Hitlist" section here.