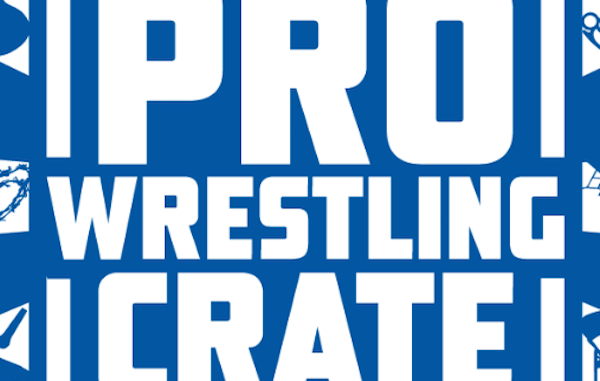 ---
SPOTLIGHTED PODCAST ALERT (YOUR ARTICLE BEGINS A FEW INCHES DOWN)...
---
The latest PWTorch.com monthly unboxing video for Pro Wrestling Crate features an unboxing of the March 2016 crate. This month instead of a curator, Pro Wrestling Crate went with the "Mania" theme for the box.
Pro Wrestling Crate was founded by Jake & Derek from the limited edition wrestling t-shirt site TopRopeTuesday.com and Mick Foley. The aim for each crate from PWCrate is to have a pro wrestling personality curate the crate, but lately they've been doing themed boxes.
Each crate comes with a shirt, collectibles, and merchandise that you won't find anywhere else unless you subscribe to the monthly service.
This is the fifth box from PWCrate and I found it to be their best effort to date. Before the crate was released, it was teased that there would be two shirts included in the March crate as well as the usual collectible items included in the box.
Each crate costs $29.95, which includes shipping. If you commit to longer than a monthly subscription, you can get a significant discount. One cool thing about Pro Wrestling Crate's service is there are no additional charges for customers that need a shirt 2XL and above.
As you will see in the unboxing video, Pro Wrestling Crate has by far the most professional looking box I've seen for a wrestling-themed subscription box. The box was even sealed with a sticker featuring a logo of the curator or the theme.
And now to the unboxing video!
There are several pro wrestling mystery boxes on the market now. Depending on what you're looking for if you want to subscribe to a mystery box, Pro Wrestling Crate will be very appealing depending on the theme or curator for a given month.
In terms of shirts, PWCrate has been on fire. Last month they had a fantastic Ric Flair shirt. I was wondering what they would come up with and given that "Mania" is such a broad theme with so many possibilities, the designs for the shirts included in the crate this month were fantastic. I really enjoyed the shirts with a tribute to Hulk vs. Andre from WM3 and Rock vs. Hogan from WM X8.
I thought the collectible items were strong this month as well. Included is a cool old-school window decal featuring the classic WWF ring on wheels that drove the wrestlers down to the ring. The HBK air freshener and Undertaker keychain made for great collectibles as well.
After listening to the "MatMania" CD included in the crate, I guessed which item on the CD was incorrect. The CD features a rapper named Mega Ran rapping over remixed WWE themes with some video game elements introduced into the beats.
I really enjoyed some of the remixed WWE themes, especially the songs about Brock Lesnar, Macho Man, and New Day. If you're a wrestling fan, you're likely to find this CD to be a really fun listen.
– You can purchase a subscription by visiting ProWrestlingCrate.com. You can also follow them on Twitter @PWCrate. Act fast, as the deadline to order the March crate is April 15. The next crate will have a Mania theme according to the teaser on the website.
– COUPON CODE: Get 15 percent off your first crate when you sign up at ProWrestlingCrate.com using the code TORCH.
***
Email Sean at PWTorchSean@Gmail.com
Please click HERE and click "like" to join the Radican's Wrestling Community Facebook fan page.
Follow Sean on Twitter at Twitter.com/SeanRadican