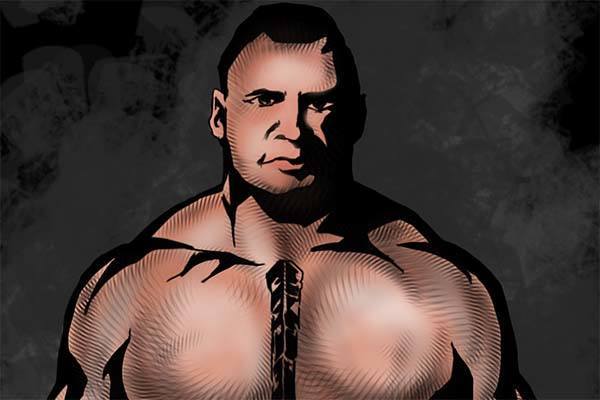 ---
SPOTLIGHTED PODCAST ALERT (YOUR ARTICLE BEGINS A FEW INCHES DOWN)...
---
Brock Lesnar appeared in-studio on ESPN's SportsCenter broadcasts during the 8:00 a.m. and 10:00 a.m. EST hours.
The 10:00 a.m. segment with SportsCenter anchor Hannah Storm provided the most insight from Brock, while the 8:00 a.m. interview with Jay Harris and Randy Scott was a more relaxed conversation.
8:00 p.m. EST hour
Lesnar hyped his WrestleMania opponent, Dean Ambrose, as a "crazy guy." He said what they do in WWE might be "sports entertainment, but when he walks through the curtain, it's real to him."
Lesnar hyped WWE's attempt to set a new attendance record at AT&T Stadium in Texas, then talked about the difference in atmosphere wrestling in front of 100,000 versus 10,000 people.
Asked why he signed with WWE after his amateur wrestling college career at Minnesota, Lesnar said he "got tired of not having money after college wrestling."
Lesnar noted that he had a four-year run in WWE, then decided he "still had some athlete and competitor" in him, so he went to UFC.
The segment closed with a bit about Lesnar doing security the last time he was on the ESPN campus. They brought out SportsCenter anchor Sarina Morales as Lesnar's "replacement" in an over-sized shirt, prompting Lesnar to note the old wrestling adage that "you only last so long before they find someone new."
10:00 a.m. EST hour
Lesnar sat down with Hannah Storm for a one-on-one interview about his athletic history that was more substantial than hype compared to the first interview.
Lesnar said WWE pursued him his junior and senior year in college. He had some football background, but there was no guarantee in football, he so took WWE's offer that "he really couldn't turn down." Mainly, Lesnar had student loans to pay off and he had tuition fees, since he was not a full-ride student athlete, so he needed the money.
Lesnar said he was not prepared for the world of WWE traveling around the world and being on the road 5-6 days per week. Lesnar said he was not a pro wrestling fan growing up, started watching wrestling when he was late in college when WWE started recruiting him, and did not have a grasp of the wrestling world.
Lesnar said his struggles during his first WWE run were depending on Vicodin and vodka because he had a "no quit" mentality. Lesnar said he "had to get out of the wrestling business at the time to save my life."
Lesnar described himself as a caged animal traveling around the world on someone else's schedule. He said he still had a competitive nature in him, so he tried the NFL, which he told Storm was more like an excuse to get out of WWE. He was the last player cut from the Vikings practice squad and they offered to send him to Europe, but he didn't want to go.
Lesnar recalled trying MMA fighting in Japan, then UFC president Dana White would not take his phone calls. Lesnar recalled to Storm how he hopped the guardrail at a UFC event to get Dana White's attention and introduce himself.
Asked what his biggest takeaways were from UFC, Lesnar said his health issues come to mind first. Lesnar said he went into UFC trying to prove himself since he was labeled a "fake wrestler who couldn't do MMA." He was unsettled in the beginning and did not enjoy it, then he finally won the UFC Hvt. Title and felt settled. But, then his health issues with diverticulitis popped up. He said he was sick and was not sure what was wrong with him, then eventually had to end his UFC run because of it.
Storm asked Lesnar how he's different in WWE now versus his first run. Lesnar noted that he did not leave WWE on good terms the first time, but reached an agreement with Vince McMahon for him to come back.
"I'm a different person now," Lesnar said. He said he knows now that he cannot be on the road all the time because it's not in his nature. Lesnar said McMahon understands his comfort zone, so they have a good relationship now. He said both sides have taken a step back and looked at each other to better the relationship.
Lesnar cringed at a video replay of his Shooting Star Press at WM19, then was asked what his legacy is in wrestling.
"I'm not much for legacy," Lesnar replied. He said people have their own way of remembering him, while he doesn't even know where his WWE Titles, UFC Titles, and NCAA Title plaques are. "But," he emphasized. "I know how much money's in my bank account." That closed the interview.