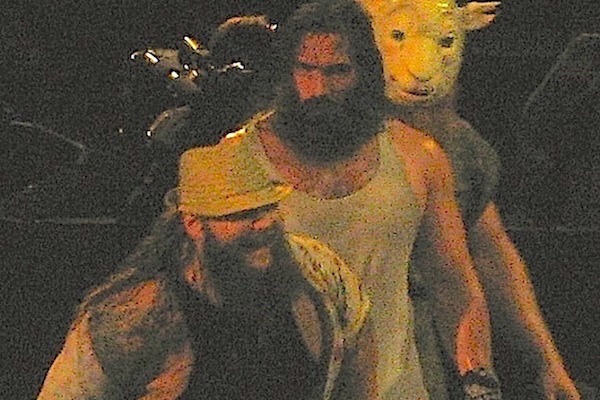 ---
SPOTLIGHTED PODCAST ALERT (YOUR ARTICLE BEGINS A FEW INCHES DOWN)...
---
WWE Live Show Results
April 15, 2016
Amsterdam, Netherlands
Report by PWTorch App user Jorick
I attended the show in Amsterdam on Friday. Pretty good show, nothing out of the ordinary. The only heel that won was Charlotte thanks to the help of her father Ric Flair.
The show started with Stardust vs. Cesaro.
(1) Cesaro beat Stardust via submission. The match had a slow start with stalling from both guys. Half-way in the match, Cesaro pulled out a double 6-1-9. Fun to see. Cesaro won via Sharpshooter.
(2) Sin Cara beat Tyler Breeze. Some good action from both guys. Sin Cara won after a swanton bomb.
After the match, Tyler kept saying "No, no, no," which drew "Yes" chants from the crowd in reaction. He said he wasn't going to leave Amsterdam a loser and if he did he would never wrestle here again. Out came Jack Swagger, who got a big pop once everybody saw him coming out with the national flag.
(4) Jack Swagger beat Tyler Breeze via submission. Quick match. Cross-body from the top rope by Breeze, caught by Swagger, and turned into the Anklelock for the win.
(5) Kane beat Rusev. Basic match. Nothing fancy, but told the story the way it should have. Kane won by chokeslam.
The final match before intermission was for the tag team championship – New Day vs. Wyatts. New Day came out with trombone.
(6) WWE tag champions New Day (Xavier Woods & Kofi Kingston w/Big E. on the outside) beat The Wyatts (Erick Rowan & Braun Strowman) to retain the WWE Tag Titles. Very entertaining match from both sides. New Day retained after Kofi hit his finisher on Rowan. Of note: The Wyatts came out to a very strange entrance. I could only hear the bass pumping. Nothing else. It was almost as if there was no music.
After intermission the first match was a triple threat for the Women's championship – Charlotte vs. Becky vs. Sasha. Both Becky and Sasha were very over. A lot of woooo's during the match.
(7) WWE Women's champion Charlotte (w/Ric Flair) beat Sasha Banks and Becky Lynch in a three-way match to retain the Women's Title. Charlotte won after Ric Flair pulled Sasha out of the ring, rolled up Becky, and put her feet on the second rope.
(8) The Usos beat The Dudleys. This was the first time I've seen the Dudleys live. They really know how to play the part. Good effort from both teams, but not the most spectacular match. The Usos won.
Main event time – Sheamus (replacing Bray Wyatt) challenged Roman Reigns for the WWE Title. Mixed reaction for Reigns, but mostly cheers. Also some "Let's Go Roman/Roman Sucks" dueling chants.
(9) WWE World Hvt. champion Roman Reigns beat Sheamus to retain the WWE World Title. Sheamus did most of the work here. He hit all of his top moves, including the Brogue Kick, but still couldn't put Roman away. Roman won after a spear pretty much out of nowhere.
All in all a good show, but, in my opinion, better before intermission. It was the first time I've seen Roman in one-on-one action. He still needs a reliable heel for the pacing of the match, which is the total opposite of John Cena. Not everybody likes Cena but the guy can work in the ring and he controls the pacing of the match. Reigns isn't on that level yet.
Best match: Stardust vs. Cesaro and Women's triple threat.
Worst: Usos vs. Dudleys.
Additional Notes from PWTorch reader Henk
– The video screen did not work. Because of that, we were let in a half-hour late.
– There were about 6,000-6,500 in the building. (The entire upper section was tarped off, but because Ziggo Dome is such a good, modern venue, it was almost not noticeable.)
By comparison, UFC sold out the Ahoy in Rotterdam in about two hours for a major event, seating about 9,500-10,000.
– The crowd was pretty hot most of the night.
– The women's match was the best of the show; they should try to close house shows with this match. Sasha Banks and Becky Lynch are superstars and the Amsterdam crowd loved both.
– New Day was really over. My non-WWE-fan friend who went to WWE for the first time loved their act.
– Roman was okay. He tries, but he is no Cena, Austin, and Rock, nor Michaels, Bryan, and Orton.
– WWE really needs to make stars; this roster is not deep at all. Cesaro needs to be made into a star, as he has the "it factor." On the flip side, it was a shame to see Breeze get no reaction at all after his big fall from NXT.
– Netherlands pro wrestler Emil Sitoci, who once had a dark match with Jack Swagger in November 2012, was talking to some media acting like a big shot. It was weird because he does not have a WWE contract for as much as I know.