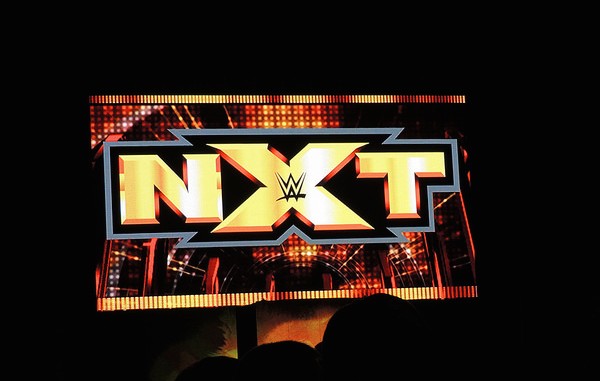 ---
SPOTLIGHTED PODCAST ALERT (YOUR ARTICLE BEGINS A FEW INCHES DOWN)...
---
WWE NXT Report
April 27, 2016
Taped 4/2 in Dallas, Tex.
Report by Justin James, PWTorch NXT contributor
[Q1] No pre-credits video. I expected a video package on Finn Balor losing his NXT Title in the open, but the episode is still from the taping during WrestleMania weekend. The announcers immediately mentioned the championship loss, though. NXT Women's champion Asuka is out to start the show.
1 – NXT Women's champion ASUKA vs. EVA MARIE
Dueling "You can't wrestle!" and "Asuka's gonna kill you!" chants. Marie immediately goes to the apron as Tom Phillips acknowledges the "you can't wrestle" chants. They trade wristlocks. Asuka finally takes over. Kick to Marie's back rattles her. Shoulder block takes Asuka down. Marie ducks a roundhouse, but a shoulder block puts her down. Hip attack. Asuka taunts Marie, then locks in an armbar, but Marie gets to the ropes. Another hip attack clears Marie off the apron. Marie half-crawls on the outside as if she is seriously injured. Nia Jax comes out to give her a hug and comfort.
[ Break ]
Marie is in control out of the break, driving Asuka into the corner with her shoulder. Big boot sends Asuka down to boos. Running senton, cover only gets Marie one. Jax is now at ringside. Asuka goes to the well one too many times, and Marie dodges a hip attack and gets tangled in the ropes. Graves threatens to have William Regal let him call Marie's matches solo, which I'd be in favor of because the bickering with Phillips during her matches is grating.
Asuka swats away a big boot, backslide for one. Asuka rallies. Dropkick from the second rope and the ref starts a double count. They battle from their knees, then make it to their feet. Dropkick from Asuka ends the back and forth. Asuka kicks the stuffing out of Marie. Marie ducks a kick and sends Asuka down, but whiffs a senton. Running kick, but Marie kicks out at two. Roundhouse from Asuka finally ends it.
WINNER: Asuka in 10:16. I think this may be Eva Marie's longest match ever, and it definitely feels like she is going backwards in the ring.
Post-match, Nia Jax comes in. Asuka backs her up with a roundhouse. Jax is not scared and picks Marie up, then slowly leaves. It is clear who the real alpha dog is in the Marie/Jax paring.
Samoa Joe Title win
[Q2] Clips from the match last week where Samoa Joe won the NXT Championship from Finn Balor. What an insane moment, who ever would have expected that? This is how you send ticket sales through the roof.
Post-match in Lowell, Joe says that Balor barely survived twice before, and now he did not.
2 – THE REVIVAL (SCOTT DAWSON & DASH WILDER) vs. MATT LEE & JEFF PARKER – Tag Team Match
The Revival just dominate the match against Parker. Lee makes the mistake of tagging in and Dawson takes him apart, too. Shatter Machine ends it.
WINNERS: The Revival in 3:19. Quick squash to keep The Revival strong without hurting any established teams.
Post-match, Dawson continues the assault but the ref is able to restrain him. Dawson gets a mic. He says that they are called The Revival because they are preaching the sermon on the tag team revolution. They are the best team on the planet. So they need the NXT Tag Team Championships back. They put every tag team in the world on notice, they are all targets. The Revival won't stop until they regain the NXT Tag Team Championships. "Buy our shirts! Buy our shirts!" from Dawson on the ramp.
3 – THE HYPE BROS. (ZACK RYDER & MOJO RAWLEY) vs. BLAKE AND MURPHY (WESLEY BLAKE & BUDDY MURPHY) – Tag Team match
[Q3] Blake and Murphy have new ring gear matching Alexa Bliss's new gear. The crowd wants to know where she is. Rawley's antics confound. Rawley sends Blake to the ropes, then a big clothesline lets Rawley tell us who isn't hyped.
Murphy tags in against Ryder, but can't double team. Blake saves Murphy from the Broski Boot, then Blake yanks on Ryder's boot. That lets Murphy hit a chopblock to gain control of the match.
Ryder gets isolated, then Blake and Murphy work Ryder's leg. Rawley finally gets the tag. Blind tag from Blake, but Rawley uses Blake as a weapon to take out Murphy. Hype Ryder wraps it up.
WINNERS: The Hype Bros in 4:45. Basic match. Interesting to see Blake and Murphy getting pushed farther down the card and The Hype Bros. going over.
Post-Match, The Rival ambush The Hype Bros and take them out.
4 – CARMELLA vs. ALIYAH
Aliyah has not been seen since a Battle Royal ages ago. Aliyah with an early headlock into a snapmare, but Carmella lands on her feet. Carmella taunts Ailyah. Atomic drop into a dropkick nets two for Carmella. Aliyah shows some fire and gets a two count.
Full nelson grounds Carmella, then she transitions into more holds. Carmella reverses and lands into a cover, but Aliyah kicks out. Aliyah to the top for a leg drop, nearfall. Carmella rallies. Carmella with her leg-based submission for a submission win.
WINNER: Carmella via submission in 3:21. Kind of a clunky match.
Backstage, Dasha Fuentes asks Elias Samson about his upcoming match with Shinsuke Nakamura. Samson says that Regal misinterpreted his song, and Nakamura should have never drifted into NXT. Samson sounds like he has a cold.
[Q4] Graves is actually happy to see Samson, because he can't wait to see Nakamura put the hurt on him. Graves has already had one of his mythical Pittsburgh friends find Samson a job after this match is over.
5 – SHINSUKE NAKAMURA vs. ELIAS SAMSON
Nakamura is in the heel corner for some reason. Lock-up and Samson quickly gets Nakamura to the ropes. Nakamura backs Samson to the ropes, then puts his head to Samson's middle. Nakamura's offense dazzles. Knee drop into a two count. Samson is in the corner recovering.
Samson with a clothesline to get momentum. Bodyslam into a two count. Knee lift from Nakamura, forearm, chop, and a suplex to Nakamura for two. Nakamura gets to the ropes to break a chinlock.
Knee lift and the double kick combo drops Samson. Samson elbows out of a suplex attempt, but takes a knee. Nakamura hits the knee to the middle on the ropes, exploder suplex. Kinshasa ends it.
WINNER: Shinsuka Nakamura in 4:25. A quick win over a strong mid-carder to keep Nakamura's momentum up. You have to believe that Nakamura is gearing up to be the #1 contender.
Final Reax: It will not be too soon for these WrestleMania weekend episodes to wrap up. I cannot believe the relative lack of follow-through on the title change.