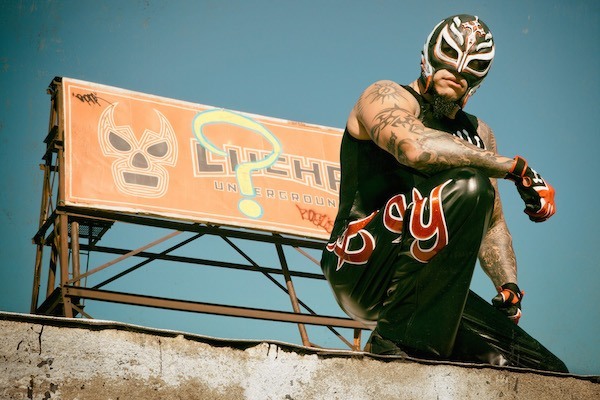 ---
SPOTLIGHTED PODCAST ALERT (YOUR ARTICLE BEGINS A FEW INCHES DOWN)...
---
Lucha Underground Report
May 11, 2016
Taped in Los Angeles, Calif.
Season 2 Episode #16 aired on El Rey Network
Report by Joel Dehnel, PWTorch contributor
Follow @DehnelTorch on Twitter for live updates.
The show opened with a video package featuring the trios tag tournament, the police detectives, Mil Muertes, and Matanza.
Segment: Dario Cueto walked into a strip club to talk to the man who met with the police officer. Dario paid off the man then attempted to leave until the man stopped him. He told Dario he was getting sloppy and he would not be surprised if there was someone already on the inside. The man said he knows someone who is coming to the temple. Dario appeared to look nervous.
Title sequence rolled.
Announcers: Matt Striker welcomed the audience to the show, then threw to Santos in the ring.
In-ring: Santos introduced Cortez Castro, Mr. Cisco, and Joey Ryan who were all already in the ring.
1 – CORTEZ CASTRO vs. MR. CISCO vs. JOEY RYAN – three0way match for an Aztec medallion
Castro and Cisco took out Ryan to start the match, then fought each other. Ryan suddenly rolled up Castro for the win.
WINNER: Joey Ryan at 1:18 to win an Aztec medallion. I'd like to see Ryan in more long-form singles matches.
[Break]
Backstage: Catrina told Mil Muertes she had been waiting for a long time. She also told Mil about how she freed him from the dead and it was all part of her plan. She said before Mil closes the coffin on Matanza she wanted him to expose his face. After Mil and Catrina left, Kingo Cuerno walked in.
I- ring: Santos introduced the next match for the trios championship. Out first was Ivelisse and Son of Havoc followed by their partner Johnny Mundo.
[Break]
2 – Trios Tag champions REY MYSTERIO & PRINCE PUMA & EL DRAGON AZTECA vs. IVELISSE & SON OF HAVOC & JOHNNY MUNDO (w/Taya) – Trios tag championship match
Ivelisse and Dragon started the match. Havoc and Mysterio both tagged in and exchanged various flipping moves. Puma and Mundo came in and traded blows back and forth. Taya beat down Puma while the ref was distracted.
Puma finally took out Mundo and tagged Dragon while Mundo tagged Havoc. Havoc attempted a pin with a neckbreaker, then tagged Ivelisse. Dragon tagged Rey and Rey tried to pin Havoc.
Rey went for the 619, but Ivelisse tripped him. Mundo accidentally kicked Ivelisse and Puma hit an elbow. Drago hit a huracanrana on Mundo on the outside. Rey hit the 619 in the ring then tagged Puma, who hit a splash for the win.
Post-match: Taya attacked Ivelisse, while Dragon, Rey, and Puma walked away. So much for the handshake before the match.
WINNERS: Puma, Mysterio, and Dragon at 7:58 to retain their titles.
Still to come: Mil Muertes vs. Matanza.
[Break]
In-ring: Santos explained the rules of the Grave Consequences match (casket match with four coffins). Multiple people in skull facepaint set out flowers and the caskets. Muertes was out first followed by Matanza.
[Break]
3 – Lucha Underground champion 'The Monster' MATANZA CUETO (w/Dario Cueto) vs. MIL MUERTES (w/Catrina) – Lucha Underground Championship match
Mil attacked Matanza to start. Matanza came back with multiple thunderous attacks. Catrina slammed a chair against Matanza, then Muertes dove onto Matanza. Mil began to line up the coffins as Matanza attacked him from behind. They fought each other on the apron until Mil hit a flatliner onto the coffins. Mil brought the coffin into the ring, when Dario stopped him then Matanza saved him.
Mil fought back with a spear, then unhooked a bottom turnbuckle. He tried to strike Matanza with the piece, but he caught it and hit Mil with it. Matanza then tried to tear at Mil's mask. Muertes came back with a chokeslam onto the coffin.
Mil found a toolbox under the ring, then put on a silver glove and struck Matanza multiple times. Striker said it was a chain-link glove. Matanza came back and lifted the cover off a coffin. Matanza threw Muertes into the coffin and tried to close the lid, but Mil grabbed the ring bell and kicked Matanza over the head.
Catrina walked over to Dario and slapped him, then Matanza hit her with a chair. Matanza grabbed the stone from Catrina. Matanza placed it in a casket and Catrina appeared lifeless as Matanza threw her into a casket. Mil then dove onto him from the ring.
Mil pulled a new coffin into the ring and tried to throw Matanza inside. Matanza fought back, then powerbombed Mil onto the top. Matanza slammed Mil into the coffin and closed the lid, securing the win.
WINNER:  Matanza at 14:48 to retain his title.
Post-match: Dario opened Catrina's coffin to see that she was gone. The people with the skull facepaint escorted Mil's coffin out of the temple. King Cuerno revealed himself as one of the people escorting the coffin.
Video: A car rolled up to the man from the strip club. He got in a limo, then threw a bag of money. He said he thinks Dario's brother might be the most powerful person. Another man across from him lit a cigar.
FINAL THOUGHTS:  More title matches as you might expect. Matanza is still very green, but he is well protected in gimmick matches like this. Pretty descent show overall. One hour sure does fly by compared to Raw.