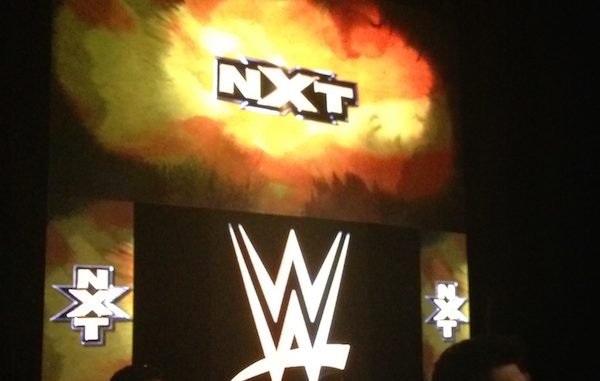 ---
SPOTLIGHTED PODCAST ALERT (YOUR ARTICLE BEGINS A FEW INCHES DOWN)...
---
WWE NXT Report
May 11, 2016
Taped at Full Sail University
Aired on WWE Network
Report by Justin James, PWTorch NXT contributor
[Q1] In NXT news, Alex Riley was released last week. That's a shame, because he showed some real strength in his feud against Kevin Owens last year as a strong babyface.
NXT starts with the recent video package on Finn Balor.
After the credits, Balor heads to the ring. After a "Thank you Finn" from the crowd, he says he needs to thank the crowd, but he needs to talk about Samoa Joe being the NXT champion. Balor points out how close his matches with Joe have been.
Suddenly, guitar strumming draws out Elias Samson. He says he wrote a song for Balor. The question is if the main event will be Balor versus Samson, or if Samson just gets an in-ring beat down now. Samson says that Balor is nothing without the title. Pele Kick sends Samson heading up the ramp. Balor tosses Samson's guitar and somehow Samson catches it. Balor is steaming as Corey Graves heels on Samson.
Cathy Kelley interviews Eric Young "last week." Young says everyone wants to prove themselves against the best, and the best are in NXT and WWE. He says "the cream always rises to the top," but doesn't conjure any creamers out of thin air to prove it, nor rail on Jack Tunney.
Backstage, Kelley catches up with Balor. He says he is now focused on teaching Samson a lesson, then he will turn to Joe.
1 – NXT Tag Team champions AMERICAN ALPHA (JASON JORDAN & CHAD GABLE) vs. COREY HOLLIS & JOHN SKYLER – Non-title Tag Team match
Skyler mat-wrestles with Gable and comes up on the losing end of that. Schoolboy draws Hollis into the ring and Gable chases him away and goes back to Skyler. Skyler wants a tag, but Jordan gets one instead. You can tell that Jordan really loves being in the ring and getting crowd support. Hollis tags in. Jordan needs only one hand to toss Hollis around. Gable and Jordan double-team Hollis.
[Q2] Gable suddenly gets nailed by a cheap shot and is isolated. Skyler maximizes his seconds on offense. Belly-to-belly lets Gable break free and tag Jordan. Jordan takes Skyler and Hollis to Suplex City.
The Revival suddenly appear on the ramp. American Alpha invite them into the ring. The break doesn't give Skyler enough time to recover, though, as Jordan hits a spear in the corner. Grand Amplitude for the win.
WINNERS: American Alpha in 5:07. Fun match.
Post-match, American Alpha lay their championships in the ring and re-invite The Revival in. Dash and Dawson decline and say it will be on their time.
Backstage, Kelley asks Shinsuke Nakamura about his match with Alex Riley tonight. He mocks the now-released Riley's "time to rage" catchphrase by twitching. As one person I overheard said, I think Nakamura's gimmick is "I destroyed my nervous system with too many drugs ten years ago."
2 – SHINSUKE NAKAMURA vs. ALEX RILEY
Riley shoves Nakamura into the corner and shows some disrespect. Another lock-up, and Nakamura puts Riley into the ropes and does the head thing. Riley shoves him off, Nakamura brushes off the insult, sends Riley to the outside, and then asks him to come in.
Riley gets the advantage on the way in. Riley then imitates Nakamura, drawing knee lift after knee lift from Nakamura. Nakamura destroys Riley in the ropes. Elbows drop Riley again, then a knee. Running knee to the middle on the ropes, then inverted exploder suplex into the Kinshase for the win.
WINNER: Shinksuke Nakamura in 2:41. Quick match to show off Nakamura's skillset.
Backstage, Austin Aries has asked for a moment of William Regal's time. He isn't there just to be "another guy." Blake and Murphy interrupt to say they deserve another shot. Aries is upset at how they interrupted. Alexa Bliss appears and makes snooty faces. Regal books a match between Blake and Murphy, and Aries and a partner of his choice. He says he will make a phone call. Bobby Roode? The match is for next week. The main event is announced as Finn Balor against Elias Samson.
[Q3] Alexa Bliss attitudes her way to the ring without Blake and Murphy. She is facing Rachael Ellering, who is making her debut. She is Paul Ellering's daughter and trained with Lance Storm.
3 – ALEXA BLISS vs. RACHAEL ELLERING
Graves says that Bliss will make her career beating people's daughters, calling back to Bliss's win over Tessa Blanchard. Bliss gets the early advantage. Bliss easily fights out of a headlock, but gets tripped up and covered for one, then again.
Forearm lets Bliss mock Ellering. Bliss gets a two count, then turns her attention to the shoulder. The crowd tries to rally Ellering, and she suddenly breaks free of Bliss, then lands big rights. Fireman's Carry, but Bliss breaks free. Bliss grabs Ellering by the throat and shoves her to the mat. Sparkle Splash for the win.
WINNER: Alexa Bliss in 3:44. Bliss has come so far in so many ways. She is a real treat to watch in the ring in terms of how she carries herself.
Kelley asks Bayley when she will get her re-match. Bayley says she is focused and training. Nia Jax comes in. Jax says that when she made a mistake, she got stronger, but Bayley got weaker. Bayley reminds Jax that she won in London. Jax says that she could beat Bayley in a re-match. Bayley is game.
With Elias Samson hitting the ring at only 37 minutes into the episode, it would seem that there will be some post-match events, Samson shouldn't go 10+ minutes with Balor. So strange to see Balor do his jacket opening entrance without a title belt. He seems to be missing it, too.
4 – FINN BALOR vs. ELIAS SAMSON
Samson's size lets him wrangle Balor to the mat. There's some nice mat work here. Samson with a sunset flip, but Balor rolls through and counters with a dropkick. Impressive agility from Samson.
[ Break ]
Samson fights off the match and starts to pick Balor apart. Balor finally turns it around. [Q4] Balor sends Samson to the outside. Kick from the apron to punish Samson. Slingblade, hesitation dropkick, and the "1916" driver ends Samson.
WINNER: Finn Balor in 5:46. Expected short win to show that Balor is still a force to be reckoned with, and officially give him a new finisher.
Post-match, Balor has the mic. He has no excuses for his loss, and won't take anything from Joe… yet. But, he wants his re-match. He is obsessed with NXT, and with being the NXT champion. Now he is also obsessed with regaining his property. Samoa Joe's music hits, and Balor prepares himself for a fight. Joe yells at Balor from the outside.
William Regal is furious and on the apron. He says this in an NXT ring, not either of their rings, and order will prevail. He books the re-match for the next Takeover, on June 8 at FSU. Joe keeps shouting that Balor doesn't deserve it, then Balor hits the ropes, and Regal scrambles out of the way as Balor hits a flip dive to take out Joe. Balor grabs the title, says he is coming for it, and then drops it on Joe as he leaves. Regal is beyond angry.
[ J.J.'s Reax: William Regal is so, so good in his role. He really enhances the product as the authority figure. ]
Final Reax: Solid episode all around. The re-match between Balor and Joe is already red hot. They seem to be taking a slow and steady pace to heating up Austin Aries, but a lot of the issue is that the top of the card is already very crowded, especially after Nakamura basically put himself in the unofficial #1 contender role in Dallas. The women's scene is crowded, too.