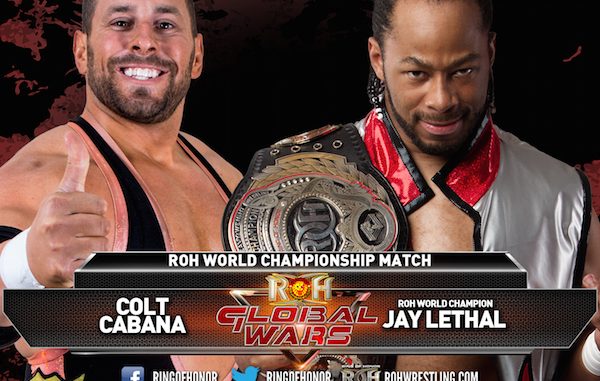 ---
SPOTLIGHTED PODCAST ALERT (YOUR ARTICLE BEGINS A FEW INCHES DOWN)...
---
PPV Evaluation – ROH Global Wars 2016
BEST MATCH – TETSUYA NAITO VS. KYLE O'REILLY
The crowd didn't seem to be into this match as much as I'd have hoped, but that could easily have been an issue with how the crowd was mic'd and not a reflection on their actual response. Naito is settling in nicely to his role as NJPW's top guy, and O'Reilly was great as the underdog. This was kind of a strange show, but in ring their were several good matches. This was the best in my opinion.
WORST MATCH – JUSHIN LIGER/CHEESEBURGER VS. KAZARIAN/DANIELS
It wasn't dreadful by any means, but unless you find the story of Cheeseburger to be compelling (I don't), it was basically just killing time until a surprise finish that was instantly negated with a beat down. Not sure what the point of this was. Kazarian and Daniels are great, though.
BIGGEST SURPRISE – NON-FINISH!
A non-finish in the main event of a Ring of Honor show on pay-per-view?! Whoulda thunk it? I didn't like the show-closing angle at all, and it was made all the more baffling without crowning a main event winner and then having the on-screen "superkick count" continue to go as ROH was "being invaded" … er… why? Was someone watching in the back watching in shock and horror at the destruction, but then paused to think "I should keep track of the superkicks?" Daft.
BIGGEST LETDOWN – OVERALL
On paper, this is NJPW and ROH in a series of very anticipated matches, and I just didn't get a sense of a big show afterwards. It wasn't a terrible show, but the ending left a bad taste with me and it just didn't have the memorable feel I was hoping for.
BEST QUOTE – USB!
After B.J. Whitmer ominously handed Steve Corino a flash drive, the crowd chanted "USB." I don't why I found this so funny, but I did.
BEST MOVE – JAY BRISCOE
The Briscoes and War Machine had a really fun, wild tag match. Jay putting Hanson through a table with a double foot stomp was a stand-out moment.
BEST MATCH FINISH – NAITO VS. O'REILLY
Naito is the IWGP champion, and despite the match being non-title, any result other than Naito going over would have been foolish. The post-match show of disrespect was also a nice touch.
OTHER THOUGHTS
As I said, an odd show. Nothing was outright terrible but it certainly felt thrown together and at the end I didn't get the sense that I had seen anything that special. I'd watch the Naito match and The Briscoes and War Machine if you're looking to check anything out. The show-closing angle was endless and not for me, but your mileage may vary depending on your love of superkicks. And NWO angles from 1997.
WHAT IT'LL BE REMEMBERED FOR
Not sure. I'm guessing the beginning of the summer's "invasion" angle with New Japan's heel faction attacking the company, but this also could have been a one-off angle to avoid booking a finish and have some chaos on the air as the pay-per-view closed. Whatever the idea, it didn't work for me. The follow up, as always though, will be key.
UPDATED 2016 PPV EVALUATION RANKINGS
1 – WWE PAYBACK (2016-05-01)
2 – ROH 14TH ANNIVERSARY (2016-02-26)
3 – WWE ROYAL RUMBLE (2016-01-24)
4 – WWE WRESTLEMANIA 32 (2016-04-02)
5 – ROH GLOBAL WARS (2016-05-08)
6 – WWE FASTLANE (2016-02-21)0
7 – WWE ROADBLOCK (2016-03-12
8 – TNA ONE NIGHT ONLY LIVE! (2016-01-08)
Follow me @nathankyght. I'll like, totally follow you back.