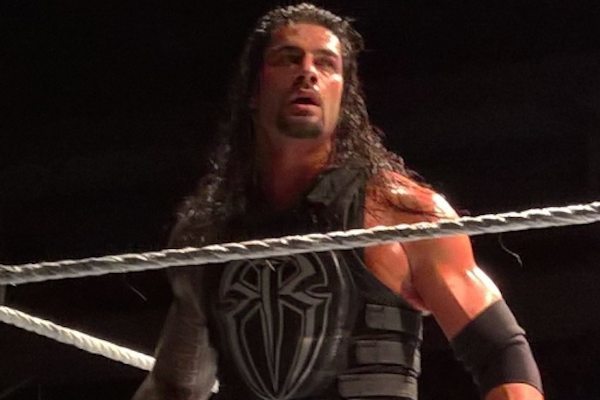 ---
SPOTLIGHTED PODCAST ALERT (YOUR ARTICLE BEGINS A FEW INCHES DOWN)...
---
Down three games to one in the NBA Finals heading back to California, LeBron James and the Cleveland Cavaliers seemed destined to lose the NBA Finals to the Golden St. Warriors for the second straight year.
James, who signed a two-year deal to make his babyface return to Cleveland after joining the NWO Miami Heat to win two NBA Titles, was facing an uncertain off-season and questions about whether he could actually end the City of Cleveland's 52-year streak of not winning a major sports title.
Then, James showed up to practice before Game 5 of the NBA Finals wearing an Undertaker t-shirt. And, everything changed.
The stacked deck straight from WWE's John Cena playbook – go ahead and win two road games at arguably the toughest home court in the NBA – was exactly what James needed.
After a stunning Game 5 win in California, the Cavs returned home to basically blow out the Warriors in Game 6. Plus, sprinkle in a little WWE officiating controversy with the Warriors feeling like Game 6 was … well, slightly embellished … to create Game 7.
But, surely, the Warriors wouldn't lose another home game Sunday night in NorCal. Alas, James willed his team to victory in hostile territory, completing the babyface's journey of redemption after turning his back on his hometown fans when he took his talents to South Beach.
Oh, the heel turn could have been handled much better. James could have nicely said, "Hey, Cleveland, I need to learn how to win a championship, so I'm heading to Miami to hang out with my buddies, then I'll come back here and we'll win a title." But, that's not exactly the high drama TV execs were looking for with the infamous "Decision" TV special that became Bash at the Beach '96.
James's first game back in Cleveland the season after "The Decision" was an intense, fiery ordeal that popped a big TV rating for a regular season NBA game. There was anger in the stands and anger in James's heart, trying to prove that he made the right decision to the former "Witnesses."
Later that season, James failed in his first NBA Title quest with the Heat, learning that anger could not be his motivation.
Commence the babyface quest of redemption. James won two NBA Titles with the Heat, but lost his fourth straight appearance against the San Antonio Spurs. There were questions about his toughness when he infamously couldn't play through Texas Heat when the A/C went out at the Spurs's arena.
So, LeBron went home to Cleveland to try to win a championship. The Cavs were a mess throughout his first season back, but put it together for another title run. They fell short against the rising stars out of the West, the Golden St. Warriors. There was also a sense of people not wanting to see LeBron win that title in his first year. He had to earn it, and prove that he had "it" to win when the deck was stacked against him, not in his favor like playing with his buddies in Miami.
James was humbled Year 1 in Miami – the anger. James was humbled Year 1 in Cleveland – the toughness.
Then, after navigating the same journey to the NBA Finals against the same team, James faced a major series deficit yet again. It seemed all but certain that the Warriors would repeat and have one of, if not the greatest NBA Season of all-time counting regular season and post-season. Heck, throw in pre-season and off-season training – they probably won that, too.
Yet, LeBron, after sporting an Undertaker t-shirt before Game 5, took over the game. And took over Game 6. And took over Game 7, finally willing his team to victory, refusing to be denied.
Late in the game, there was an epic and heroic block from LeBron, capturing his record-setting performance of leading both teams in every major statistical category for the series. Then, the Cavs put in the final points to win the series on Golden St.'s home court.
James had finally completed the babyface journey to redemption by showing that he had heart, grit, determination, and a killer instinct to get the job done, proving that he carried over some Kobe Bryant's intangibles the year Kobe retired, after Kobe carried over Michael Jordan's intangibles from the previous generation.
James's teammate, Kevin Love, celebrated WWE style after the game, including wearing an Austin 3:16 t-shirt during an ESPN SportsCenter interview.
On Monday, James showed up to Phase 1 of the championship celebration wearing an Ultimate Warrior t-shirt. Why not? An Undertaker t-shirt before Game 5 and a Warrior t-shirt after Game 7. Plus, a little taunt toward the Golden St. Warriors, perhaps?
James earned the right to proclaim himself the "ultimate" Warrior by finally redeeming himself and his city, earning back the respect of fans who wanted to see LeBron succeed in Cleveland before he took a shortcut to Miami.
That's how you tell the story of the hero's journey. Was WWE paying attention? Triple H seems to have with his tweet of acknowledgement representing WWE.
But, only time will tell with what's next for the current hero, the undesirable Roman Reigns, who dropped the WWE Title just a half-hour after Game 7 ended, further connecting this year's NBA Finals to WWE. Does WWE have the discipline to turn this latest setback for Reigns's character into part of his redemption story?
A play Cleveland will never forget. https://t.co/aohvnmkl2E

— SportsCenter (@SportsCenter) June 20, 2016
Kevin Love sports a Stone Cold Steve Austin shirt with @notthefakeSVP. pic.twitter.com/IINzegsVuI

— SportsCenter (@SportsCenter) June 20, 2016
You might say the @cavs were ready to "raise some hell" @steveaustinBSR style last night! https://t.co/H7tJvYFre4 pic.twitter.com/2BnOSzDc91

— WWE (@WWE) June 20, 2016
An unprecedented comeback and a long overdue @NBA Championship… THAT is something to celebrate. Congrats @cavs! pic.twitter.com/dPmnnR6mP3

— Triple H (@TripleH) June 20, 2016