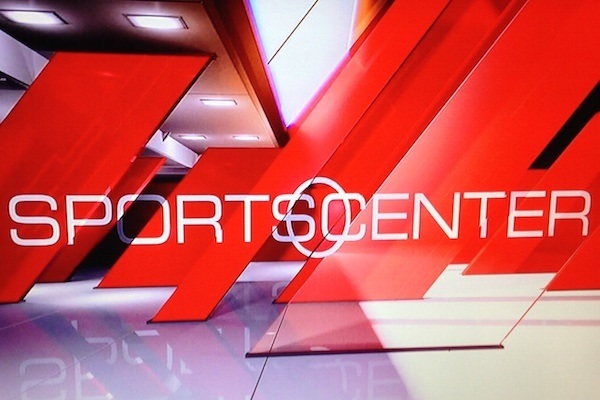 ---
SPOTLIGHTED PODCAST ALERT (YOUR ARTICLE BEGINS A FEW INCHES DOWN)...
---
WWE on ESPNews SportsCenter
Airdate: July 19, 2016
Guest: John Cena
Host: Jonathan Coachman
WWE's weekly interview slid to the 10:00 p.m. EST hour of SportsCenter following the Live Smackdown premiere/WWE Draft from 8:00 to 10:00 p.m. on USA Network.
Cena was shown on-camera at WWE's Draft Center studio wearing a vintage sports coat holding a stick microphone with his body positioned to the side as if he were reporting live from the scene of a news story on the 10 o'clock News.
– Coach noted that he was drafted #7 overall to Smackdown earlier in the night. Cena described the WWE Draft to sports fans watching ESPNews that it's like the AL vs. NL in baseball or AFC vs. NFC in football.
Later in the interview, Cena said the Draft was the result of the NXT brand becoming strong to where WWE could split up the roster in half for Raw and Smackdown.
"The success of NXT as a brand to keep fresh faces in the rotation led to this brand extension," Cena declared. "It's the reason why we can have Raw on USA Network, Smackdown on USA Network, and NXT on WWE Network." Cena stressed WWE now offering live action on regular TV and the Network, making NXT sound like it's on the same level as Raw and Smackdown.
Personally, Cena said the NXT brand makes it a "wonderful challenge" for him to keep young and active on the roster. Cena said the youthful roster, the excitement level of the audience, and effect on people and culture keeps him going in WWE.
– The other big item in the interview was Cena discussing WWE roster member Brock Lesnar being flagged for two anti-doping violations before and the day-of his UFC 200 return fight against Mark Hunt. Coach asked for Cena's reaction to the developments.
"There was certainly a lot of hype (going into UFC 200). My thoughts were in Brock Lesnar's corner. Any time something like that comes up, it certainly affects your perception of the event," Cena said.
"There is no way that people are not going to perceive Brock Lesnar differently. When something like this happens, you set yourself a long, hard road ahead of you. And, Brock's got a long hard road ahead."
– Asked about hosting the ESPYs last Wednesday, Cena said it was very nerve-wracking before going on-stage and it was a tough room with a tough crowd.
"But, it was such a lot of fun. I think you have to put everyone's mind at ease," Cena said. Asked what the highlight of the show was for him, Cena said he thinks it was just the whole show.
Coach asked Cena if he met an athlete that he had not before. He said he got to meet Peyton Manning, who he described as a class-act with "great perspective for what he has done" in the NFL. Cena said Peyton was also a good sport about the jokes aimed at him.
– Coach asked Cena about guys who have the "It Factor to get over," like Enzo & Big Cass. Cena said you have to make an impression and you have to be authentic. He said a "flash in the pan makes a quick impression, then doesn't back it up by being authentic." He said loving what you do is also key.
– Asked what's next for him after doing "Trainwreck," the Today Show, WrestleMania, and the ESPYs, Cena joked that he's going to hire Coach as his publicist. Cena said he's always trying to do everything at once, he'll go back to "Today," he'll be on Smackdown Live now, and he has some projects in the works.
Cena and Coach closed with a plug for the Battleground PPV on Sunday, where Cena will be teaming with Enzo & Cass against A.J. Styles & The Club.