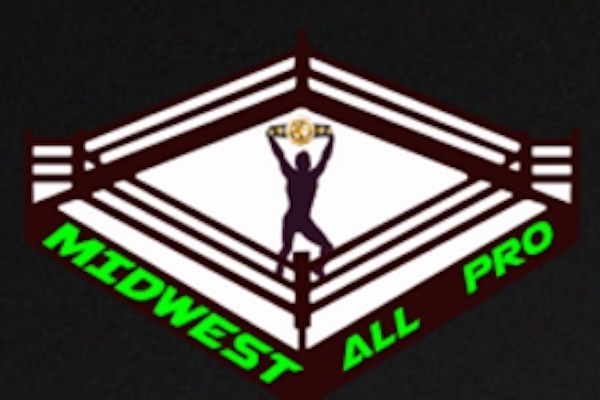 ---
SPOTLIGHTED PODCAST ALERT (YOUR ARTICLE BEGINS A FEW INCHES DOWN)...
---
Midwest All Pro Results
July 20, 2016
Sioux Falls, S.D.
Report by Andrew Soucek, PWTorch correspondent
MAP drew their biggest crowd yet, despite having their show on a Wednesday night.
Nick and "The Reigning Mrs. South Dakota" Stephanie Dinsmore came out to introduce the show. Nick had a white tuxedo on for his tuxedo match later in the night against a local meteorologist. After some plugs, they introduced Damien Sandow. He came out to "Pomp and Circumstance." He got a huge pop. Probably the biggest one MAP has had so far.
He thanked the crowd. He put over Nick for teaching him almost everything he knows about wrestling, and wished us to have a good time!
1 – "The African Prince" Ali vs. Yellow Dog
Yellow Dog is a bit of a smaller dude in a dog mask. He's very over with the crowd. They barked along with him to start the match. Ali cinched in a headlock, and brought Dog to the mat. Dog got out of it, and worked in some dog humping motions for offense. He landed a dropkick, then mimed peeing on his opponent. Ali worked Dog over in the corners. Dog attempted a bodyslam, but was unable to lift his opponent. He got it on the second try. Ali got back on offense. He went up top, played to the crowd, and missed hitting a Vader Bomb. Dog then rolled up his opponent for the victory.
WINNER: Yellow Dog in 6:34.
2 – Shawn Nautilius w/Jaysin Strife vs. "International Recording Artist" Mikey Danger
Strife told the crowd to "shush" and bragged about breaking Mikey Danger's fingers at the last show. The two had a stare down to start the match, then locked up. Danger struck with a series of forearm shots, and hit a Stinger Splash. Nautilius regained his composure and hit an impressive looking chokeslam out of nowhere for the win.
WINNER: Nautilius in 1:57.
3 – Prince Oshea vs. Dagz
Oshea made his MAP debut against the hometown favorite. They locked up, and Oshea stalled a bit. They went to the outside. Dagz took Oshea from ring post to ring post landing knife edge chops. He missed on the fourth one and Oshea took control. He worked over Dagz's hand and forced his hands together making him clap in a mocking gesture. Oshea then played to the crowd. He continued to work over Dagz's hand. He missed a corner splash and Dagz took over on offense. He hit a big boot, but Oshea soon recovered hitting a knee to the face. As Oshea charged, he ran into a Bossman Slam for the three count.
WINNER: Dagz in 9:16.
4 – Josh Price & "The World's Greatest Pop Icon" Donnie Peppercricket (w/Sylvester J. Fox) vs. "The Belgium Brawler" Jason Bates & Kizarny
Sylvester cut a promo before the match riling up the crowd. Brawler and Price started then out, then a quick tag to Kizarny who reversed Price into his partners boot. Kizarny forced Price to dance with him for a bit, then knocked him down with a shoulder tackle. And soon hit a "funnel cake" forcing Price into his backside.
Kizarny and Bates then hit dual funnel cakes on their opponents. Sylvester got in a cheap shot on Kizarny, and Prince and Cricket's double team moves backfired. Price locked in a chinlock on Kizarny, who bit his way out. Sly interfered once again catching Kizarny in the face with a golfclub shot. Bates eventually got the hot tag. He connected with a clubbing blow to the back for the win.
WINNERS: Bates & Kizarny in 11:00.
5. "Gorgeous" Alex Gretzky vs. J.C. Slater
"Fat Dean Ambrose" chants rained upon Gretzky. Poor dude. Slater gave his sunglasses to a kid at ringside. They locked up and Slater knocked Gretzky outside of the ring. Gretzky stalled a bit, then offered up a test of strength, only to kick his opponent in the gut. They exchanged wristlocks. Gretzky was bodysalmmed down and begged off. He used Slater's trunk to ram him into the bottom turnbuckle. He then connected with a nice-looking suplex. Gretzky took over offense for the next few minutes.
Slater reversed a suplex to get back into the game. He hit a corner splash followed by a big boot for a nearfall. Gretzky turned the tide, and went to the top rope but missed an elbow drop. Slater hit his pump handle slam finisher for the win.
WINNER: J.C. Slater in 8:25
6 – BlackJackX & Alan Reid vs. "Loverboy" Nicky Valentine & "Money Made" Julian Richards
Reid's character is like Jeff Bridges from The Big Lebowski. He sauntered to the ring and drank an adult looking beverage while climbing the top rope. The four are students of Nick Dinsmore's. After some back and forth action, Richards was kicked in the back by BlackJackX. Reid went for Rolling Thunder and missed in hilarious fashion. Valentine came in and took over control, connecting with a bulldog and a nice looking twisting neckbreaker. He tagged in Richards who hit a top rope splash for the pin.
WINNERS: Valentine and Richards in 5:23.
7 – "The Infamous" Devin Thomas vs. Shelton Benjamin
Thomas bailed to ringside immediately. Once back in the ring he continued to delay and dove outside again. He repeated the process two more times. Benjamin took the mic and said he came here to fight, and to stop acting like a sissy. Once Thomas finally got it, Benjamin went on offense for a bit before missing a Stinger Splash. Thomas took advantage and put the boots to him. Thomas cinched in a headlock. Benjamin fought out of it, but a rake to the eyes took him back down. Thomas missed a top rope splash, and Benjamin got his wind back.
They exchanged punches until Benjamin got the best of it and successfully hit the Splash multiple times. Devin snuck in a kick to the back of the head and regained offense. Benjamin locked in an ankle lock out of nowhere and suddenly BlackJackX and Gretzky hit the ring to interfere. Damien Sandow ran out to a huge pop and punched away at Gretzky and hit a side Russian leg sweep. Benjamin hit a great superkick and then hit his finisher for the win.
WINNER: Benjamin in 18:10. Great match that the crowd was super into. The ending stretch was perhaps the best seen in MAP so far. A bit unbelievable that Benjamin isn't in a major company right now. He's 41, but hasn't lost a step.
8 – "Eugene" Nick Dinsmore vs. Brandon Spinner – Sharped Dressed Man Tuxedo Match
Fans chanted "We want KELO!" (a rival news station) at the local meteorologist. Nick had a bright white tux on and immediately kicked Spinner in the stomach and removed his coast. Spinner then scored a quick takedown. They went for a test of strength and Dinsmore backed off. He snuck behind Spinner and threw him into the turnbuckle and removed his opponents' dress shirt. Spinner had a Hulkamania shirt on underneath. Dinsmore threw him back into the turnbuckle and climbed the top rope. Then was crotched and his jacket was removed.
Nick recovered and went for the pants, but was monkey flipped. Dinsmore's vest was removed. Spinner hit a bodyslam on Dismore and ripped off his own shirt. Seems a bit counter-intuitive to the match stipulation. They collided into each other and both hit the mat. Devin Thomas came to the ring. He started yelling at Stephanie Dinsmore. Nate Redwing snuck into the ring and powerslammed Dinsmore. The ref didn't see it. Nick was then stripped down to his undies. Fun fact: Eugene's mom was in attendance!
WINNER: Brandon Spinner in 6:55
Dinsmore laid out a tag team challenge for their next show on August 18 to take on Thomas and Redwing. Someone came out in a chicken suit. The chicken said his friend would team up with Eugene. Adam Rose appeared on the screen and said he'd help him. Rose's music played. The chicken danced.
Overall, a great night. The crowd was the biggest yet, and really into the three-hour show. The production values continue to improve, and blow away the vast majority of indy shows I've attended. Definitely check out Midwest All Pro if you get the chance.