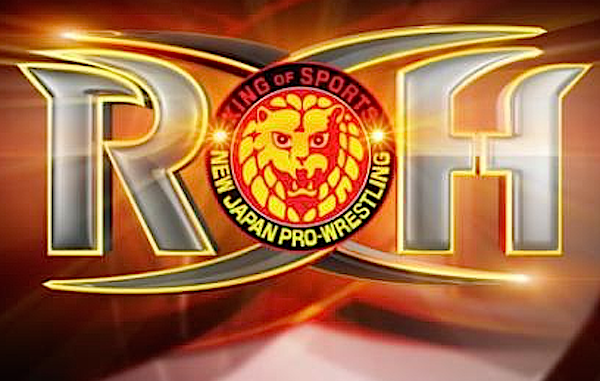 ---
SPOTLIGHTED PODCAST ALERT (YOUR ARTICLE BEGINS A FEW INCHES DOWN)...
---
ROH TV Report
Aired July 24, 2016 in syndication
Aired July 27, 2016 on Comet TV
Taped June 18, 2016 in Concord, N.C.
Report by Mike Metzger (@md0uble), PWTorch contributor
The ROH TV opening aired.
Ringside: Kevin Kelly announced that the entire hour will be dedicated to the ROH World Title match between Jay Lethal and Kyle O'Reilly because the match could very well go a full hour!
[MM Reax: The only thing missing here was Kelly announcing there was a stand-by match or two just in case.]
Kyle O'Reilly made his entrance. It seemed as if Lethal would make his entrance next, but instead the words, "Story Time with Adam Cole, bay bay" rang out through the arena. Cole made his entrance and declared that O'Reilly getting a title shot tonight made him sick. Cole truly believed that he was next in line for the ROH World Title, not O'Reilly. Cole then told O'Reilly that he wouldn't be wrestling tonight at all.
All of a sudden, the camera shot back to the ring and The Young Bucks instantaneously nailed O'Reilly with a double-superkick! The crowd went nuts, as Cole arrogantly walked to the ring. Deafening "Young Bucks" chants as The Bucks stomped on O'Reilly in the ring. Cole entered and nailed O'Reilly's arm with a steel chair several times. The Bucks wrapped a chair around Kyle's arm and then Cole repeatedly nailed that chair with another one. ROH founder Cary Silkin got out of his seat at ringside, as Bobby Fish ran down to make the save. Bullet Club quickly high-tailed it into the crowd.
[MM Reax: Hot opening angle. A new chapter opened in the O'Reilly-Cole saga, as Bullet Club went back to their schtick of ruining main event title matches. Perhaps it was too little, too late, since The Bucks were still over huge with the crowd. Regardless, kudos to ROH for trying a different approach to their TV product.]
[Commercial Break]
Ringside: Kevin Kelly stood alone and recapped what had just happened, as a replay aired. Kelly announced that the world title match was "up in the air." He proceeded to say that O'Reilly still wanted to have the match, but was currently being evaluated by the doctor. Meanwhile, ROH matchmaker Nigel McGuinness was in the process of putting together some stand-by matches.
Kyle O'Reilly was shown being tended to in the locker room. Bobby Fish was trying to talk O'Reilly out of fighting later, but O'Reilly wouldn't have it, as a doctor applied tape to his injured shoulder.
Kevin Kelly was then shown with Nigel McGuinness at ringside. Nigel said that the match was off and that he was sick and tired of Bullet Club's antics and promised repercussions.
1 – WAR MACHINE (HANSON & RAYMOND ROWE) vs. TOUGH GUY INC ("BRUTAL" BOB EVANS & "TOUGH" TIM HUGHES)
While War Machine made their entrance, clips aired of Shane Taylor and Keith Lee preventing War Machine from regaining the ROH World Tag Team Titles at a house show in Columbus, Ohio. Back from the clips, Rowe immediately delivered a superman punch to Evans on the outside. Hughes was trapped between Hanson and Rowe. He tried to run out of the arena. War Machine threw him in the ring.
Rowe nailed Hughes with Shotgun Knees and then Hanson nailed Evans off the apron with a Spin Kick of Doom. War Machine hit a double-team on Hughes, immediately followed by Fallout for the win!
WINNERS: War Machine via pinfall in 0:40.
After the match, Taylor and Lee ran down to attack War Machine. Rowe fought back with a uranage on Lee and then Shotgun Knees to Taylor, which sent him to the floor. Rowe went for a dive, but Taylor and Lee cut him off. They started stomping on Rowe on the outside, but Hanson was right there with a huge flip dive onto the sea of humanity at ringside!
ANALYSIS: Nice squash for War Machine that also served as a continuation of their feud with Taylor and Lee. (n/a)
Backstage: The Briscoes hyped their match against The Young Bucks next week on ROH TV. Mark proclaimed it was the first time that the IWGP Hvt. and Jr. Hvt. Tag Team champions would face each other in ROH. Jay took over and mocked The Bucks's antics and then said something unintelligible about them pointing at their "little shrinky dinks."
[Commercial Break]
2 – CHEESEBURGER vs. WILL FERRARA
Both men tied up in the center before wrestling on the mat a little. Suddenly, "Hail to the Chief" began playing and out came Rhett Titus, Kenny King, and Caprice Coleman, accompanied by several supporters holding signs. Coleman introduced The Cabinet. He said that "Secretary of Shoulders" Titus deemed Cheeseburger and Ferrara unworthy of being professional wrestlers, therefore they were canceling the match.
King grabbed the mic and talked about taking action. King told Ferrara and Burger that they did not look like wrestlers because they didn't look like The Cabinet. King suggested Ferrara and Burger buy a ticket to the show, since they weren't real wrestlers. Ferrara grabbed the mic and said that he and Cheeseburger didn't have an elephant or an ox, but then they both did the Moose arm gesture. The current TNA wrestler then made his full entrance.
WINNER: No match.
Backstage: The Young Bucks and Adam Cole responded to The Briscoe's earlier comments. Matt Jackson said that The Bucks were the ichiban and then Nick promised a superkick party in what was a pretty generic promo.
[Commercial Break]
2b – THE CABINET (RHETT TITUS & KENNY KING & CAPRICE COLEMAN) vs. MOOSE (w/Stokely Hathaway) & CHEESEBURGER & WILL FERRARA
All six men shook hands and then the bell rang. Nigel McGuinness received word that there was some kind of commotion backstage regarding Kyle O'Reilly, so he ran to the back. Meanwhile in the ring, Moose hit a flying cross body on all three of his opponents! Ferrara and Burger took turns nailing their opponents and then all three babyfaces posed in the center. Ferrara and Burger double-teamed King, while Kevin Kelly announced that Kyle O'Reilly refused to call off his match against Lethal tonight. Coleman regained control in the ring. He taunted Moose and Burger in the corner and then went back on the attack. Ferrara tried to fight back, but Coleman cut him off with some knees to the head.
Titus tagged in and hit a splash, but Ferrara kicked out of the pin attempt. Titus applied a chin lock on the mat but Ferrara quickly fought out and tagged Moose! The big man came in and cleaned house with some big clotheslines and shoulder tackles to his opponents in separate corners. Moose proceeded to dropkick King off the top turnbuckle to the floor and then hit a chokebomb on Titus.
Moose catapulted Burger onto Titus, but Coleman yanked Moose to the outside, which opened him up to a corkscrew plancha from King. Meanwhile in the ring, Ferrara hit a Tornado DDT on Titus. Coleman was there to break it up, but Cheeseburger was right behind him with several palm strikes. Coleman cut off Burger with a no-hands hurricanrana, followed by a brainbuster from Titus for the victory.
WINNERS: The Cabinet via pinfall in 5:43.
ANALYSIS: This was probably one of the worst matches I have seen on national television in a long time. The set-up was clunky and the match itself was full of miscues and poor timing. It was an unceremonious send-off for Moose, which is actually pretty fitting considering how ROH mis-used him during most of his two-year run with the company. The Cabinet is crashing and burning so far. Perhaps the whole gimmick should just be abandoned before ROH viewers look at them as the second-coming of The Decade. (1/2*)
After the match, Kevin Kelly announced that Kyle O'Reilly would face Jay Lethal tonight in spite of doctor's orders!
[Commercial Break]
Kyle O'Reilly walked out to the ring. On commentary, ROH matchmaker Nigel McGuinness said that he offered O'Reilly another title shot at a later date, but O'Reilly refused. Jay Lethal made his entrance without Taeler Hendrix by his side. Before the bell, Lethal grabbed the mic and admitted that he had a lot of respect for O'Reilly. Lethal said that O'Reilly hd already proven how much he wanted the ROH World Title by coming out despite being attacked earlier. Lethal offered to postpone the match to a later date, but O'Reilly grabbed the mic and vowed to not stop fighting for the ROH World Title as long as there was a breath in his body!
3 – ROH World champion JAY LETHAL vs. KYLE O'REILLY – ROH World Title match
The Code of Honor was adhered to and then the bell rang. O'Reilly lured Lethal in for a kick, as McGuinness explained that Bullet Club had been ejected from the building. Both men wrestled on the mat for a bit before an eventual stalemate at the 1:45 mark. They tied up again and O'Reilly immediately went for a Triangle Choke. Lethal was able to quickly break free, however. Lethal tried to fight out, but Kyle held him at bay with more kicks to the body. Lethal attempted to fight back with a springboard dropkick, but missed. O'Reilly wrapped him up on the apron, but Lethal was able to break free and nail the dropkick that time, as the show cut to a break at the 3:39 point in the match.
[Commercial Break]
Back at 4:39, Lethal was in firm control of the match. O'Reilly applied a guillotine choke out of nowhere, but Lethal quickly dropped Kyle right on his shoulder. Lethal began to work the injured arm, but O'Reilly fought back with several strikes and a legsweep. O'Reilly exploded into a flurry of kicks, as he continued to sell the injured shoulder. O'Reilly went for Ax & Smash, but Jay countered into a Lethal Combination! He went for the cover, but O'Reilly kicked out at two. Lethal immediately rolled O'Reilly into a crossfire, however. O'Reilly struggled for about 30 seconds until he was able to grab onto the bottom rope.
O'Reilly rolled to the outside, but Lethal was right behind him with a big dive. Lethal then hit another. He took some time before calling for a third. But before he could, referee Todd Sinclair went to the outside to check on O'Reilly. Lethal followed and then tossed O'Reilly back into the ring. He charged, but O'Reilly low-bridged him to the outside and then hit a dive of his own! O'Reilly climbed up top and nailed a missile dropkick! O'Reilly was in serious pain on the mat, as Kevin Kelly demanded the ref stop the match. Lethal climbed up top and went for the Hail to the King elbow smash, but O'Reilly caught him in a cross arm-breaker! Lethal furiously struggled to free himself, but O'Reilly was able to roll him over into a Triangle Choke! Lethal stomped on Kyle's arm in desperation, as the show cut to its final break at 10:51.
[Commercial Break]
Back at 11:51, Lethal nailed a vicious German suplex. O'Reilly came back with a rebound lariat and then a brainbuster! Unfortunately, Kyle was too hurt to follow up. He eventually went for the cover, but Lethal was able to reverse into a crossface! O'Reilly struggled until he was eventually able to pick up Lethal for a modified Regalplex! Kyle went to follow up, but Lethal picked up him and delivered a series of shoulderbreakers. He called for the Lethal Injection, but O'Reilly collapsed to the mat in pain. Lethal asked the ref to stop the match, but O'Reilly stood up and refused to let him do so! Reset at 14:30 as both men furiously traded blows in the center! Lethal hit a bicycle kick to O'Reilly's injured shoulder and then a Lethal Injection for the win!
WINNER: Jay Lethal via pinfall in 15:02 to retain the ROH World Title.
ANALYSIS: Outstanding match between two of ROH's best. O'Reilly showed tremendous fighting spirit throughout. Lethal played his tweener role perfectly, as he showed some, but never too much concern for Kyle throughout the match. Definitely worth going out of your way to see. (***3/4)
After the match, Adam Cole and The Young Bucks stormed the ring with steel chairs. The Bucks stomped O'Reilly and then Cole hit an over-the-knee neckbreaker. Security tried to run down, but were held at bay with chairs. The Bucks then hit an IndyTaker on O'Reilly onto a steel chair! Lethal and Bobby Fish ran down and chased Bullet Club from the ring.
An incensed Nigel McGuinness stood up. He said that Cole might have promised that O'Reilly would never be ROH World Champion, but declared that Cole would never receive another shot at the title for as long as he was ROH matchmaker! Cole and The Bucks were furious, as the show faded to black.
FINAL REAX: Bookended by the captivating storytelling of Kyle O'Reilly's chase for the title, this was perhaps the strongest episode of ROH TV so far this year. It wasn't perfect by any means, but it was a different approach and that is what ROH needs to do if it wants to generate the kind of buzz that the promotion is so sorely lacking right now.
ROH finally got around to getting more heat on Bullet Club after Global Wars, but it might be too little, too late. This was especially evident when deafening "Young Bucks" chants during The Bucks's dastardly attack on O'Reilly at the beginning of the show. And despite my praise for this episode, I do think that ROH missed an opportunity by keeping the title on Lethal, as O'Reilly winning the title would have been a much-needed breath of fresh air. The intra-episode storyline very much reminded me of the night Mick Foley first won the WWF World Title on an episode of Raw back in 1998, but without the title switch. Recommended viewing.