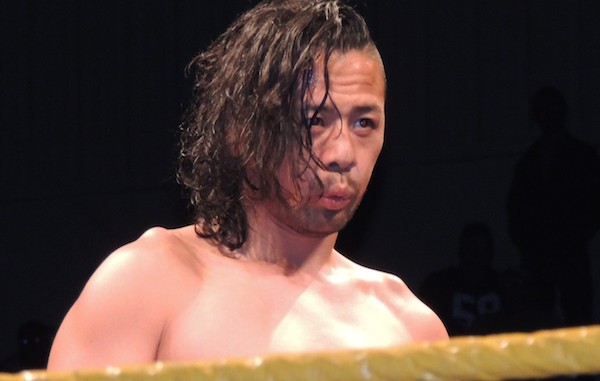 ---
SPOTLIGHTED PODCAST ALERT (YOUR ARTICLE BEGINS A FEW INCHES DOWN)...
---
WWE NXT TV Results
July 27, 2016
Taped at Full Sail University
Report by Justin James, PWTorch contributor
[Q1] No pre-credit video. But they opened super hot with Shinsuke Nakamura heading to the ring for a match. This entrance will never get old. Wesley Blake gets news music and a new outfit to be his opponent. He has a first name again, and gets an "earlier today" backstage breaking up with Buddy Murphy (again). They vow to prove themselves to each other.
1. SHINSUKE NAKAMURA vs. WESLEY BLAKE
Nakamura gets Blake to the ropes on the lock-up, does the head thing, and Blake shoves him off, so Nakamura invites him into the middle of the ring. Side headlock from Blake. Blake blows Nakamura a kiss, Nakamura pretends to catch it, Blake throws him another, Nakamura catches, and then steps on them both.
Vibration kick to Blake, then again. Blake actually kicks Nakamura then a clothesline gets one. Blake with more offense. Rear chinlock from Blake. Nakamur catches Blakes foot to rally. Stiff kicks knock Blake down then knees in the corner. Knee to the middle on the ropes, reverse exploder suplex. Kinshase for the win.
WINNER: Shinsuke Nakamura in 4:28. Blake got too much offense and too much time against Nakamura in this match. This should have been a two-minute match for Nakamura, then uncrowned #1 contender.
Post-match, William Regal's music announces the NXT GM. He congratulates Nakamura and says he wishes Samoa Joe was here for this. The main event on Saturday August 20, the next Takeover, will be Nakamura vs. Joe for the NXT Championship. It will be in Brooklyn again, starting a new tradition for NXT.
Billie Kay is out for a match; we haven't seen her in months. Maybe since a battle royal a few months ago? New music and a new, dark blue velvet outfit. She is facing Santana Garrett, who has been used as enhancement talent lately, which I think is a mistake, as she should be on the roster. I think she has new music, too.
2. BILLIE KAY vs. SANTANA GARRETT
[Q2] Kay takes Garrett down out of the lock-up. They jockey for control. Garrett eludes Kay then hits a dropick. Rolling elbow sends Garrett to the mat. This is being billed as a "change in attitude" for Kay, but was she ever truly a face? Philips makes it sound like she got her head blown up by her match on Smackdown recently. Garrett makes a comeback. Forearms and a headbutt. Garrett misses a kick, Kay comes back, and a big boot wins it.
WINNER: Billie Kay in 3:08. Kay looked fine, but I like Garrett better.
Stills from Battleground show off Bayley at the PPV. Backstage, Bayley thanks Regal for his support over the years. She says she wants her re-match against Asuka to happen in Brooklyn where she won the title for the first time. He says that sounds good and he will ask Asuka about it, and arrange a contract signing.
Kota Ibushi against Buddy Murphy is the main event, and TM61 is in action next.
Quick "dark wolf with the moon" vignette for someone with no name or date listed.
3 – TM61 (SHANE THORN & NICK MILLER) vs. ROB RYZEN & ADRIAN NAILS
Thorn and Nails start it. Thorn dazzles with agility and tags in Miller. It sounds like they are building TM61 as the next contenders to The Revival. Nails continues to take double team offense. Ryzen finally takes over and delivers some plodding offense to Thorn.
Thorn breaks free and tags Miller. Miller puts offense to Nails, and keeps Ryzen out of the ring after a spinebuster to Nails. Thunder Valley seals it. Post-match, there is a show of respect with handshakes all around. Nice, I like it.
WINNERS: TM61 in 3:04. Good match to show off how well TM61 works as a team. I really like their wide variety of team moves.
Video package on Austin Aries's heel turn, then No Way Jose retaliating. Jose is going to have to send Aries a big bouquet of flowers after this program for being willing to put him over so hard.
Hideo Itami package. He returns next week.
No Way Jose's music gets the crowd moving. I hope that Jose vs. Aries happens in Brooklyn. He is facing Steve Cutler, who finally gets an entrance, and new sideburns.
[Q3] 4 – NO WAY JOSE vs. STEVE CUTLER
Cutler with an immediate waistlock, but Jose bump and grinds his way out. Side headlock from Jose. Waiting for Aries to break up the match or do the post-match attack. Cutler infuriates Jose who unloads on him. I really like seeing this "flip the switch" thing on Jose. Jose calls for the baseball pitch and hits it. Half nelson slam for the win.
WINNER: No Way Jose in 1:52. Another fine squash for Jose. Giving Jose this "fired up mode" it good to make him seem like a real threat.
Post-match, Jose has a mic. He calls out Austin Aries, and the crowd busts into "Ar-ies sucks!" Jose says he was just trying to share positivity. Aries took advantage. "The greatest man who ever lived turned into the biggest coward in NXT." Super fired-up promo here. "There ain't gonna be no way, because next time I'm gonna kick your ass!"
[ J.J.'s Reax: Who knew that Jose had THAT promo in him? Jose just cemented his career nicely in my mind. ]
5 – KOTA IBUSHI vs. BUDDY MURPHY
As an aside, Ibushi has been signed to WWE. Ibushi in the heel corner for some reason. Shoulder block sends the smaller Ibushi to the ring, then again. Murphy avoids a kick, then eats a dropkick. Another kick plants Murphy. Standing moonault gets Ibushi two. Ibushi gets tripped on the apron. Murphy covers two for. Tight side chinlock from Murphy. Graves blames Murphy's attitude on a parking ticket. Graves puts Ibushi over hard and Philips references his work in Japan against Nakamura and A.J. Styles.
Murphy uses a headlock to wear Ibushi down. Ibushi breaks free, eats knees, then takes a running knee for a nearfall. Ibushi is giving up a lot of pounds to Murphy, who may be the largest man on the NXT roster outside of The Auhtors of Pain. Ibushi with kicks, then runs into a kick. Ibushi with a giant roundhouse kick, then a German suplex for a nearfall. Gorgeous.
Ibushi to the top for a moonsault, but Murphy dodges, and Ibushi lands on his feet. Murphy jams Ibushi's face into the turnbuckle, cover for two. Murphy plants Ibushi up top. Superplex attempt but Ibushi fights up, tries a sunset flip powerbomb, Murphy grabs ropes, but Ibushi pulls him off the ropes while maintaining the powerbomb hold, and delivers a sit-out powerbomb mid-ring for the win.
WINNER: Kota Ibushi in 5:19. I have to admit that my schedule hasn't let me watch the Cruiserweight Classic, but Ibushi was amazing here, and Murphy was a great opponent.
[Q4] Backstage, a new announcer catches up with Samoa Joe. Joe is angry and has nothing coherent to say. I can't keep up with the backstage announcers anymore. Can we just get Dasha Fuentes back?
Bobby Roode is billed for next week. Roode and Itami? That's a packed episode.
Samoa Joe Promo
Samoa Joe heads to the ring for a promo. Joe is angry that Regal picked Nakamura as the #1 contender. Joe says that the match isn't happening because Regal did not consult with him first. He calls Nakamura an underserving champion because he didn't jump through the same ropes Joe had to.
Regal comes out looking fierce. "You may be the champion but I am the general manager!" Joe brings up the hoops he jumped through again. Nakamura hasn't done it, so Joe is giving Regal the chance to fix the disrespect he has been done. Joe suggests they go to Regal's office and sort out how to get a #1 contender that Joe approves of. Regal threatens to strip Joe of the title and give a title shot to someone else against Nakamura. Joe thinks about it. Joe refuses to hand over the title.
Joe says that if Regal wants it like this, he can have it. Regal will get the match, but he will destroy Nakamura like he destroyed Finn Balor. Unless of course he keeps Nakamura from even making it to Brooklyn. Regal starts to leave, then Nakamura's music hits. Joe is breathing heavy in anticipation. Nakamura makes eyes at Joe from the ramp while doing his routine.
Final Reax: "Takeover: Brooklyn 2" is already looking like a packed show. So far it's Joe-Nakamura for the NXT Championship. It looks like we can pencil in Bayley-Asuka for the Women's Championship. Aries – Jose is a likely undercard match. The Revival has to face someone (likely Gargano & Ciampa for the moment), leaving maybe room for one more match. Perhaps Itami-Roode? They are both returning next week, and a match at Takeover would be the perfect way to set them both up for a great run. NXT is simply drowning in outstanding talent at the moment. They could definitely move to a 90-minute or two-hour show without overexposing anyone I think.