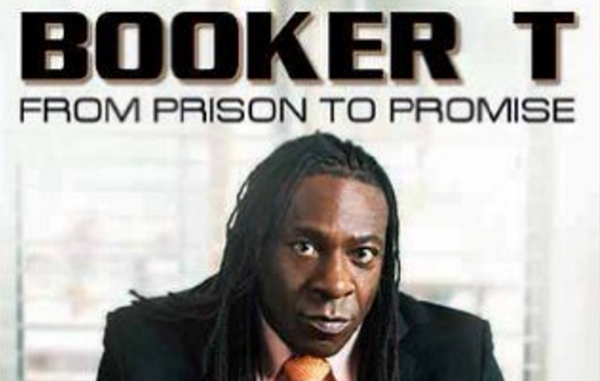 ---
SPOTLIGHTED PODCAST ALERT (YOUR ARTICLE BEGINS A FEW INCHES DOWN)...
---
Colin Kaepernick's kneeling during the National Anthem before San Francisco 49ers games brought the issue of race to the forefront of what is normally "escapist entertainment." It hasn't been an issue in WWE, although Booker T did express qualified support for Kaepernick's actions, saying he brought attention to an important topic. He said his choice is to stand for the National Anthem, though.
"I stand for the National Anthem," Booker told Sports Illustrated in a new article published today. "I'm not Colin Kaepernick. That's enough as far as the kneeling should go, because racial injustice needs to be dealt with, and Colin Kaepernick started the conversation."
Booker says freedom of speech, as guaranteed in the First Amendment, includes protesting. "Everybody has the right of freedom of speech in the First Amendment, and we need to respect that," Booker said. "Protesters need to speak up at the loudest time where it's going to get the most ears and attention. Kaepernick is protesting from a peaceful standpoint, and I've got to commend him for that, and he's putting his money where his mouth is [by promising to donate $1 million to organizations that address social issues and racial inequality]. If we had more guys – the guys who call themselves stars – who were willing to do more than talk, but instead walk the walk like Kaepernick, then the world would be a better place."
He said peaceful protesting brings attention to important issues and is the right approach to take, compared to some alternatives. "Starting a discussion is a lot better than burning down buildings, trashing police cars, or tearing up your own neighborhood," Booker said. "Sitting down at a table, talking about it, and trying to find a solution is the proper way to go about it. We need all sides—blacks, whites, Hispanics, everyone—if we want to eradicate that problem… "If we truly want to make America great, we need to fix this racial inequality. We'll have a never-ending war if we continue to go down this road. One thing that black people need to understand is the same thing that white people need to understand – neither one of us, black or white, are going anywhere. We have to live with each other, and we need to fix this."
Booker noted that Randy Orton was on his podcast recently and spoke about this issue. "Just for a minute, Randy Orton took a step back and said, 'Maybe I don't know what people are going through because I'm not walking in their shoes,'" Huffman recalled. "You can speculate, but until you have walked in those shoes, you just don't know. People should step back and look at this, even for a minute, from someone else's perspective—and listen. Then come up with a conclusion after you've actually sat and talked about it, instead of making your decision before you even sit down."
Booker says life experience is different for different people, and this conversation is shining a light on that. "Most people who are not of color, their parents didn't need to tell them how to act around police or what to do if they ever got pulled over," explained Huffman. "Never, not once. We are taught that in the black neighborhoods. I've been profiled and pulled over, so it's not like I don't know. I've experienced it, and that's why I'm speaking up. We listened to Donald Trump speak at the debate about 'Stop and Frisk.' I don't think it's a good way to go through life. I don't think that's going to solve any of our problems. It's actually going to make racial tension a whole lot worse, and it's going to make us feel like we're singled out."
He also commented on the history of Hillary Clinton and Donald Trump when it comes to race issues. Read the full article by Justin Barrasso here: WWE Hall of Famer Booker T on racial inequality, Colin Kaepernick and the election
Booker T also wrote a book "From Prison to Promise," available at Amazon here.
You can listen to Wade Keller & Bruce Mitchell interview Booker T regarding that book in a 2012 PWTorch Livecast: CLICK TO LISTEN