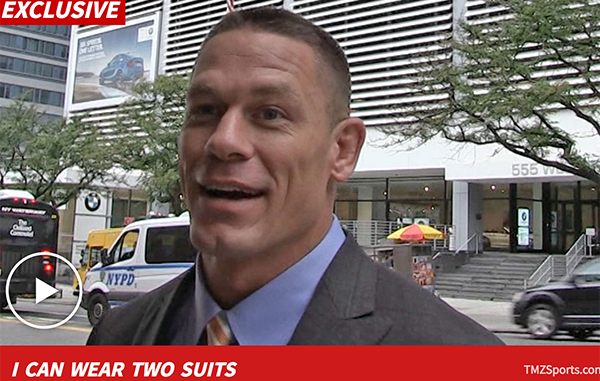 ---
SPOTLIGHTED PODCAST ALERT (YOUR ARTICLE BEGINS A FEW INCHES DOWN)...
---
Increasingly so over the last couple of years, the next chapter in John Cena's career seems to have become apparent. He appears headed toward a Michael Strahan-type of role as a friendly, affable, male and female-friendly talk show host. He has been warmly received as a special guest cohost on NBC's Today Show. He has a comfort level in front of the camera unmatched by nearly anyone. TMZ proposed this very topic to Cena today – specifically asking if he'd take the "Live with Kelly" co-host gig, recently vacated by Strahan himself.
"I've made a pretty fortunate path for myself just by taking advantage of every opportunity," he said. "If they gave me a chance, I'll do the best I can. I would love doing it. I love working with the Today Show crew anytime they invite me on. They make me feel at home. I love that atmosphere. I love to do that stuff. I don't mind wearing a suit. … If they call, I'll answer the phone, but I'm not going to sit by the phone."
Sensitive to how his flirtation with a talk show career could be perceived by WWE fans and colleagues, he snuck in a plug for Smackdown and an assurance he's not looking to exit WWE anytime soon.
"It's really cool to sit down with a suit and tie in the morning and then fly to Smackdown Live and be a WWE Superstar," he said.
Keller's Analysis: For those who have pushed for Cena to turn heel for years, this is another reason – besides merchandise revenue perhaps taking a big hit – that he never did it. Cena turns 40 next April, and has missed extended time due to injury. As much of a gym rat as he is, rehab is no fun, and injuries are likely to come more frequently as he ages.
Working part time for WWE while working as an ambassador for the brand in his other ventures can insulate him from criticism that he is a hypocrite for being critical of The Rock going into movies. He can argue Rock initially distanced himself from WWE as much as possible as he got his movie career going, whereas he is embracing his WWE affiliation at every opportunity.
Cena, in a way, is benefiting from The Rock making it big in movies, and then returning to WWE years later for several big matches and TV appearances. He brought the rub from being a huge box office star to WWE, and I'd argue that has helped Cena's WWE affiliation be more embraced in the mainstream pop culture. Also, Rock was distancing himself from a very different version of WWE, which was known for Attitude Era edgy and tawdry content, and it was a time when pro wrestlers were dying before middle age on a regular basis.
Cena can be admired for continuing to support WWE as he branches out, but comparing that Rock distancing himself from WWE is unfair for Rock.
WATCH THE FULL VIDEO INTERVIEW WITH CENA BELOW…
http://www.tmz.com/videos/0_9njrvt5s