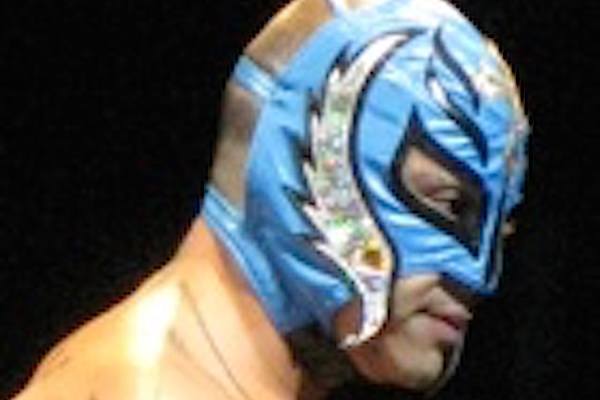 ---
SPOTLIGHTED PODCAST ALERT (YOUR ARTICLE BEGINS A FEW INCHES DOWN)...
---
Ten years ago today, PWTorch.com published the following report on a double-TV taping for Raw and Smackdown held in Los Angeles, Calif.
---
WWE Raw and Smackdown supershow
October 16, 2006
Los Angeles, Calif. at Staples Center
Report by David Howgan, PWTorch.com correspondent
The Staples Center was almost completely sold out. Only very few seats at the very top of the upper deck were tarped off. Security was really checking people's attire and signs. Anyone with an old WWF logo t-shirt was asked to trade it for either a Raw or Smackdown Superstars t-shirt.
DARK MATCH
(1) Chris Benoit defeated Sylvan via tap out in a non-title match. It was a pretty good match overall but I was kind of shocked to see Benoit used this way.
RAW TAPING
Edge & Randy Orton came out to start the show. They were dressed as DX. Edge was Triple H and Orton was HBK. They mocked the DX let's get ready to suck it routine and then ran down the fans. DX came down to the ring only for Orton & Edge to bail. Randy Orton took the microphone at the top of the stage and challenged Triple H to a match in the main event of the show. Triple H accepted his challenge.
(1) Cryme Tyme defeated The Spirit Squad. Cryme Tyme got the win after using a double neckbreaker of sorts on Spirit Squad member Johnny.
After the match The Spirit Squad argued and shoved each other around.
The Coach was backstage talking to King Booker. The audio was very hard to hear. Cryme Tyme walked in and started trash talking King Booker who walked out of the room.
(2) WWE Intercontinental Champion Jeff Hardy won a Fatal 4 Way over Chris Masters, Super Crazy, & Shelton Banjamin. Hardy pinned Masters following the Swanton bomb. I am not sure if this was for the title or not.
Vince McMahon was walking in the back looking for John Cena. He ran into both King Booker and Big Show. He said something to them but I could not hear the audio.
Melina & Johnny Nitro came to the ring. They said a huge celebrity was there to see them. Out comes Kevin Federline to a ton of boos. Federline plugs his CD and tries to rap but he is cut off by John Cena. Cena cuts a rap on Federline and disses him to no end. The crowd loved every second of it. Nitro tries to attack Cena but it does not work. Cena knocks Nitro out of the ring and Melina runs away. Big Show and King Booker come to the ring and another verbal war breaks out. Vince McMahon interrupts and announces that the fans will be able to vote on which title will be up for grabs at Cyber Sunday when Cena, Booker, and Show square off in the Triple Threat match. Booker and Show seem very angry by this. Cena asks Federline which title he wants to see on the line and before he can answer Cena gives him an F-U.
Rob Conway came out and cut a promo. He said he was tired of never being used on Raw and challenged anyone to a match.
(3) Carlito defeated Rob Conway. Carlito won with the Back Cracker in what was basically a squash match. Carlito was very over with the crowd.
Backstage Edge with Lita asked Vince McMahon for another shot at the WWE Title. Vince said that wouldn't work because at Cyber Sunday Edge and Randy Orton will be taking on DX. Edge looked angry and walked off. You could clearly see Vince looking at Lita's breasts during this.
Some members of the Jackass cast came out. I'm not sure which ones they were because I don't watch that show. One of them grabbed a microphone and challenged anyone to come out and wrestle them. Umaga came out and destroyed them all. The crowd was pretty much dead for this.
(4) Maria won a Fatal 4 Way Bra and Panties match over Torrie Wilson and Candice Michelle and Victoria to advance in the Women's Title Tournament. I have no idea why Torrie, Candice, and Victoria, were involved in this since they all lost their respective tournament matches. This match was rather short but not good at all.
They showed the brackets for the semi-finals of the tournament on the big screen. It will be Maria vs. Lita and Mickey James vs. Melina.
There was a drunk fan who was ejected at this point after he tried to toss a beer in the ring but it felt short and landed in like the 5th row.
(5) Triple H defeated Randy Orton. HBK and Edge were at ringside but brawled to the back about half way into the match. Randy Orton took a nasty spill to the floor and looked to have injured his leg on the fall. He was limping pretty badly and not taking any serious bumps. They really looked as if they were stalling for time. The ref got bumped at one point and Triple H. used a chair on Orton to get the pin. The match wasn't very good but if Orton was really injured and I think that he was I totally understand.
After the match was over the trainers came out and helped Orton to the back. He could hardly stand and had a shear look of brutal pain across his face. The crowd gave him a standing ovation once he was up by the entrance ramp.
At this point they took about 20 minutes to switch everything over for Smackdown. I would say a good 200-300 people left before the Smackdown tapings even started. They moved some fans from the upper balconies down to fill in those empty spots.
SMACKDOWN TAPING
MVP came to the ring and cut a promo. He said Kane wasn't in his league and he only ran away last week because he had something in his eye. The fans chanted Power Ranger at him while he spoke.
(1) Kane defeated MVP on a DQ following a shot to the groin. The match was rather short.
After the match MVP ran away.
King Booker was shown backstage getting ready for his match with Batista.
(2) Elijah Burke defeated Vito with help from Sylvester Terkay. A much better match then I would have expected.
After the match Burke and Terkay continued to beat Vito down. Tatanka's music hit and his video was shown for about 10 seconds but he never came out. I'm not sure if it was a mess up or what.
William Regal was shown backstage. He said he was tired of being Smackdown's whipping boy.
(3) The Blue Bloods of William Regal & David Taylor defeated Scotty 2 Hotty & Funaki. Most of the crowd had no idea who Taylor even was. The match itself was pretty decent overall.
(4) Chavo Guerrero defeated Rey Mysterio in an I Quit Loser Leaves Smackdown match. This was by far the best match of the tapings. Chavo hung Rey upside down from the big screen and continually beat his leg with a chair until he finally said I quit. Rey was stretchered out by some medics and the trainers.
Gregory Helms was backstage arguing with Matt Hardy. Teddy Long walked in and told Gregory he has a match up next.
(5) The Undertaker defeated Gregory Helms. The Undertaker picked up the easy win with the Tombstone.
Next there was a Diva Danceoff hosted by The Miz. Kristal Marshal, Layla, Jillian Hall, and Michelle McCool were all involved. The judges were Aaron & Nick Carter who came out to mostly boos. This was really bad. The crowd totally hated it. Aaron & Nick declared Kristal the winner.
(6) Batista defeated World Champion King Booker on a DQ when The Big Show got involved in the match. These two put on a better showing then they did back at Summerslam but it still wasn't that great.
After the match Big Show and Booker beat down Batista. John Cena ran in for the save as he and Batista brawled with Booker and Show. Teddy Long came out and announced that next week right here on Smackdown it will be John Cena & Batista vs. King Booker & The Big Show. This got a pretty big pop from the crowd.
Overall it was an ok set of tapings. I think Raw was more entertaining but Smackdown had the better in ring wrestling. In the end though I feel like I got my moneys worth.
---
If you attend a live pro wrestling event, send results to us at pwtorch@gmail.com.