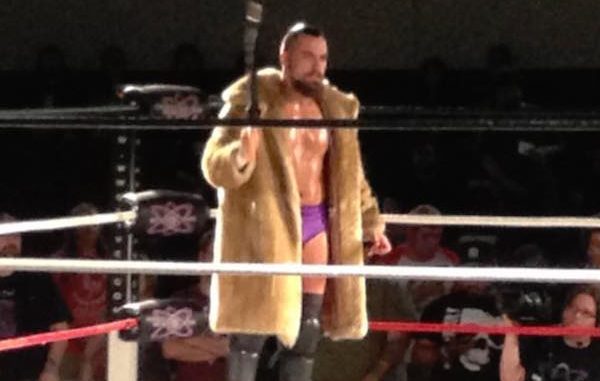 ---
SPOTLIGHTED PODCAST ALERT (YOUR ARTICLE BEGINS A FEW INCHES DOWN)...
---
WESTSIDE XTREME WRESTLING "BROKEN RULES XVI"
OCTOBER 22, 2016
FRANKFURT, GERMANY
REPORT BY TILL TESCHE, PWTORCH CORRESPONDENT
The crowd was a sellout with 500+ people and the arena looked amazing with a huge video screen, good lighting, and an overall professional feel to location and setup. Many U.S. indy promotions like Evolve and PWG could learn a great deal from WXW when it comes to presentation and production.
(A) Bobby Gunns submitted Tengkwa with an armbar in about
7:00. This was on the pre-show. Yes, they're holding a WWE-style pre-show where they run down the feuds so even people not following WXW know what's at stake in the different matches. Fi
ne for what it was (*1/2)
MAIN SHOW
(1) Paul London beat Emil Sitoci in about 10:00. London has quite a lot of grey in his hair and beard, but still looks really good in the ring. Dutch Emil Sitoci looks like a young WWE-version of London, is very talented, and would be a great addition to the next CWC tournament. Really good, crisp opener with Sitoci getting the majority of the offense by working over the back of London after whipping him into the ring post sideways under the bottom rope, which looked really painful. London was lucky to escape uninjured when being turned inside out by a clothesline and landing on his head and neck awkwardly. After Sitoci got his knees up on the first Shooting Star-Press from the second rope, London connected with a top rope SSP to take the win. Too short to get more than three stars, but really good action otherwise. After the match London announced himself for 16 Carat Gold – WXW's big annual 3-day tournament.
(2) Da Mack beat WALTER via countout in about 9:00. Mack got eliminated by TJP in the first round of the CWC and is actually way better than what he showed in his only WWE match. WALTER is a big-man-wrestler with a Samoa Joe-ish body type (although way taller) and in-ring style. I was surprised to see the match go on so early as both men are among the top stars of WXW, but after it ended with a count out win for Da Mack (both were brawling outside and Mack slipped in shortly before the 10-count) it was a logical place on the card. Until the finish they had a great David vs. Goliath match with Walter throwing Mack around and Mack getting in high flying hope spots. Due to it only being about 9 minutes long and not having a proper finish, I can only give it ***1/4 but it was on the way to being a classic match had it been 20+ minutes. After the match Mack's chest looked like minced meat from all the stiff chops he took.
(3) Intergender 3-Way Tag Match: Alpha Female & Hakeem Waqur (w/ Marius Van Beethoven) beat Melanie Grey & Kevin Roadster and Toni Storm & Tyler Bate. I didn't have high hopes for this match, as Tyler Bate (one half of Chikara Campeonatos de Parejas Moustache Mountain) seemed to be the only really good wrestler in the match, but they surprised me! Tony Storm – who has recently signed with Japanese Joshi promotion STARDOM – has improved a lot since I saw her the last time. Considering how fast she developed at such a young age (21 I think) combined with her good looks she should be in NXT before long and has a bright future ahead of her. Alpha Female recently debuted in WXW and looks like a Beth Phoenix type Monster-Heel – she was quite impressive here. Her Partner Hakeem as well as Grey & Roadster are nothing to write home about, but they pulled of a really entertaining mix of well done comedy and high spots. Highlights were Grey spearing Hakeem of the apron and Tony Storm hitting a beautiful suicide dive on Alpha, Hakeem and Grey. After Grey and Storm were taken out by Alpha Female on the outside and manager Marius van Beethoven held back Tyler Bate with his crutch, Waqur submitted Roadster in the Camel Clutch in about 12 minutes (***)
(4) Ilja Dragunov beat Chris Colen in about 10:00.  Colen is a very muscular guy along the lines of Chris Masters and Dragunov plays a psychotic heel quite well. Very stiff match where they hit each other with a variety of suplexes and had an impressive battle of clothelines that made the crowd gasp. For whatever reason though, the match didn't quite click with me, as it lacked flow. Still a decent outing which Dragunov won with Torpedo Moscow (Spear) in about 10 minutes (**1/2) Seems to be the night of 10 minute matches…
Before intermission former WXW Unified World Champ Karsten Beck, who recently underwent surgery for a tumor in his head, got named general manager of sports operations. Heel WXW CEO Christian Michael Jacoby lost his cool during the announcement.
Intermission
(5) "Bad Bones" John Klinger beat Julian Nero (w/ Dirty Dragan & Adam Polak) via DQ in 4:00. Bones is a 6 foot bodybuilder with tattoos all over his body. He is one of the faces of WXW and recently had some matches at TNA TV tapings. Bones won via DQ when Adam Polak interfered but requested the match to be restarted. He got his wish and it was announced that it will now be a no-DQ match. After about 4 more minutes, Dragan interfered and distracted Bones enough to allow Polak to hit Bones with a steel nail. Bones came up shaky and bleeding heavily so that Nero had no problem finishing him off with "Fall of Man" (Christian's Unprettier). More an angle than a match, so no rating. Bones took long to get to his feet and left puddles of blood all around the ring.
What followed was the "bush league" moment of the night. A member of WXW crew entered the ring and sprayed disinfectant on the puddles of blood but didn't clean it away. Marty Scurll made his entrance and as soon as he saw the ring with all the blood, you could see him mouthing "WTF?" on the entrance ramp. He entered the ring with a disgusted look on his face and immediately started agitatedly talking to the ring announcer (off mic) and the ref (who happens to be a WXW co-owner), pointing at the blood (mixed with disinfectant by now). Finally a crew member arrived with a tiny sponge (no water) and rubbed cursory at the largest pools of blood. Of course the crew member didn't wear any gloves at all… Seriously WXW, I really appreciate the great job of establishing German indy wrestling, but if you plan to have a blood bath, please make sure you at least have something to clean it up! Scurll was still visibly upset after the cleaning and I can't blame him as I wouldn't want to roll in somebody else's blood.
6) Marty Scurll beat WXW Unified World Champion Jurn Simmons in a Non-Title match. This match was the letdown of the night for me! BOLA winner Scurll is one of the best wrestlers in the world and Simmons is an incredible big man wrestler who looks like the son of Big John Studd and who had amazing matches with pretty much everybody he faced in his nine month championship run. So this should have been a great match. Unfortunately it wasn't. It lacked energy somehow, it was way too short and the finish came off really flat. Scurll did some of his signature offense, but they never got out of second gear. It was an overall solid though unspectacular and uninspired effort which Scurll won after about nine minutes with the cross face chicken wing. (**3/4)
I guess part of the problem was Scurll being in a really bad mood during and even after the match. When the ref wanted to raise his hand, he pulled his hand away abruptly, immediately jumped out of the ring and left without much celebration, while still looking really pissed off. (Scurll was still in a bad mood at the merch table after the event).
(7) TLC Match for the vacant WXW World Tag Team Championship: A 4 (Absolute Andy & Marius Al Ani) beat David Starr & Lio Rush. The titles got vacated after David Starr's partner Shane Strickland got fired for undisclosed reasons and JML got the titles taken off them as a result. Andy is a WXW mainstay while Al Ani is a relative newcomer. Both held their own against the very talented David Starr and ROH's Top Prospect tournament winner Lio Rush. The match was awesome with a lot of crazy spots and great chemistry between all four men. Rush was the man of the match, though everybody worked really hard. Some spots were cringe-worthy (like Starr getting thrown into six chairs set up on the stage with an overhead belly-to-belly suplex and not making a full turn and thus landing head first) but overall it was just an amazing, action-packed rollercoaster ride! Some of the crazy spots included Starr getting dumped over the top rope through a table an the floor, Rush dropkicking the ladder out from under both Andy and Marius and – craziest spot of the match – Rush throwing himself and Al Ani off the ladder with a Dragon Suplex through a table. The finish came after roughly 20 minutes when Starr and Andy battled on top of the ladder and Starr crashed through a second ladder that was propped up between the turnbuckle and the ladder both guys were standing on, allowing Andy to grab the titles for A 4. (****1/4)
All four guys got standing ovations after the match.
OVERALL THOUGHTS: A really good outing from WXW in all respects. No bad matches on the card, a great main event, and astonishingly crisp production and presentation (except the blood debacle) for an indy promotion. The show lacked a second really special match to be in the great category, though. WALTER vs. Da Mack getting an extra 10 minutes or Scurll vs. Simmons having more chemistry (or less frustration on Scurll's part) and time would have put this show over the top in that respect. Still a very good night of wrestling which I thoroughly enjoyed. Thanx WXW, I'll be back!
---
If you attend a live event, you are not just invited, but also encouraged to send us a report including estimated attendance. Send to pwtorch@gmail.com. Thanks!