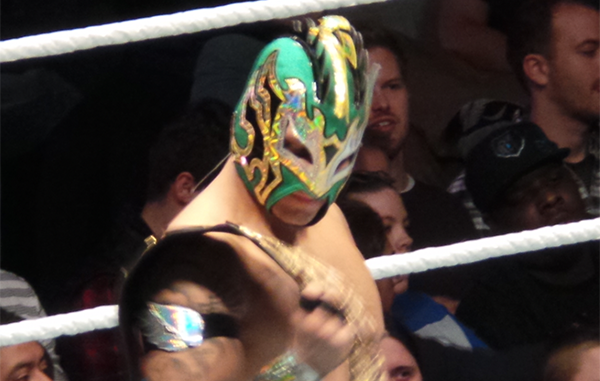 ---
SPOTLIGHTED PODCAST ALERT (YOUR ARTICLE BEGINS A FEW INCHES DOWN)...
---
TLC HITS
Becky Sells Disappointment
It's the little things that add up in wrestling. Becky Lynch' interview after her loss to Alexa Bliss was a nice touch, and added a sports-like feel to the show. Having her say she didn't appreciate having a microphone stuck in her face wasn't a heel line; it was something that felt genuine. That's probably how most people would react in the moment.
Becky isn't as over as her Raw counterparts, but part of that reason is due to her coming across as really one-dimensional. She's the woman who loves corny jokes, but can turn it up in the ring. That's about it. With more promos like the one at TLC, she will feel more like an actual human being. That should be the goal here, so hopefully she continues to sell this frustration while chasing Bliss, and doesn't go back to the humor.
Baron Corbin vs. Kalisto
Once Kalisto figured out where to actually find some chairs (silly Kalisto, there were 10 right behind you!), he was able to put on a pretty solid match with Baron Corbin.
Chair matches are usually one of the weakest stipulations in WWE's arsenal (next to the dreaded Stairs Match). They often devolve into one dude smacking the other in the back and stomach for 10 minutes, before pinning them with one big spot. Kalisto and Baron Corbin did a nice job of keeping fans engaged in their match with some innovative uses of the chairs, and delivered quite the intense brawl.
Good work here from JBL as well. He kept putting over how impressed he was with Kalisto, but was positive that Corbin would win. That's usually reverse psychology in WWE, but they went with the right finish here and kept the Lone Wolf strong.
The Miz vs. Ziggler
Well, the "last, last, last, forever last, no seriously, this is the last match ever…until next month" showdown by The Miz and Dolph Ziggler delivered. It won't be up for any match of the year awards, but it was filled with some satisfying drama and great athleticism. It's also nice to see that they didn't switch the Intercontinental Title once again, as Sasha Banks and Charlotte already have that never-ending game going on.
The key now is to find both of these guys new opponents. With the roster so depleted, though, there really isn't any contenders that stand out for either of them to battle. Apollo Crews? Curt Hawkins? Jack Swagger? They may as well quit pretending at this point that they're moving on from each other, and start booking a Buried Alive match for Royal Rumble.
Styles vs. Ambrose
No one has been able to deliver at a higher level in big matches this year in WWE than A.J. Styles. Hopefully Vince McMahon feels at least a little foolish for not trying to bring him in years earlier. Not only is he over with a large portion of the crowd, but he's able to make all of Vince's "guys" look good. Styles did great work earlier in the year with Roman Reigns, and now Ambrose has enjoyed one of his top three matches in the company with him at TLC.
While the feud between the two has been quite goofy at times, and filled with a lot of Ellsworth nonsense (which we'll get to in a bit), they were able to rise above the ridiculous nature of it all and deliver a memorable match. There were a couple of big spots that could have ended badly—most notably Styles doing a 450 off the top rope and through a table—but luckily, neither man seemed to be injured.
Bonus points to Styles for busting open his pants, and not letting that potential embarrassment slow him down for a moment. Negative points to the fan who yelled for Styles to quit mooning him!
The only thing that could have made the bout better was a more satisfying end to the match…
TLC MISSES
Ellsworth's Turn
No. No this did not make any sense.
We all knew that something was bound to happen with James Ellsworth and Dean Ambrose. There was no way that their buddy act was going to last much longer, so one of them was going to have to turn on the other. WWE chose the guy who has been pushed as the most ineffective wrestler in years to essentially ruin a pay-per-view main event.
To make matters worse, Ellsworth's "shocking" turn made no logical sense. A.J. Styles was about to win the match anyway, so if the champ had half a brain, he would have grabbed the title and THEN beat up Ellsworth. They should have just booked Ambrose about to win in the first place, and then had him lose through interference.
This also marks two SmackDown pay-per-view events in a row ending in screwy fashion, as No Mercy gave us Luke Harper's return causing Randy Orton's loss to Bray Wyatt. That made Daniel Bryan's assertion on Talking Smack that Raw is the brand with interference in big matches ring hollow.
Nikki vs. Carmella
Nikki vs. Carmella just doesn't feel like something you should have to "pay" to see. With fans getting five hours a week of free content on Raw and SmackDown, perhaps brand specific shows should be two hours long, so that they only feature the four or five biggest possible matches that can be offered. That way there's no filler.
The two women seemed to try hard, but there's nothing compelling about either act right now. The entire feud revolved around weak looking sneak attacks by Carmella, and comments about John Cena. Inside of the ring they were awkward, and unable to deliver anything that wasn't forgotten the minute it was over.
Natalya Sells Jewelry
There's just something disturbingly weird about JBL saying, "Every kiss begins with Kay!" multiple times on a pay-per-view. It's nice for WWE to be able to land some more prestigious advertisers like a major jewelry outlet, but it's not so great when they're all over an event where competitors are supposed to be settling their feuds with extreme violence.
It gets much worse when a heel is asked to put over that jewelry, and not the angle she's involved in. We watched as a WWE fan teamed up with Kay to propose to his girlfriend. However, he was unable to do that without the help of Natalya. Yes, because as we've seen on Total Divas, she's exactly who you want to go to for marriage advice.
However, just mere moments before this video we were informed that Natalya was a horrible person and attacked Nikki Bella at Survivor Series. Immediately after, we got Nattie's denial. Could they have not thought that through, and aired the advertisement at any other point in the show?
This is the kind of thing that may make WWE some money in the short-term, but it damages the narrative so badly that it costs them a lot of money in the long run. Just let me believe that wrestling villains are actually villains during the actual show!
NOW CHECK OUT PAT MCNEILL'S LIVE BLOG ON TLC: McNEILL's Live Blog of WWE Tables, Ladders & Chairs 2016 (oh my!)