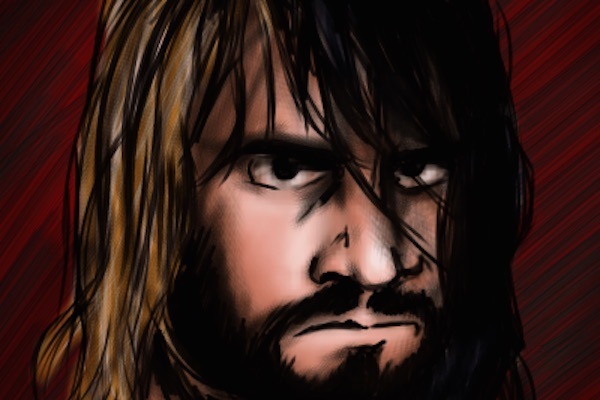 ---
SPOTLIGHTED PODCAST ALERT (YOUR ARTICLE BEGINS A FEW INCHES DOWN)...
---
RAW HITS
Jack Gallagher: Gallagher was one of the standouts from the Cruiserweight Classic, so I was glad to see him finally debut as part of 205 Live last week. It was good to see him getting his Raw debut this week. He is very talented and stands out because of his look, attitude and style in the ring. It was a good idea to show a video package introducing him to a larger audience and to see him getting another win over Ariya Divari. WWE should go away from the handshaking before the cruiserweight matches. It made sense in the CWC as that was presented as an international competition somewhat akin to the Olympics and I can see that type of sportsmanship in that situation. But, not on Raw just because they happen to be smaller than the other wrestlers on the show.
Owens vs. Zayn: These two could have a good match against each other in pretty much any situation. Baseball announcers sometimes say about a great hitter that he could roll out of bed in the middle of January having not taken batting practice in a few months and start raking the ball. Kevin Owens and Sami Zayn have whatever the wrestling equivalent of that is. Like they could both take a year off and on short notice, roll out of bed, drive to an arena and wrestle each other and have a really good match. I wish this match meant more than it did. It had a very flimsy set up. But it was still a good match.
Swann vs. Perkins: This was a pretty good match. I am glad that WWE gave Rich Swann the victory here. Too often in the past they would have undermined a new Champion by having him lose a non-Title match right away. While I am not yet sold on Swann's character, I do enjoy watching him wrestle. I particularly like those vicious spinning kicks that he is now using has his finisher.
Reigns vs. Jericho: This was a good United States Championship match. I was not looking forward to it, but did enjoy it. I don't really understand the dynamic that WWE is going for here. Jericho is popular despite being a heel. He is feuding with a babyface in Seth Rollins who isn't as over as he should be. He was facing Roman Reigns who is a babyface who gets a heel reaction from many in the crowd. Jericho seems sympathetic in his arguments with his best friend Kevin Owens, which would make him the babyface in their angle, but Owens is also popular with many of the fans. It is kind of a mess when WWE is so poor at getting fans to cheer for babyfaces and boo heels. So, I'm not really sure how they want me to react to some of these characters, but at least it was a good 14 minutes of wrestling.
Closing Segment: I don't think this belonged in the final segment of the show. As a general rule, I want a match to end Raw. If a talking segment has to end Raw, it should feel like a huge deal and Charlotte coming out to apologize to her father didn't fit in that category to me. It was a good segment. Charlotte was great in acting like she was sincerely apologizing. It hooked in fans and Ric Flair himself to set up for the big slap. The beat down of Sasha Banks when she came to Flair's aid worked well also. It shouldn't have ended a show that featured a Untied States Championship match, but it was a memorable segment. Unfortunately these two have faced off too many times with the Women's Championship going back and forth too often for me to really be looking forward to one more Title match between them, even with the Iron Man stipulation being added to it (more later).
RAW MISSES
Opening Segment: This felt very small to me. It has been too long since Triple H cost Rollins the WWE Universal Championship by helping Kevin Owens without Rollins talking about it recently, so this came out of nowhere. Rollins was not good here. Owens was good in talking about getting gifts for his best friend Chris Jericho, but it didn't leave me looking forward to seeing Jericho vs. Reigns or to stick around for after the commercial break to see Rollins vs. The Big Show. Where has Big Show even been? I wish WWE would have done a better job having the announcers talk about it. When was the last time he was on? Why has he not been on tv for a long time? Why is he back now?
Enzo and Lana: I hated all of this. It was predictable from the start that it was a set up by Lana and Rusev to get back and Enzo Amore. Enzo continues to be painted as an ass and I have had zero sympathy for him over the past few weeks. Rusev has been the babyface in the situation. I think they were trying to rectify this situation by showing Rusev yelling at Lana, but that was all an act. While Enzo may have shown some restraint at the hotel, he still went over there with the intention of having sex with a married woman. There is no other way to interpret that. He got what he deserved. No cameraman got into the limo with Enzo, so how did one beat him to her hotel to be recording him in the hallway? And how did another one beat him to the hotel to be able to film him in Lana's room? This was as bad as the terrible bar room brawl with Cesaro and Sheamus last week. And why would Lana show off her ass with a cameraman in the room? As I said, I hated this. This is a late in the year contender for worst angle of 2016 going back to Enzo's terrible naked walk through the hallway a few weeks back.
Sasha Banks Interview: This was not a good performance by Sasha Banks. It came across as overly scripted and she was not natural at all delivering those overly scripted lines. It was also not a great way to follow up on her big Women's Championship win last week. Of course, when you win the Title three times in a few months, it is hard to make that Championship victory feel special in any way. And the way that she worked a terribly worded and scripted tweet from Charlotte into the inspiration to challenge her to an Iron Man match was horrible. And WWE has already "raised the bar" and made history several times with these two women lately with the first ever women's match in Hell in a Cell and then a Women's Title match in a falls count anywhere match. Going to a Iron Man match a few weeks later doesn't make sense to me. These milestones can be spread out over much more time.
New Day: I am so over The New Day. I enjoyed their act last year when they were heels. They then became popular and started becoming babyfaces, but they still cheated like heels which has been on full display lately. Their fun act has totally worn thin. They act like jerks more often than not. They are annoying more often than not. They cheat to win more often than not. And they got involved in a match for the #1 contendership for their Tag Team Titles in a total heel move. But I think WWE still wants us to cheer for them even though they are clearly heels at this point.
---
NOW CHECK OUT THE PREVIOUS HITS & MISSES COLUMN: WWE TLC HITS & MISSES: Ellsworth's run-in, Becky selling agony of defeat, Corbin-Kalisto, Natalya sells jewelry
OR CHECK OUT JASON POWELL'S HITLIST ON THIS SAME SHOW: Powell's WWE Raw Hit List: Charlotte and Ric Flair, Roman Reigns vs. Chris Jericho for the U.S. Title, Enzo Amore is a bad person, Kevin Owens vs. Sami Zayn
---
Jon Mezzera is PWTorch.com's WWE Hits & Misses Specialist, providing his point of view for Raw and Smackdown each week. Email him at jmezz_torch@yahoo.com. Act now and become my 68th Twitter follower@JonMezzera (pretty clever handle right?). Just be aware that I don't live tweet Raw, I don't tweet much about wrestling, and I don't tweet much at all.